Publish on German language portals via WhitePress platform
Within the WhitePress platform you can now order the writing and publication of articles in German in countries such as Germany, Austria and Switzerland. Our offer includes over 250 websites (with related offers) and we add new websites daily.
One year after we started our international expansion, over 17,000 websites are registered within the platform as follows:
9,000 websites in Polish
3,100 websites in English
1,200 websites in Romanian
850 websites in the Czech Republic
750 websites in Hungarian
650 websites in Russian
500 websites in Slovak
480 websites in Ukrainian
290 websites in Bulgarian
250 websites in German
We don't want to stop here, that's why every day we add new websites in each country where we are present and negotiate prices with the publishers we work with, in order to offer you the best price.
We will also soon open in Croatia, the Netherlands and Turkey where we already have over 300 registered websites.
In order to be able to order in any of the countries in which we are present, all you have to do is to add a new Project to the platform to choose the desired language and thus the entire offer will be visible.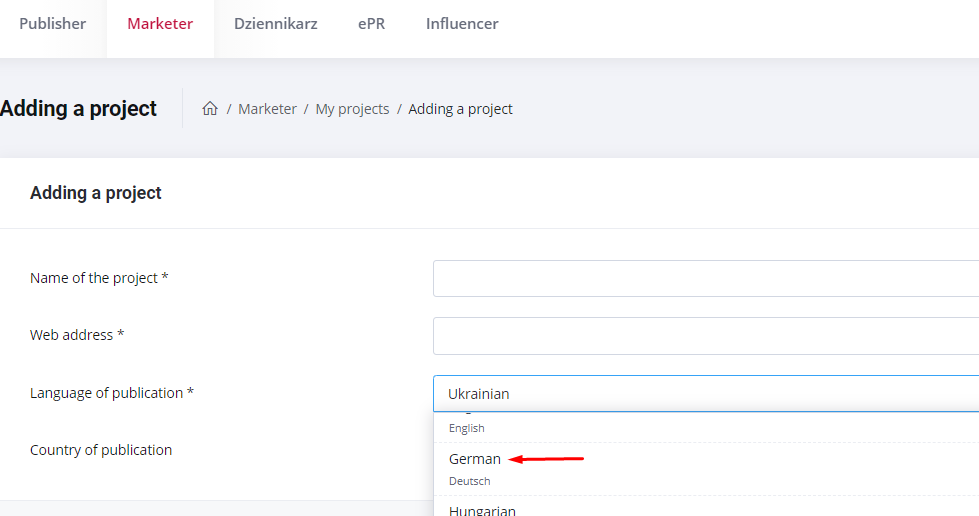 If you need additional information do not hesitate to contact us by email or phone. If you also want to publish in a country where we are not present, please write us an email on office@whitepress.net and we will try to expand there as well.