36 month guarantee - keep your articles visible
Time can not only heal wounds, but can also refine and enrich. Following this maxim, we decided to increase the range of possibilities for advertisers who have an account on the WhitePress® platform. Recently, when searching for specific publishers in our search engine, you can use the "36-month warranty" filter. Thanks to it, you will find offers that will allow your content to appear on a given portal twice as long as the minimum required in the regulations of the WhitePress® platform. More details can be found below.
Dear Advertisers: Order publications with a 36-month guarantee
The new option will allow you to find portals publishing long-term content easily and quickly. We have introduced a 36-month warranty filter into the search engine, thanks to which you can only display such offers.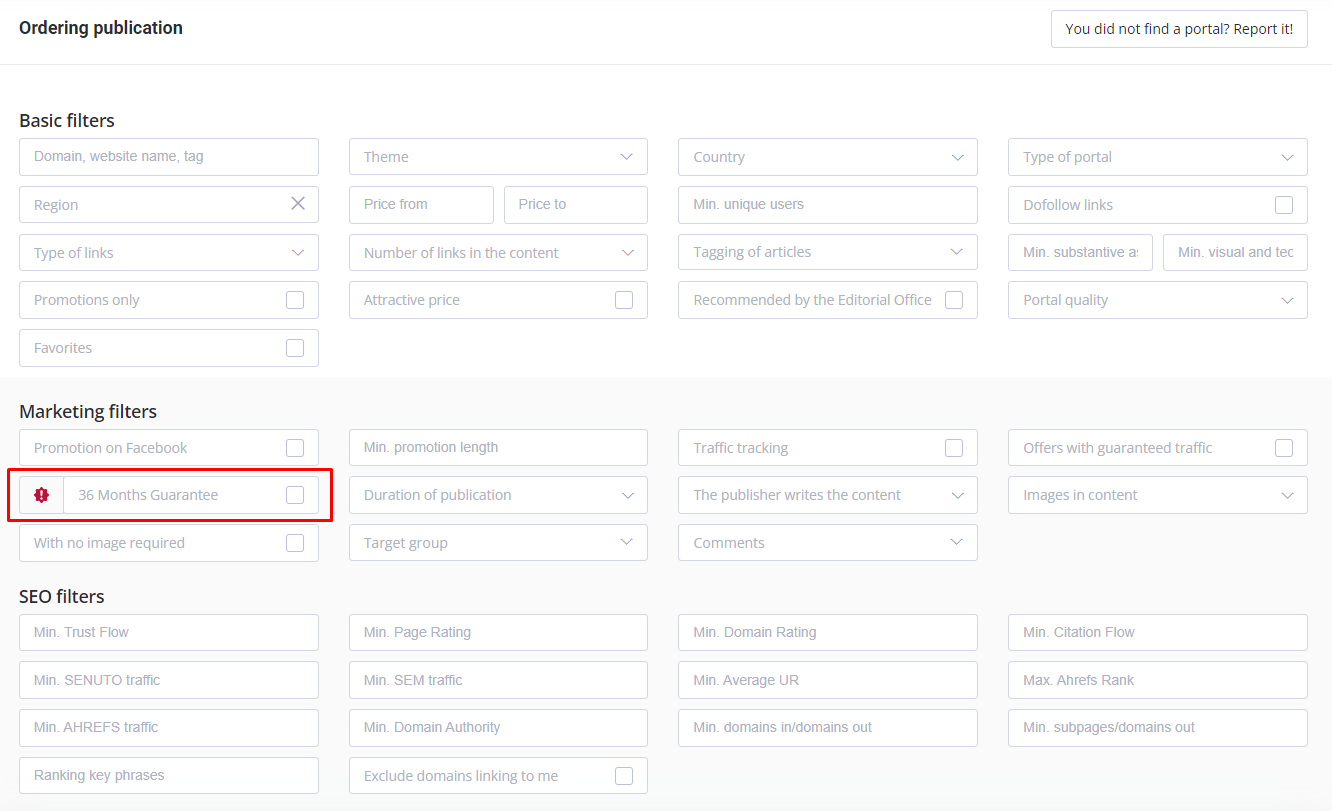 How to order a publication with a 36-month warranty?
To use the new service, log into your account, select a project, and go to the portal search engine. You can display offers with a guarantee through the filter described above, or, without filtering, select the portal with the 36-month guarantee marker from the list:

When ordering a publication, in the details of such an offer, you will see the possibility of buying a 36-month warranty. All you need to do is turn on the appropriate button when completing the order form:

Service complaint
Ordering a publication with a guarantee protects your content for 36 months, instead of regular 12 months required in the platform's regulations. WhitePress® monitors publications on a daily basis for 36 months to catch possible problems and contacts publishers in the event of a fault. Both the Advertiser and the Publisher have access at any time to view the reviews of a given article made by WhitePress® over the last nine days.
As already mentioned in the previous article, Publishers are notified of any faults so that they can fix them and restore content to the page. If, after this information, the article is not returned to the website, you have the right to file a complaint.
After submitting the application, the platform has two working days to consider the complaint. When the complaint is accepted, WhitePress® immediately pays the Advertiser's account for the publication, except for the warranty costs.
Secure your links with a 36-month warranty
Now you know how to take advantage of our new advertiser-publisher service. This is the best solution for those who want to publish content for longer than the obligatory 12 months. Try offers with a 36-month guarantee and profit from the durability of publications!