How to choose a WhitePress® portal and achieve your goals
Logic and intuition – these are what advertisers use when choosing a place to publish their articles in WhitePress®. Or rather: this is what they should use. However, that's not always how it works – the majority are driven by laziness and just 'go from A to Z', not really thinking about their aims. Meanwhile, WhitePress® programmers and editors bend over backwards to provide unique indicators, historical data, graphs and quality assessments. And these are something that it is worth making use of!
Publishing aims should be broader – it costs hardly anything
Are you interested in reaching a wider audience, or only a dofollow link to a particular blog? Or maybe your boss wants to have his portrait on Interia? Nothing surprises us. WhitePress® is here to help you fulfill the most egocentric dreams :-) It's important to remember that publishing an article can achieve several aims simultaneously. What's more, this approach often increases the effectiveness and security in realizing our basic aim.
Here is a list of example aims achieved by publishing articles in the media:
promotion of a brand or product

improving a firm's image

something called 'personal branding'

directing traffic to a website

getting a link (oh, that SEO)

improving your ego or mood

because the PR boss told you to

catching leads

creating a remarketing database

de-positioning or positioning (the article is high in organic results)
In conducting these activities, some publishers are simply looking for the effects below:
it doesn't matter how many people read the article – as long as it appears on the well-known portal

it doesn't matter if anyone reads the portal at all – as long there is a link

the target group is unimportant, we just need 10,000 views

the only important thing is that publication cost a mere 10£
By acting like this they achieve one chosen aim – but they could achieve several.
Why is it worth achieving many aims at once?
Because it costs nothing, or next to nothing.
A good publication, one that achieves both its basic aim as well as additional aims, comes down to choosing the correct choice of the portal, the offer, and including appropriate content.
Let's illustrate this theory with an example.
Basic aim:
You order a publication because you want to include a dofollow link to your site.
Additional aims and functions (which are worth taking into account):
reaching a wide audience – you can achieve this by choosing the right portal and offer

the article includes educational content – therefore it is useful for the reader

a carefully selected target group – which means the right portal

the article also includes a CTA ('call to action' – some graphics or an interactive element)

the article includes a link to another prestigious publication that you have written
This helps you to achieve:
an increase in brand awareness (reach)

a better image (education and quality)

traffic (clicked links – thanks to CTA, your reach, and a good topic)

support for another publication (a link to another publication)

a secure SEO link (a real portal and a real article)
Additional costs:
the cost of preparing better content

the cost of the time spent looking for a place for publication

a higher publishing cost (not necessarily)
These additional costs are not large, but the aims achieved are highly effective for the advertiser. So it is a waste of resources not focusing on a range of aims. Why? Because you pay a lot anyway for high quality, both for the content itself and the publication.
This article will show you how to use the WhitePress® platform to save time and select the optimal place for publication. We'll start by analyzing the information the platform provides us with, and then later we'll answer the most important questions related to selecting a portal and what they offer.
WhitePress® hands your unique information on a plate
Self-adoration doesn't usually lead you anywhere :-) But we have to indulge ourselves! Nowhere on the Internet is there anybody providing so much essential, unique information about portals and blogs as WhitePress®. Publishing this information is hard work – both that of programmers (integration with API) and editors (descriptions, categories, assessments and manual verification).
Below, you will find the most important information made available by WhitePress®, divided into groups:
| | | |
| --- | --- | --- |
| Group of indicators and information | Data collection method | Functions and aims |
| Description, topic category, remarks, type of service, keywords. | Collected by editors and entered by the publisher. | Easier and more effective searching for portals and blogs. |
| SEO and traffic indicators (MOZ, Alexa, Google). | API – updated every couple of days. | Technical analysis of SEO and traffic. |
| Offer, price and description. | Prepared by editors and publishers. There are often many offers on one portal. | Analysis of the price and conditions of the offer. Remember – it's worth reading these carefully! |
| Traffic, tracking, and history. | The total traffic is provided by the publisher. The popularity of history is assessed based on historical data (tracking codes prepared by WhitePress). | Assessment of the portal's popularity and the effectiveness of its publications. |
| Technical and content quality assessment. | The assessment is done by WhitePress editors. | This allows you to assess the technical and content quality without looking through the site. |
| URL address. | It's always worth clicking on this to evaluate the portal for yourself. | Because the final decision must be taken by the individual. |
Description, category, and type of service – how to search for a portal
The WhitePress database currently contains over 12,300 portals and blogs that include over 23,600 offers. When you have clearly defined your aims, it is worth looking for services that may interest you using an advanced search.
When you click the 'Advanced' checkbox, you will see a full list of filters that can be applied to the list of services. Check out a few of them for yourself.

Description of other search buttons and filters:
'Portal name' – just enter the keyword and the platform will search for it in the description, keywords, and portal address.
'Topic' – you can narrow down the list to one of the several dozen topic categories.
'Portal type' – each site is categorised by type (general, specialist), and their reach (local or national), the list can also be narrowed down to include only blogs.
'Region' – the portal list can be narrowed down to one particular voivodship.
'Price from… Price to' – this displays sites whose price is higher than the entered value 'from' or lower than the entered value 'to'.
'Minimum number of users' – this displays sites whose total viewership exceeds the value entered (the number of unique users based on statistics sent by the publisher).
'Minimum assessment rating' – this is a rating given by the editors (a description of editors' assessments can be found later in the article).
'Minimum technical and visual assessment rating' – this is a rating given by the editors, here you can enter the minimum.
'Track traffic' – a unique indicator which shows if a given portal can include WhitePress tracking code and filtering according to historical popularity. This indicator is described later in the article.
'Dofollow links' – this displays sites that have at least one publishing offer that makes it possible to include dofollow links. This option is available for selected advertisers.
'Link type' – this indicator filters portals that accept brand, mixed and EML links.
'Article designation' – you can limit the list to sites that, for example, designate an article as 'sponsored', 'advertising' or 'partner article'.
'Number of links in the content' – here you can filter portals that allow one, two or more than three links in a publication.
'Attractive price' - this filter narrows down the number of sites to those that have an attractive price in relation to the offer parameters. This is calculated by the platform using a special formula. Around 15% of offers fulfil this condition, which takes into consideration elements such as topic, popularity and SEO indicators.
'Minimum promotion period' – here you can define the minimum number of days of promotions on a category page or the site's home page.
'Minimum length indicator' – this indicator is given in months and is defined based on publications done via WhitePress. Here you can enter the minimum value.
'Publication length' – this selects the indicator of minimum publication length. This parameter is based on data from publishers.
'Promotion on FB' – this filter allows you to select sites that have at least one offer with article promotion on Facebook.
'No multi-topic portals' – many portals deal with a wide range of topics. Click this button to display a list of only specialist sites.
'Target group' – this filter narrows down the list of sites to those whose target group are, for example, women, inhabitants of medium-sized towns or businesspeople. This data is entered by WhitePress editors.
'Publisher content' – this displays sites that have at least one offer where the price quoted includes text provided by the publisher.
'My last publication' – this filter allows you to select sites on which you have never published anything for a given project, or on which the last publication was 6, 12 or 18 months ago.
'Favourites' – each site can be marked as a favourite. The list of favourite portals is common to all projects by a given publisher.
'Recommended by the editor' – this displays portals and blogs that have good promotion (e.g. on the home page) and at the same time an attractive price.
'No photos required' – this filter selects portals that do not require a photo to be added to an article.
'Content photos' – here you can specify the number of photos allowed in an article, from 1 to 5, or above 5.
'HTPPS' – portals with an implemented https protocol are more trustworthy. Such protocols are used by e.g. the largest Polish horizontal sites.
'Minimum Trust Flow' – this option filters sites that have a value for this indicator higher than that defined (the indicator accepts values from 1 to 100).
'Minimum Citation Flow' – this option filters sites that have a value for this indicator higher than that defined (an indicator of 1-100, defined by MOZ).
'Minimum Domain Rating' – this option filters sites that have a value for this indicator higher than that defined.
'Minimum Page Rating' – this option filters sites that have a value for this indicator higher than that defined.
It is worth noting that sites can be sorted by the date they were added (with the latest at the top), by selected SEM/SEO indicators, by popularity or by price.
Popularity based on publishing history
From the outset, WhitePress has allowed tracking code to be added to publications. This code allows you to count the number of unique views, as well as total views, for every published article. The majority of publishers allow this code to be used, while some advertisers require it to be installed.
Based on publishing history, WhitePress can assess
the effectiveness of every publisher's offer.
This is valuable, unique information for advertisers.
Next to every portal on the publisher list, in the TRAFFIC TRACKING column, you can see stars: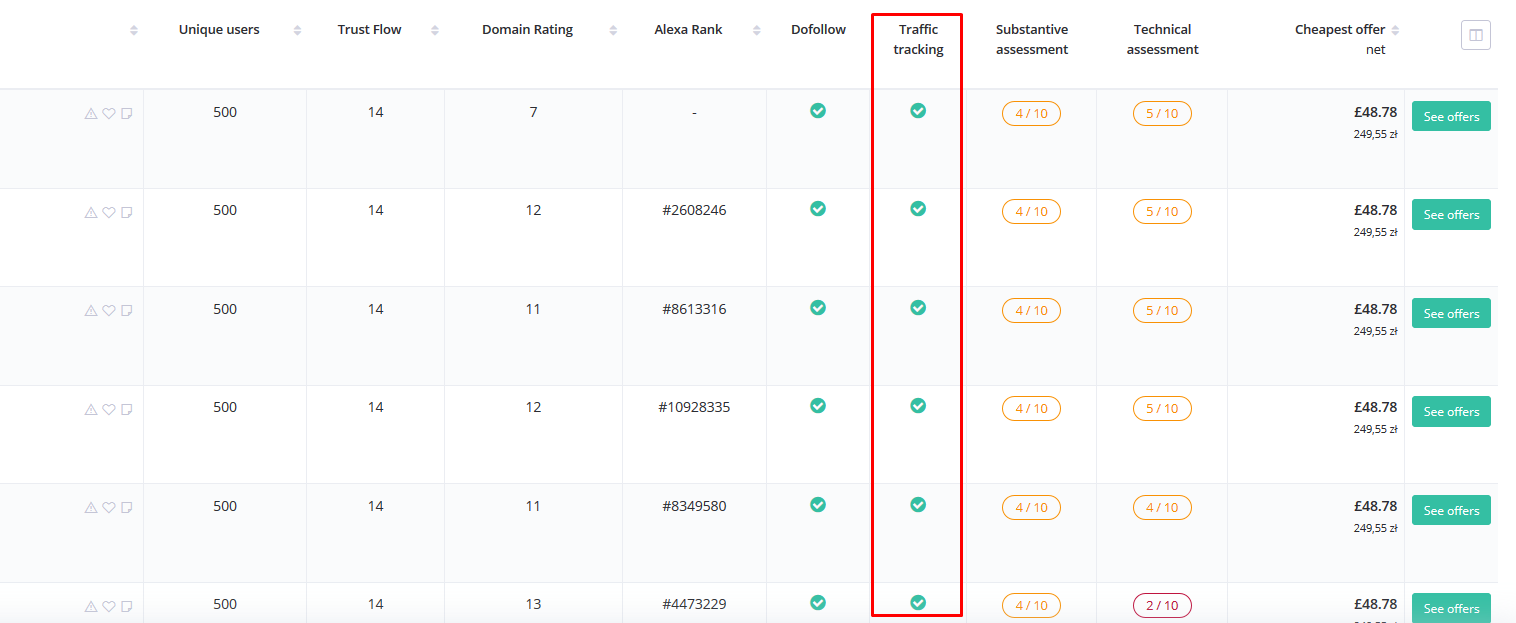 What is interesting is that a given portal may have many offers. In that case, the average publication popularity is different for each offer. Below is an example window with a view of the stars for a portal with many offers:

The above example is particularly interesting because it contains examples of the following:
offers without publication (only grey stars)

offers with average popularity – in this case 'database of firms with advisory services'

offers as above, but with additional promotion on Facebook (you can see that this promotion is effective)

offers with a promotion on the home page (this kind of promotion also has a noticeable effect)
The statistics tracking code developed by WhitePress is free for advertisers
and is easy for publishers to implement.
The system of statistics provides a lot of valuable information. In the advertiser and publisher panel, next to a published article, is the icon 'Statistics'. When you click on it, you see the statistics divided into sections. Here are some of them:
general information – here you see a link to the article, and the cost of its production and publication.
unique views and visits divided into 'desktop' traffic and mobile traffic. Attention: on the left, the system displays the number of all logged views and visits, including those from before the system started calculating more detailed information.

graph of article viewing over time – with the option of collating and changing data aggregation (daily, weekly or monthly)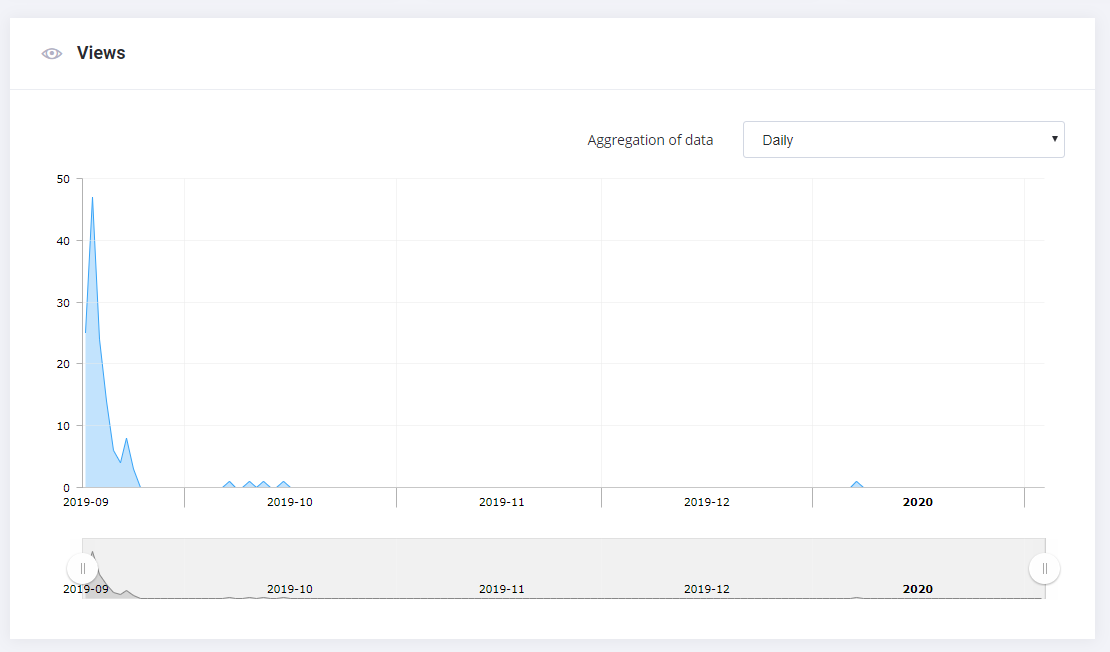 hourly graph – a division of visits according to the time of day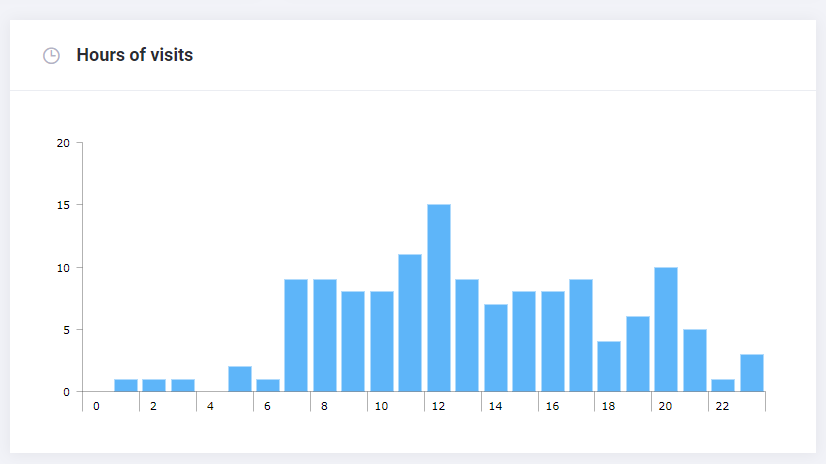 list of countries from where the traffic originates, together with the browser language
division of traffic into 'desktop' and 'mobile' subdivided according to operating system and browser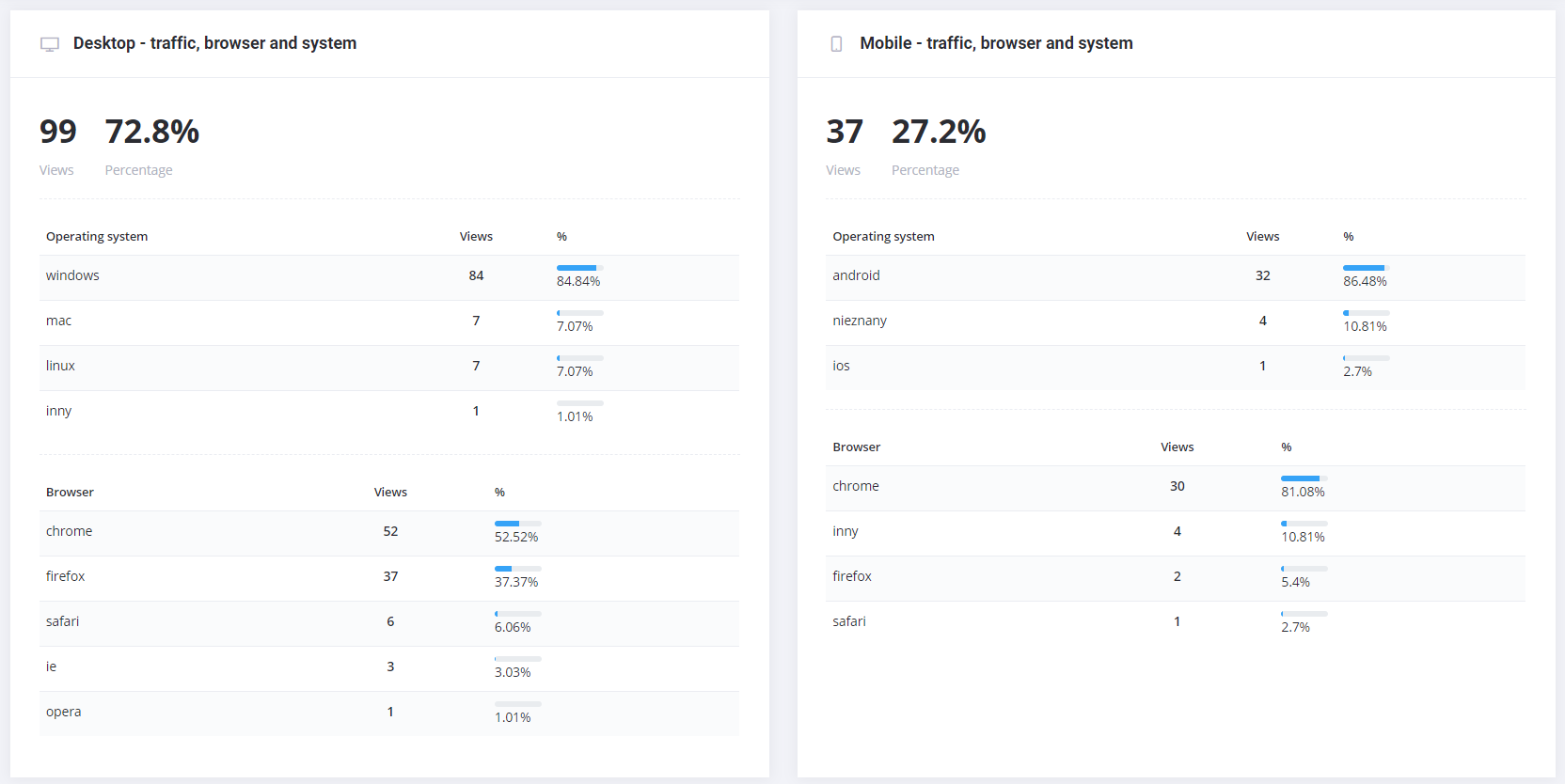 most popular traffic sources – that is traffic sources (URL addresses) divided by domain, with the option to view a more detailed division within a domain

To sum up – it is the WhitePress statistics module that allows you to analyze every publisher's offer in terms of publication popularity. The statistics are protected from abuse (buying of traffic) and are available for most portals.
WhitePress editor assessment of content and technical quality
Every portal and blog available on the platform has been carefully examined by WhitePress editors. In 2016, we introduced the content and technical rating. These allow us to exclude low-quality portals and focus on sites that have a sufficiently high technical and content level. the whole verification process took 5 long months and over 1,500 working hours. All new sites are analyzed as they appear.
The table below shows the factors taken into account for ratings issued by our editors: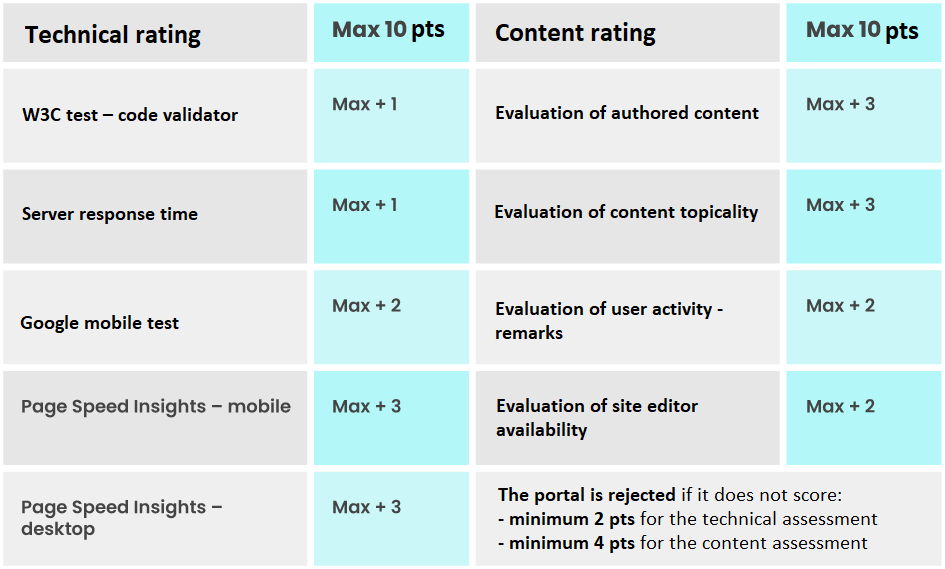 Why are the scores important? Because they are designed to pick out sites that are real, active and are looked after from run of the mill sites or portals that are not updated.
Reaching a large audience in the right target group – how to choose a portal and an offer
When you know more precisely the aim of a publication, the first steps should be to come up with an idea for the content and to define the target group. This is not as easy as it might seem. A company with national reach, producing e.g. conservatories, might not choose the largest building or architecture portals. If they consider it justified, they may select local city-based sites, which are very popular and are relatively inexpensive.
Having an idea for interesting content and selecting the right target group
are key to achieving your aims.

If you have a defined target group, it is worth narrowing down the group of sites to your chosen topic area. Above, we discussed basic and advanced filters that can be used. One option worth using is 'No multi-topic portals'. When starting, you can also exclude sites that are too small or too expensive ( filters for this are also available).
You are not able to predict how many people will see your publication (unless of course, you buy a publication with guaranteed traffic). There is a lot of data available, however, that can help you avoid making a bad choice. Here are the 4 steps to success:
Choose sites that have high technical and content ratings. This is usually proof that these are sites that are looked after and are up to date. Large traffic for new publications requires users, and these will look at the home page only if the site is added to and developed regularly. Many sites have good general statistics, but low viewership for new articles merely because they are well-positioned.
Choose a site that allows traffic tracking, especially if the general statistics are available (the stars). You can then have certain expectations and predictions about the viewership. Remember, however, that a lot depends on the topic you choose, the main photo, as well as other factors.
Choose the correct offer! The majority of good sites have a lot of publishing offers. Some have promotions on social media channels, others on the home page. If you are counting on the popularity of your article, it is better to pay extra for publishing and choose an offer that includes a promotion. Read the offer description carefully.
Carefully look through the site once again. Ask yourself the question: 'Is this a good place for your content?'
'I want a prestigious publication that many people will see'
When looking for a place for our publication, you can base our decision on the price (unfortunately it's the more expensive sites) and the content rating. As always, it's worth using the advanced search options available on the platform.
When you have found a site, you are then faced with the next decision – which offer to choose. Below are some examples of offers from one of the most popular interior design websites.

As you can see, there are many different options, which vary in terms of price as much as 2 times!
But there is a reason for this. The first offer is for a publication whose viewership is symbolic, while under 'READ MORE' for the most expensive one there is a broader description:
The article is promoted for 7 days on the home page
The article is promoted for 30 days on the home page
The article is promoted on Facebook and Twitter

You don't know, of course, what your final viewership will be. The publisher provides the Google Analytics codes, so you don't have access to the viewership history. In this case, however, it would seem that it's worth taking the risk and buying the more expensive option.
Sometimes it's worth choosing the cheapest offer and setting up paid promotion without the involvement of the publisher. This option is possible in the WhitePress 'Article promotion' module.
Many publishers, however, offer promotions which ensure a very good CPM.
It's worth hunting around on the service for bargains. By using the 'SUPER CM offer' filter and reading the offer descriptions carefully, you may find promotions from publishers who:
guarantee high traffic (even up to 10,000 UU)

promote articles on social media (popular accounts on FB and Twitter)

have blogs and are influencers
'I want to strengthen my site on Google'
Here, there is one very simple recipe for success. Look at the description of how the portal is chosen, the aim of which is to reach a large group of appropriate readers.
Just don't forget about a link to your page. And you're done.
A good link is one that people click on.
Don't think about SEO – think about the readers.
However, if you do want to use a shortcut and take a risk, follow the 6 tips below about choosing a portal and blogs where you can post a dofollow link to your site:
Accept only high minimum scores for content and technical quality. Especially for content.

Sort the sites according to TrustFlow.

There's nothing wrong with publishing several articles on the same site.

Publish high-quality content, avoid EML, and link various pages – not just your own.

Pay attention to internal links within the site you have chosen.

Use the 'Attractive price' filter.