Context marketing - how to bring content marketing to the next level
"Content is king, but context is God" – that's one of the most quoted sentences of Gary Vajnerchuk ("Jab, Jab, Jab, Right Hook: How to Tell Your Story in a Noisy Social World"). How to include a marketing message in context? It is not easy, especially if we know that context marketing has nothing in common with context advertisement...
Table of Contents
Context meaning what?
What exactly is defined as context? Try to remember your foreign language lessons. Teachers told you that some things cannot be fully comprehended without context – a reference to history, culture or another text. It is easy to understand if we quote a dialogue from one of the books written by Umberto Eco:

"-The same sentence spoken in England means one thing while it has a completely different meaning in America.
-Are you kidding?
-Not at all. A sentence "I am here" spoken in England means "I am in England" while in America it means "I am in America".
-That's strange"

Although it is a little exaggeration of the concept, it signifies how important context is for communication. Context is a dependence (of a place, person, situation, intent) which helps to fully understand the message. Context is usually automatically recognized in everyday communication, although there are some instances where a further analysis is needed. On the internet a meme is a good example – you see them every day, but you mostly enjoy those which are situated in the context you know the most – they match your knowledge and reference a subject you are familiar with.
Context and brand communication
When it comes to marketing communication, context can be understood as a way of publishing, delivery and promotion of content for a given brand. To put it simply, it is not important how good your content is – it is more crucial to put it in a correct context, which may be really hard as it requires a lot of knowledge and a bit of intuition.
The most commonly-used definition of context marketing describes it as delivery of the right content to the right audience at the right time. Hubspot defines context marketing as a practice which relies on personalization of business in relation to the audience based on the collected data. It also highlights what context marketing is not:
Context marketing is not a channel like emails or social media.

Context marketing is not technology like marketing automation.

Context marketing is not content marketing (although they are connected).
Thanks to the statements above it is easier to comprehend that context marketing is not equal to context advertisement (meaning an internet ad which is adapted to the context and content of the page it is on). Context marketing is based mainly on the personalization of communication to reach a certain user.
To give you an example of context marketing, we will briefly analyse what Amazon does:
Email reminders about the products you have recently browsed

Shopping suggestions based on your interests

Opinions of other customers regarding recently browsed products

Mailing reminding you about special offers on the products you've browsed

Educational material regarding the products you are viewing

Emails reminding you about new books by authors you've read
It is not hard to notice that these actions are mostly automatic but adjusted to the behaviour and preference of a given customer.
Characteristics of context marketing
1. Content custom-made for a given platform
It is not a secret that content should be adapted to the communication channel it is used on – a different message should be published on Facebook, Twitter, Pinterest or Instagram. In addition, such message should differentiate itself from traditional media. Nevertheless, it is one of the most common mistakes of unskilful context marketing. It should be noted that each has a different target audience and a different language of communication. Thus, it requires a special way of messaging (users demand it!).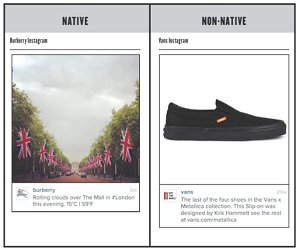 A sample of well-made and not matching message in Social Media, in this case – Instagram. (Gary Vajnerchuk)
2. Target audience familiarity and personalization
Context marketing requires knowledge about your target audience. Creating a persona may help you with researching the potential customer base. Additionally, you should know what type of audience you wish to engage in a general sense (for example big city inhabitants, age group 25-34). You should collect as much data about your audience as possible and check the leads. Proper research does not require you to know the name of a person, but to see where he or she works, what they like, what social media they use, what they recently shopped for, and so on. The more you know, the better your communication will be personalized to the customer. Another important factor is knowledge regarding the behaviour of the users on your page – what is clicked, what subpages are browsed, where the users spend the most time and what is engaging for them. This information will help you not only to improve the site but also reach the persons you wish to reach with better messages.
.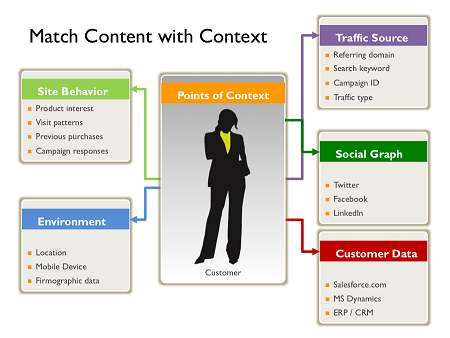 What information helps in personalization (Tom Wenworth)
3. Real-time activity
Real-time marketing is one of the elements of context marketing. It requires the creation of content referencing the current events. Oreo and Lego are true masters of this craft. Such content is noticed by the audience and makes the customer feel that a given brand is not some dehumanized entity but an active participant in the life of the consumer. In addition, real-time marketing activities expand the reach of the message, engage users and induce (or at least should induce) positive emotions.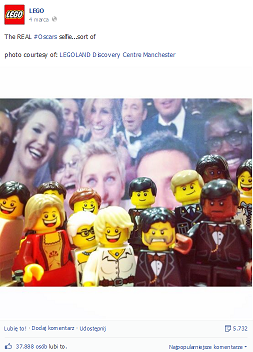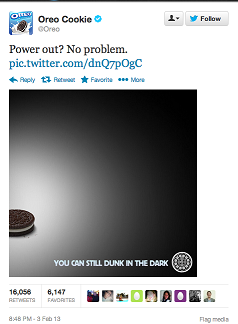 Using the idea of the Oscar selfie by Lego (left) and well known real-time marketing by Oreo created during the Super Bowl 2013 blackout.
To summarize...
As I have mentioned above, context marketing is not content marketing. They are not synonymous. Nevertheless, context marketing is the next level of content marketing activities. It makes content marketing more effective and enables a dialogue between the brand and customers (existing or potential ones), instead of creating a one-way message.

Sources worth reading:
Bill Faeth, It's Not All About Content
Gary Vaynerchuk, Jab, Jab, Jab, Right Hook: How to Tell Your Story in a Noisy Social World
Hubspot, Seven elements of context marketing
Tom Wenworth, The four C's of content marketing – context
Kevin Jorgensen, What is context marketing? Is it different than content marketing?
Natalia Hatalska, RTM & newsjacking, TOP 10 actions
Author: Paulina Kamińska