5 examples of an effective native marketing campaign
Internet marketing boom is still present in the advertising business. Numerous entrepreneurs had to become familiar with the new way of promotion and to understand it. Facebook page, AdWords, banner ads, SEO or advertorial are some of the examples of new marketing. This in turn led to an overabundance of advertising on the internet – we were buried in huge displays, pop-ups which caused user irritation to reach a critical point.
Table of Contents
The pop-up excess and advertising overflow are well known to every internet user. For some time, it was analogous to the television, which made commercial breaks longer and more frequent. The users "escaped" the TV and chose the internet, but they were disappointed to find similar strategies here. The customer was treated as a target for more and more ads. That is why most users installed AdBlock or other software, to defend themselves from marketing overburdening.
The moment in which the native advert appears
Stating that native advertising became the remedy to the problems above would be an oversimplification. Native marketing does not rely on hiding an advertisement in content in a way that deceives the audience. To understand what a native ad is and why it is so effective, we should explain how it works and why it is beneficial, both to the audience and to the publisher.

Native advertising started to expand after 2010 and it was immediately noticeable that it was different from standard display advertising. It was born out of the notion of the so-called "banner blindness" – for a long internet users time blocked anything that looked at least a bit like an ad, even when it presented content in a more objective way.
Two words, numerous definitions
Many people do not fully comprehend what native advertising is, as it is often defined differently by various experts and the best way to explain it is through examples. Thus, instead of an Oxford dictionary definition of "native advertising", we should enumerate what can become such form of marketing:
Advertorial (sponsored article),

Content marketing,

Sponsored Facebook post or other social media content,

Unobtrusive image, news story,

Video content,

Text in printed media,

Product placement.
Marketing with the use of the above outlets has to have one thing in common, regardless of the chosen advertising method - the ad cannot be irritating. Of course, "irritation" is a very subjective thing, thus some opponents of native advertising call it deception. It comes from a simple fact – the ad creator has to be clever, skilful and intuitive to develop an effective native advertising content. On the one hand, you have a product or service to market, on the other, you have to conform to standards and journalistic ethics. Nevertheless, all ends with content which has to be superb (which is always the case). This is confirmed by the most successful native ads.
1. Offline native advertisement. Although native marketing appears more often on the internet, it is a much older invention (though internet brought this method to prominence). It can be found in classic printed books. It can be seen in the picture below, where a page was inserted just before the last chapter of a book and the text printed on it said: "The End. "If you smoke, statistically your story will end 15% before it should."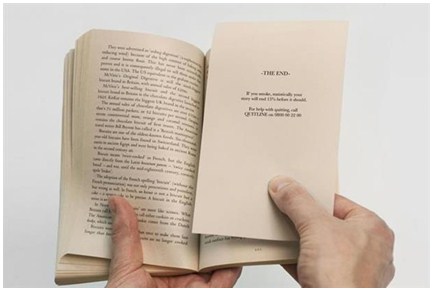 Source:http://cached.imagescaler.hbpl.co.uk/resize/scaleWidth/618/?sURL=http://offlinehbpl.hbpl.co.uk/News/OMC/E115E519-9D6F-6595-DAA02081E616BAA3.jpg
2. If we asked, what you remember from the Oscar ceremonies, your most probable answer would be this photo – the famous selfie.
You remember this, right? Marketing specialist consider Samsung the biggest winner of the 2014 Oscars gala and it is a great example of native advertising. Celebrities we can see in the picture took the photo using a Samsung Galaxy Note 3. Why is that a native ad? The whole photo op looks completely natural, but it was a campaign planned by the Korean brand. Samsung paid 20 million USD to appear during the Oscars. As a result, we got... Planned spontaneity?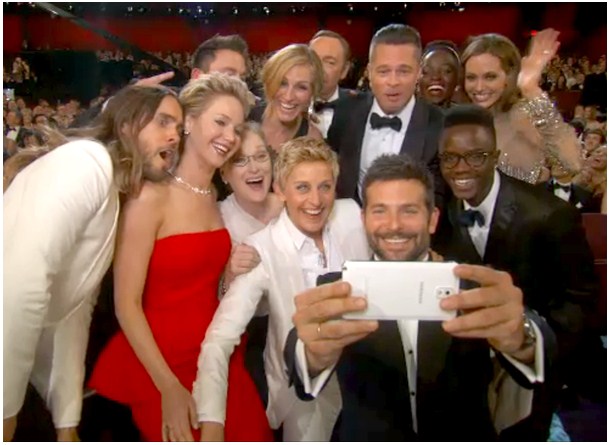 Source:http://assets-s3.usmagazine.com/uploads/assets/articles/71154-ellen-degeneres-oscar-selfie-samsung-phone-product-placement-report/1394132851_ellen-degeneres-oscars-selfie-zoom.jpg

3.Polish internet media also used native advertising in a clever way. A popular influential web portal, NaTemat.pl, is one of the biggest proponents of native advertising on the web. It created a campaign of its own. Its editor-in-chief, Tomasz Machala, described his normal day. The idea was pretty clever - the head of an opinion-forming portal shows his readers what he does and how he behaves. We can read about his briefings or the morning coffee. We can meet him in more private situations: he tells the audience where he studied, worked and how he was influenced by the Polish capital city, Warsaw. Simple, right? Well, there was a hidden message underneath the whole content – the entire text was illustrated with the pictures in which Tomasz was wearing Levi's jeans.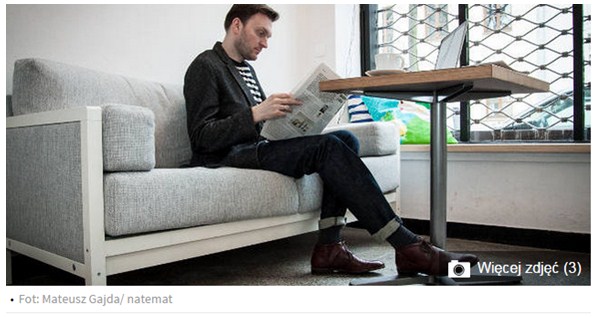 Source: https://natemat.pl/blogi/interpretacje/57547,interpretacje-tomasz-machala
There was a cherry on top of this whole marketing campaign – the readers were informed that the editor-in-chief "is wearing Levi's 501 straight leg button-fly and matches them with a grey jacket and striped shirt. Rolled-up trousers harmonize with high-top shoes. This outfit perfectly combines elegance and casual style, creating a Parisian smart attire."

4. Imagine a simple situation – you visit Ryanair's website to buy tickets for the next flight. You have an account there, so all you have to do is log in and type in the well-known captcha code, which is designed to differentiate humans from spam bots. But instead of some random words, you are tasked with typing "MasterCard".
It is yet another great example of native advertising and an alternative to a standard ad banner popping up on a website. The ad is not intrusive, it is connected with the site it is displayed on and it matches the needs of the customer, who will pay for the flight anyway, so MasterCard fits perfectly.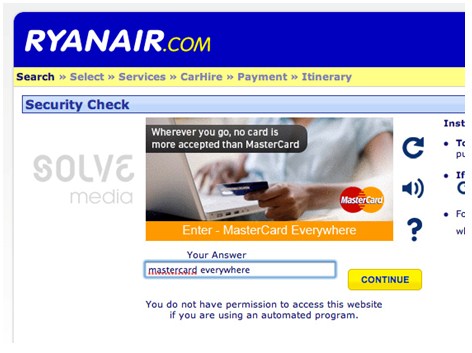 5. Whenever you see some product placement, you notice it immediately and recognize it as an advert. You are right. Moreover, product placement can be considered a form of native advertising. Just take a look at the picture taken during the American X-Factor.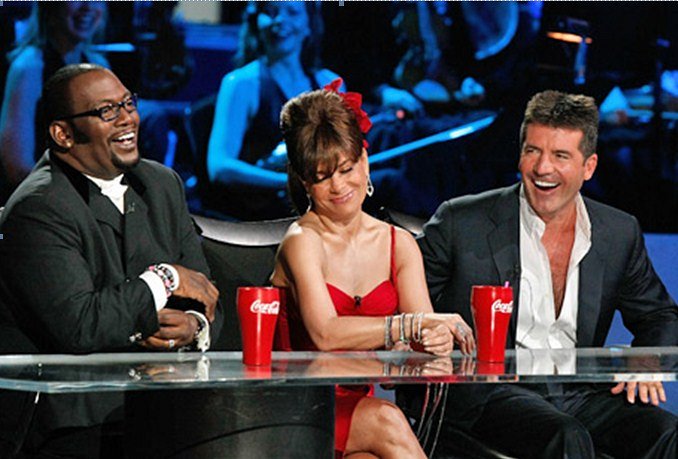 Source: http://im.ft-static.com/content/images/48df0fba-5009-11e0-9ad1-00144feab49a.img
This product placement proves that this kind of marketing is more effective than an aggressive promo. Would you rather see a 30-second commercial with Santa Claus in a truck, or listen to the jury who sips an ice-cold coke?
Native advertisement is a solution for today and tomorrow
Native marketing has been following us for years, and it will continue to do so, while its potential does not go unnoticed. Many marketing experts see the need for change in advertising from an insolent, invasive ad to the more natural way of communication, in which the message is consumed with the whole content. It is certain that native advertising is the future and it is the most popular form of marketing in the US.
One last thing

Native advertisement often appears as a part of larger content. Keep this in mind, especially because banner campaigns appear only for a few weeks, while natural content can stay on the internet forever.