10 tips for an effective cooperation with bloggers
For a long time, the blogosphere was shunned and disdained by many companies. Marketing departments were afraid to work with influential but unpredictable authors who are hard to track. Nevertheless, bloggers worked hard to gain trust and proved that the content they create can compete with the traditional media outlets. They became professional business partners and an important element of any marketing campaign. But to ensure the cooperation goes well for both sides, you should remember a couple of things.
Table of Contents
PR and marketing know well that blogs create new possibilities for advertising and allow for unconventional promotion. Bloggers can be great partners in the development of an image using storytelling. Moreover, they don't have to be as objective as journalists (as their own opinion is a part of their appeal), although being a good critic is always handy.
Nonetheless, working with bloggers is harder and requires a well thought-out and cleverly-planned strategy. But it quickly shows a profit. Bloggers who work with companies can do much more to entertain their audience and are incredibly creative when it comes to promotion. Their blog is already targeted at the audience you are looking for. The smartly designed campaign focused on blogs can have a better effect than expensive image boosting marketing. Readers gladly familiarise themselves with brands presented on blogs, blog content has much bigger viral potential, the audience is more engaged and bloggers have a bigger influence on the mood and feelings of their readers.
Cooperation with bloggers is different than cooperation with journalists or other media. It requires distinct relations, methods and a slight change of attitude. Moreover, a bad blog-focused campaign can be disastrous for your image, especially if you keep in mind the fact that internet users will stand on the side of the blogger when any conflict arises. Thus, we have prepared 10 simple rules for effective cooperation that can be beneficial to your brand.
1. Create a strategy
Before you start any cooperation, you should devise a viable strategy which will include: targets (especially quality ones, although quantity is also important), scope (what you will offer and how you will do it), methods (you can use ready-made tools for social media monitoring), what do you demand in return, who will be responsible and what budget you have. A blogger should understand the message you wish to deliver and has to be certain about what you require. You should understand the rules of the blogosphere and you have to propose a clear and stable cooperation.
2. Choose a person or agency in charge
When you designate a person responsible for the campaign bear one thing in mind – this activity will take time and requires a lot of interpersonal skill and experience. If you wish to create a long-term relationship between your brand and bloggers, the person who will take care of the communication should know the brand well, should understand social media and has to have well-developed social media and PR skills (not to mention manners).
Some companies decide to employ agencies to do the work for them. It's not a bad idea, especially if you plan a campaign that will involve numerous blogs. The agency's services are complex and the experts working there can deal with most situations and crisis that may appear. On the other hand, direct cooperation without the help of a "middleman" may be more engaging and personal for a blogger
3. Choose your bloggers wisely
If you wish to cooperate with bloggers personally, do a thorough research – account for the topicality first, then consider the reach. Read the blog and understand it, its author (the style, the presentation) and the readers (comments, author's appeal, reactions to posts). Use ready-made social media monitoring tools like SoTrender or Brand24. Check the research panels for marketing purposes (Hash.fm). You can also check the current rankings of blogs, but do not omit the bloggers who are not on the top, as they may have more time for you and give more effort when they are not in constant demand. Who knows, maybe a cooperation with the blogger from the second tier will bring both of you more profits?
4. Clearly define the rules
Determine the rules of cooperation with your blogger. What products do you wish to deliver? How frequently? How quickly should the article appear and in what form (a contest, text, special action, what photos or videos will appear, are there any comparisons between products)? How the articles will be promoted (sharing on Facebook, Twitter, Pinterest, YouTube) and obviously, the remuneration.
The last aspect is a line that many companies are unable to cross, thinking that access to the product is a reward in itself. It may be true if we are talking about the lower tier of bloggers or expensive products (electronics, trips or cars). But in most cases you should be ready to simply pay the blogger. Authors who are recognisable and have a huge readership can (and should) get profits from their work. A survey done by Hash.fm shows that nearly 70% of bloggers negatively evaluate companies which demand cooperation without pay.
.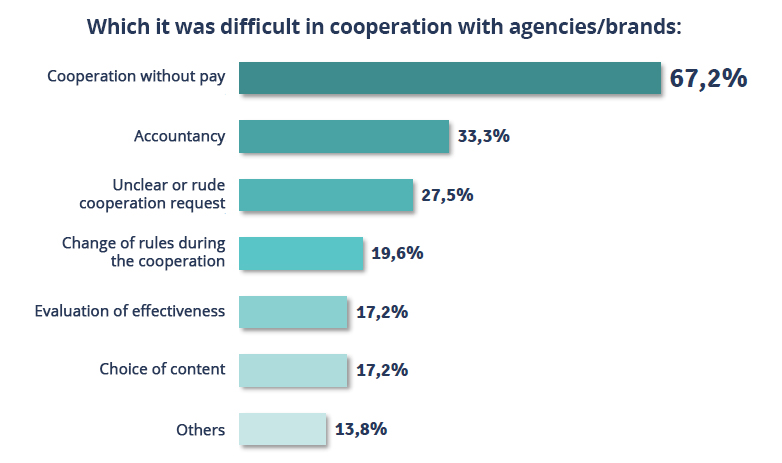 Source: Hash.fm report "Cooperation with brands seen by digital influencers"
5. Do not think as a marketer
You expect a certain number of publications in a given media outlet with a chosen reach for a set amount of money. This mode of thinking should be forgotten when you cooperate with bloggers. You can require a minimal reach or effort (for example – a number of articles), but the biggest advantages of bloggers are their uniqueness and the selected base of readers.
Thus, when you proceed with your marketing campaign, choose the authors which have a reach that satisfies you. This way you can avoid pressuring the blogger and you won't require a fake collection of likes and shares which won't influence the campaign in any positive way.
Do not bombard your bloggers with ready-made articles, product descriptions, images or videos. Don't expect that they will follow the materials you publish on your own website or in marketing publications. Create a separate, unique campaign. You want to benefit from the help of bloggers because they provide non-standard marketing. Take the Ariel laundry detergent campaign for example – the company sent stained designer clothes to chosen bloggers along with a bottle of stain remover. To know the brand of apparel, the bloggers had to wash it. This campaign was very successful and gained a lot of attention on social media and in traditional media.
How to properly utilize the potential of bloggers? Cloud 9 ice cream campaign can be another example. It sent the bloggers up to the sky.
6. Treat them individually and be a partner
Do not treat the blogger as one of many, even if you cooperate with a large number of them. An individual approach will make the blogger more engaged in your product. A bit of work in building a personal relation will be seen in the final stage of the cooperation.
Individual contact does not mean that you have to be a buddy of all bloggers, attend their birthdays and overuse your good relations. Be personal, but serious. Don't look down on him or her, don't be a boss. Close, but a professional relation, a healthy amount of distance between you two is the best way to cooperate.
Bloggers know their trade and treat their work as a real job, so it is worth to build true business relations with them.
7. Be open to the ideas of your bloggers
Many companies are still afraid to think outside the box and create something more than a contest or product comparison, but some bold strategies do appear. Ambassador programs or events are created specifically for bloggers. Maybe it would be worth to listen to the bloggers themselves. Invite them to cooperate by giving them the possibility of say something in the campaign and allowing them to create their own vision and rules.
The chart below shows ROI from influencer marketing is comparable to or better than other marketing channels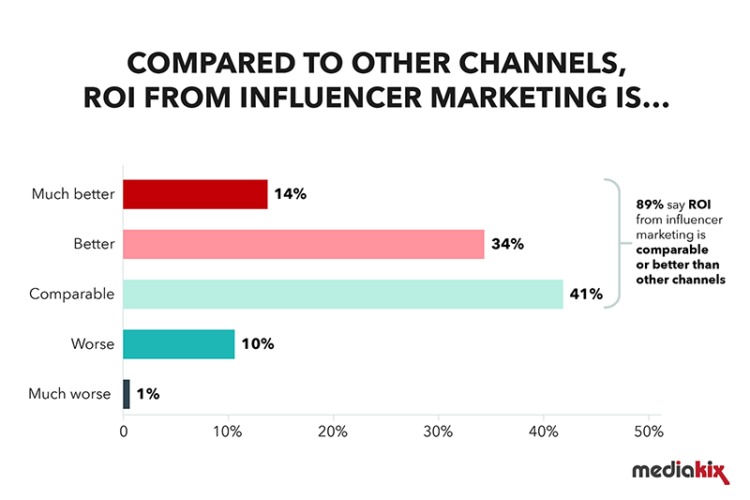 Source: https://www.bigcommerce.com/blog/influencer-marketing-statistics/#what-is-influencer-marketing
This proves that blogs are more engaging than company websites, even though they have a lower budget and are (usually) created by non-professionals. It is worth to trust bloggers, as they know their readers best, they can see the product in a different way than you do and can create more engagement if you leave them to their own devices. According to Hash.fm, only 3% of bloggers expect to get ready-made marketing materials. The majority thinks that creating the advert themselves or in cooperation with the brand is the right way to go.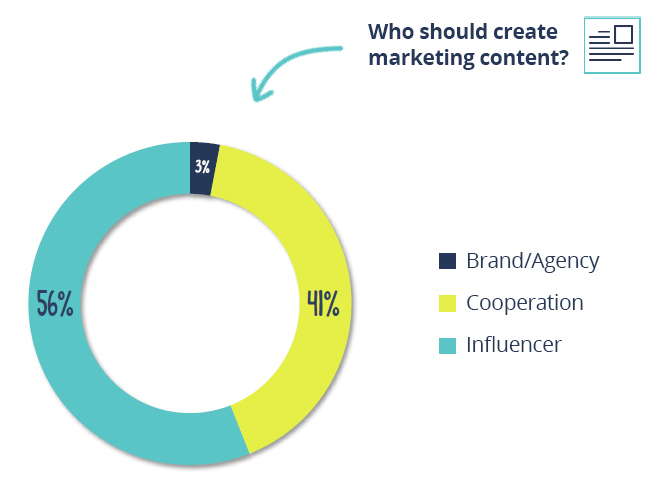 Source: Hash.fm "Cooperation with brands seen by digital influencers"
8. Monitor it
Don't wait for the blogger to get the action report. Read the blogs yourself, show that you are also engaged in the campaign, commend the author if you like something and give your own suggestions. Talk if you wish to switch the route of the campaign. Monitor the actions of other bloggers and your competition. Search for inspiration and ideas, note new trends. If you cooperate with an agency, demand regular reports – this way you will see any need for adjustments fairly quickly.
9. Resolve problems
Be prepared for negative comments, critique or errors. Try to react fast and propose a satisfactory resolution. Admit fault when you have to. Do not hide your head in the sand, do not make the problem smaller than it is, do not depreciate the blogger. The war between you and the internet users cannot be won, especially if the error is evident. It doesn't mean that you should surrender and do nothing, as even defeats can be transformed into victories.
10. Surprise
If you expect creativity and great ideas from the blogger, show that you are also imaginative. Give more than the bare minimum, surprise the author with something nice on his or her birthday or even without any special occasion. When you send products for testing take care of the packaging and design something unique and personalised. Propose some beneficial gift for the readers – special offers, discounts, freebies. Recommend inimitable actions and create engagement for your brand. This way cooperation with you will not only be profitable but also fun. Remember – you are the ambassador of the brand, thus, your approach to the blogger is reflected in the blogger's approach to your product.
About the Author:
Justyna Fabianczyk – researcher and creator of comprehensive marketing communication. She helps to build a "talking-brand" which can respond to the needs of its customers, inspire and be socially-engaging. She is an alumni of the Journalism Department of the University of Warsaw. She specialises in media, communication and Public Relations. She works as a copywriter, consultant and PR expert.