8 types of videos you can use in your content marketing campaign
Videos are probably the most popular content on the internet. But simply uploading a clip to YouTube is not a marketing campaign. To create a successful advertising in this area you should know what types of video you have at your disposal. This way you can design a coherent and effective video campaign for your company.
Table of Contents
First and foremost, there is one crucial thing you should remember when you draw up a plan for video marketing – it should not be treated the same as TV ads. This means you cannot use a video that is accepted in other media, such as a simple advertisement for a product. A TV ad can be characterised as a "one-sided message dumped straight into customer's throat" (Gary Vaynerchuk). Video marketing should focus on interaction with the user base and internet is the best tool for that.
Video, like all other visual media, induce certain emotions (trust, curiosity, laughter) which cannot be delivered using text only. What's more, internet users have a short attention span and lose interest in the text content the longer it is. Online world accustoms its audience to visual messaging and video. Thus, most companies have to find a use for "moving pictures" to reach their customers.
Here are 8 types of videos you can utilise in communication of your brand and in your marketing strategy:
1. Product Demo (Explainer video)
One of the most basic forms of a video message used by startups and in the new technologies niche (like app designers). It can explain to your customers how your product works and how it can be applied. Such video also has a promotional value. Explainer videos are usually embedded on websites, so the user can see outright how the product works.
Example:
2. Tutorial video
Tutorials are very similar to demos, but they are usually a part of a whole series of clips. What's more, they don't have to be a simple tutorial which shows how to use a product or a service. They can be training materials that are not directly associated with a brand but clearly linked with a certain trade. Most often, you can see tutorials in the B2B sector – for example when a company providing SEO services offers a video tutorial about marketing activities and shares its experience with others.

Example:

3. Testimonials
Our shopping decisions are based on recommendations of our friends, but also on other users that write their reviews on the internet. This is why publishing testimonials of satisfied customers and business partners is an integral part of web design. Nevertheless, some of those testimonials can be easily identified as doctored texts. Thus, one way to authenticate the opinions about your company is a testimonial video or a video review.

1-mintue video with customer's opinion about Unbounce says a lot about the app
4. Video blog (vlog)

Vlogs are some of the most popular video content on the web. Brands use it in different ways – from cooking blogs to absurd clips from "Will it blend" by Blendtec. A vlog is a mix of different video formats, but it can easily be a form of entertainment.

Example:
Blendtec has been using videos nearly since the beginning of YouTube.

5. TikTok

TikTok is a social media outlet which allows its users to post short clips (up to 60 seconds). In the US and Western Europe, it is a well-liked service, used by many market giants, like NBA, Guess or Sephora. TikTok focuses on imagination and bright ideas – the very short time to present your thought does not mean it's easy to do. The best clips show everyday items coming to life in a short narrative. Many brands use this type of video for promotional purposes.
6. Animation

It's rather a style of video than a distinct type. It is most often used in demo videos, educational materials and promos. Animation gives you an ability to tell a story in an interesting way and to show a complex process (impossible to grasp in text format) in a simple way.

7. Webinar

In short, a webinar is a lecture or workshop transmitted live online. Although it's a rather restricted form of communication if you compare it with a face-to-face meeting, it has a lot of advantages. First of all, you can build brand recognition, educate and create a form of communication with your user, for example by responding to customer's question using live chat (in addition, you can get to know your customers better when you interact with them directly).

Example: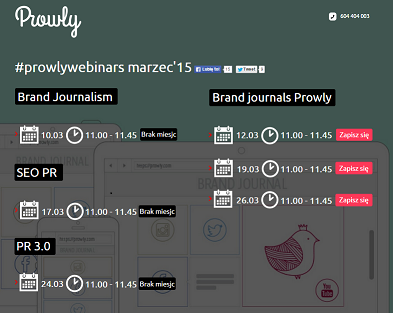 More and more companies (like Prowly) use webinars in their strategies. Webinars teach about a product's functions as well as its application.


8. Entertainment

Another advantage of a video is its entertainment value. A clip which is funny can go viral and spread in social media – it's an effect desired by most companies. The "positive buzz" also expands your fan base and makes your brand memorable.

Example:
One of the more entertaining examples – videos published regularly by LEGO. They are true masters of this craft.
The video types described above can, of course, interlock and mix numerous characteristics (video tutorial can also be an animation etc.). It is possible that the nearest future will be dominated by videos. Thus, you should research this subject. And remember – content marketing does not rely on the publishing of one random blog post and video marketing is not too different. It should be carefully planned and it should be used as a form of communication with your customer.
Autor: Paulina Kamińska