What is SEO and how it works?
SEO (Search Engine Optimization) is crucial if you want to be visible on the internet. It can be observed that more people every day are gaining broadband internet access, and today the number of users worldwide exceeds 3 billion. That's proof of one simple concept - if you provide services through the internet, you should take care to get a good search result position for your website so your potential customers can find you. The series of articles which we shall begin right now will show you the basics of SEO, and will give you some advice on how to do it yourself.
Search results
If you type a given word into the search engine bar in Google, you'll receive a number of websites which are considered the best results for the given phrase. But this ranking is not based on simple merit - from the best to the worst pages out there. Webmasters help their sites to gain higher ranking positions through the use of Search Engine Optimization. You will discover what that means by reading this article further. Let's start from the beginning.
The search results page usually looks like this: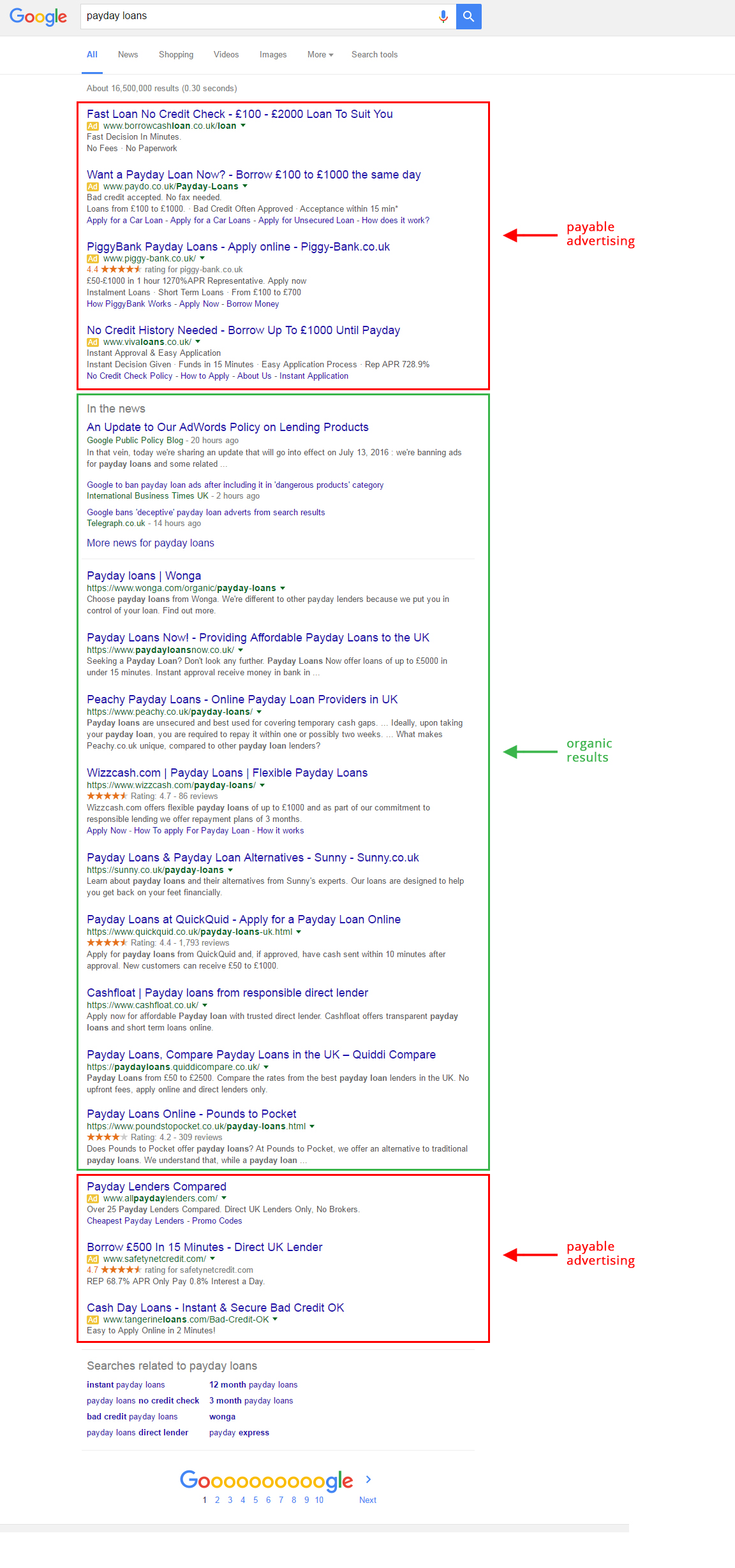 The first 3 results and the text on the left are marked with the "advertisement" symbol. These are so-called paid search results. If you want to display your page under a certain key phrase, you have to pay for that using the Google Ads service.
But you should be more interested in "natural" search results - websites that are displayed by the search engine without the need to pay Google for advertising. You can see those 10 results in the image above, marked by a green box.
It is worth noting that the search results page may look a bit different, depending on the chosen phrase. The number of pages that are on the first page may also vary. For example, the results page for local phrases which include the name of a city may vary, ie.
dentist Manchester,

mechanic London,

veterinarian Birmingham.
Here's what the page for dentist Manchester looks like:

As you can see, when compared to the previous search results page, the localized one shows the addresses and user rating above the organic results. This is a big help for internet users as they can gather the most important information (the location and phone number) without the need to visit the website itself. What is also interesting is the fact that if you are in Manchester, you will get exactly the same page, no matter if you type in "dentist Manchester" or simply "dentist". The search engine checks your location to show you the results for services near you.
For people dealing with SEO, paid ads and Google My Business info cards can be a huge problem, as organic search results sometimes appear below the viewable screen area, which means that many users won't even reach the organic search!
Who puts the websites in a certain order and what can affect them?
The order in which websites are presented is not random, of course. The websites which are considered the best match for a given keyphrase are shown at the top (excluding paid ads). Putting them in certain positions in the search results is a job for the Google algorithm.
No one among the general public knows exactly how this algorithm works, but analysts recognize numerous factors which affect the position of websites in search engines. There are more than 200 factors that can place the site lower or higher in the results, and these factors can be divided into 2 groups:
factors accounting for a website's content and its use

factors accounting for a website's popularity
The first group includes:
the amount of content on the site,

key phrase (words typed in the search engine) appearance in the content,

key phrase appearance in the article headings,

key phrase presence in URL addresses,

the uniqueness of the content on the page (copying from others is ill-advised),

page load speed,

optimization of the website HTML code.
When it comes to page popularity, this is evaluated using the number of links leading to it from other websites. For example:
the number of sites linking to the page

the total number of links leading to the page

the quality of websites linking to the page (number of users they have, their own popularity)

social media presence (Facebook, Twitter).
A very interesting infographic containing the most important factors affecting the position of a given website was created by Searchengineland: https://searchengineland.com/seotable
Google search engine optimization - is it worth being at the top?
What are the main benefits of being on the first page of the search results? Well, the answer is simple, because the number of users who will visit your website using the search results depends mainly on two things:
the phrase typed in the search bar,

the position of the website on the search results page,
You can check how many users search for a given keyword each month. For example, here are some keyword statistics for England.
car parts - 40 500 searches/month

gifts for boyfriends - 4 400 searches/month

leather winter boots - 90 searches/month
There is also the notion of the position on the search results page. The higher the ranking, the more people will visit it. The internet is full of different statistics and data concerning this topic, but generally, you can utilize the table below to count the % of users who will click the link to the website depending on its position in the results.
Position % of people who visited the site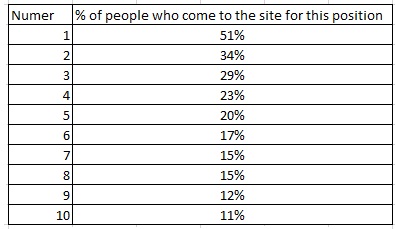 Using the data above, you can assume that the page appearing 5th on the results page for "car parts" will net you about 8 100 users a month, while the first position for "leather winter boots" will direct 45 users to your site. But you should remember that a well-optimized website appears higher in the search results under a great variety of key phrases, which means a larger number of users visiting it from different search engine queries.
What is SEO?
What should you do to appear at the top of the search results for a given phrase? All activities that aim to achieve this goal are called Search Engine Optimization, or SEO for short. How does it work?
It mainly involves optimizing and correcting all the elements mentioned above that affect the position in the search results. As a quick reminder - these include the content of the site, its usability, and its popularity. Here are some principal SEO activities:
HTML code optimization

preparing proper content for the site and optimizing it (using key phrases in the text, planning headers)

streamlining the functionality of the site (correcting technical errors, page load speed)

creating a correct site structure (information is split between different topical subpages)

preparing a version of the site for mobile devices

gathering links from other websites (article publishing, website directories, cooperation with other sites, word-of-mouth marketing)
That's only the beginning of a long list of SEO activities. More detailed information for every step shall be described in other articles in this series.
Who can help you with SEO?
Now you know how beneficial it is to do proper Search Engine Optimization for your website. You can employ SEO experts who can do it for you, or you can deal with it yourself. Where can you find help on the topic? Here are some useful links:
Social media groups for SEO specialists:
Google forum for webmasters:
Common myths about SEO
When reading numerous articles concerning SEO, you can encounter a lot of false information and myths about it. There are also many companies that use fraudulent tactics to deceive their customers. Here are some of the most prevalent misconceptions about SEO:
Once you appear in a certain position, you will stay there - not true of course. Search engine results change constantly, and a website can appear in different positions every day. Google constantly upgrades its algorithm. In addition, your competition never sleeps.

There is one sure way to get results - no one (aside from Google employees) knows exactly how the algorithm works. All SEO activities rely on research, experience, and observation.

SEO is a one-time thing - unfortunately, it doesn't work that way. In most cases, maintaining a certain position demands a lot of work.

Guarantee of a given position - many SEO companies use this as a selling point. However, it is only a marketing trick, as nobody can guarantee a high position in search results.
9 steps to SEO made easy
1. Well designed information architecture
Website architecture is a very important aspect of SEO as it involves creating a page that allows quick access to information both for users and Google robots indexing the site. Remember about proper internal linking and indexing the most crucial pages.
2. Friendly URLs
Optimizing URL addresses is one of the most important aspects of SEO. It is not necessary, but using a key phrase in the domain name is advised. You should also make sure that some keywords appear in the addresses of subpages. URL syntax and length are also significant.
An example of the URL address for a tourist-oriented subpage:
An example of the address for an e-shop:
3. Internal Linking
Well-designed website structure and internal linking are crucial for SEO. Thanks to properly mapped links, you can measure and divide the traffic and page rank for given subpages of the website. Using well-placed internal linking and linking from external sources, you can easily gain points with indexing robots and generate a lot of traffic. When you design a website, it is a good idea to draw up a map of internal links, which will also help you with other SEO activities.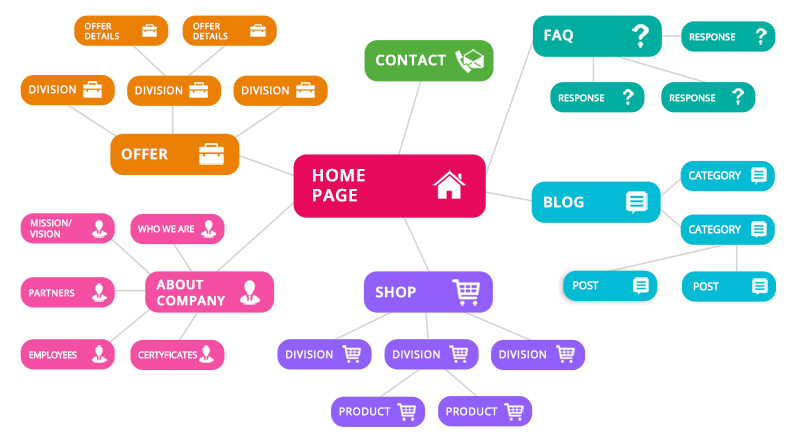 4. Key phrase targeting
Targeting chosen keywords and phrases in internal linking is also a vital aspect of SEO. Whenever it is possible, you should use anchor text using a given key phrase. In addition, remember to use the keyword as the title of the link. If it is possible, refrain from using phrases such as "read more", "click here" etc. as your links.
5. Content optimization in accordance with the key phrases
It is crucial to put the key phrase at least several times in the website's content, preferably in the <h1>,<h2> and <h3> tags and in the page title. Content should be properly saturated with key phrases, so Google can decide what topic is the main one on the page. Key phrase synonyms are also considered good practice. Aside from using an exact phrase, you can also utilize a couple of so-called "long tail" phrases.
An example of a car-oriented article about the Skoda Octavia.
Page title: Skoda Octavia - review - specs - engine - mileage
<h1> - Skoda Octavia
<h2> - Skoda Octavia - Technical Specs | Skoda Octavia - Engine | Skoda Octavia - Mileage
6. Duplicate content and SEO
When we refer to duplicate content in the context of SEO, we have two things in mind - duplicate content in internal page structure and duplicate content of content indexed by Google. First of all, you can easily get rid of a duplicate website address by using Google Search Console and creating a 301 redirect for your "www" address to one without "www", or vice versa. When you create content for your web page, you should write a unique text which cannot be copied from other sites (especially when they have much better positions than yours). In addition, you should take note if the content is not indexed under different URLs (this is crucial for sites that use an internal search tool that also indexes the results).
7. Cannibalizing key phrases
The process of cannibalizing key phrases appears when you use one key phrase to optimize several subpages. In such a situation, the Google robot chooses one page to index, which often is not the page the website owner would like to see first in the search results. This can lead to different pages you own appearing in different page results (as they hinder each other) and the whole search results page position for the website is unstable. This is easy to manage by restricting the number of key phrases on a given subpage to those you really wish to see in searches.
8. Page load speed
Nowadays, the speed at which the page loads for the user is considered one of the most important aspects of SEO. It is easy to see how your page looks in the page speed rankings using the Google PageSpeed Insights tool, which shows you which elements of the website need slight corrections. Why is it worth working on this element of the design?
Google robots move between the pages faster and will index them more quickly.

Users don't like websites that take too long to load - if you decrease the waiting time, you will see a lower bounce rate for your site.

The page may lose an "anchor" which provides a certain ranking position, and this may result in huge drops in search engine results.
9. Mobile versions have an impact on SERP
Since the 21st of April 2015, making the site mobile-friendly has had a huge impact on the position in the search results. Creating a responsive site is especially important for web pages that were created a couple years ago and have not been updated accordingly. As the number of search queries from mobile devices is rising every year, a page that is not mobile-friendly may drop significantly in the rankings. If you wish to see if your site is ready to cooperate with smartphones and tablets, you can check it using the mobile-friendly website test.
Authors: Karol Soja, Tomasz Biegun