How to reduce the bounce rate? Effective ways to improve your bounce rate
The bounce rate is nothing more than the share of visits during which a specific person visited a given page and then left the website. As it turns out in practice, the bounce rate can create a lot of confusion, especially for those website owners who do not have full knowledge of how to interpret it. Here's what to know about bounce rate indicator and how to fight it.
Table of Contents
What does the bounce rate tell us about?
Bounce Rate provides website owners with knowledge about how their site is optimized and how users behave on it. Generally speaking, one could say that the bounce rate will answer the question whether the user appreciates your contribution to the preparation of the site, whether our concept is correct and whether the architecture of the site has been designed to make navigating the site comfortable. However, if only drawing conclusions from the bounce rate were so simple, raising the conversion rate would not be a problem, and every site owner would quickly know what to change.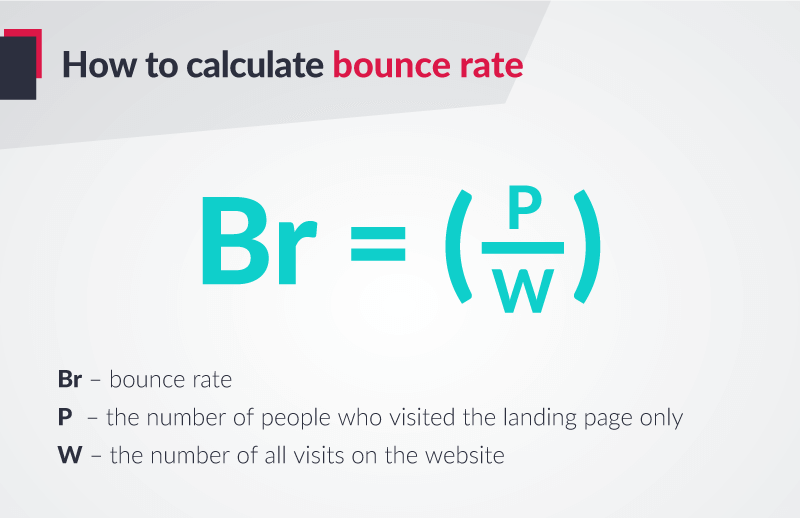 Infografika. Wzór jak obliczyć bounce rate.
Theoretically, the higher the bounce rate, the worse effect it will have for your site, but you should worry only after analysing a specific landing page. Why such a scheme of activities will be the best?
Because there is a problem with the interpretation of the data collected by the bounce rate. There is no scheme that can be adopted for all services. Individual analysis is required and above all knowledge of the specific site and its subpages. High bounce rate does not necessarily mean that the user has not found valuable information or product on your site. This situation may also indicate that it is just the opposite - the user learned everything he/she was looking for on a given topic and returned to the search to find something else. This is the case with blogs with guides, for instance, when one entry is able to meet the needs of the person seeking information.
---
In the case of blogs, it has been assumed that for pages containing articles, the bounce rate can be high and that's nothing bad. Briefly said: the user entered the site, read the article and left. But what if the article is to encourage the user to buy? Let's assume that you are selling laptops and your content section has a reliable and professional article about the best laptops of 2019. You include internal links to products in our shop hoping that the user will choose one of them and buy it by following internal links placed in the content. The bad luck is that the bounce rate is very high. In this situation, because we are dealing with a blog, should we humbly accept it and let it go? Or maybe try to optimize the article by any means and add even more CTA encouraging to buy? It is definitely worth trying. It is also worth paying attention to other factors, such as assisted conversion analysis. Remember that users do not have to be ready to buy when reading an article, which means that the bounce rate may not always give you the full picture of effectiveness or lack of it in the content section.
- Martyna Zagórska, SEO Manager w Content Solutions.
---
A high bounce rate for the e-commerce industry is a much more complex issue. It indicates either that you have a poorly optimized shopping cart, something on the site is not working as it should, or the category tree is too extensive and therefore too complicated. Something must be wrong if too many users visiting your site take no action - they do not buy, register or leave a comment.
The high bounce rate for e-commerce is extremely dangerous. Therefore, it is worth paying more attention to analysing such a website.
The bounce rate for one-pager and blogs - what needs to be kept in mind?
Here, the bounce rate should be interpreted somewhat differently than for large sites. After all, as mentioned above, if someone accessed a blog article by clicking on a specific URL address and then left the site, this does not mean that they did not find anything valuable on it. On the contrary, perhaps in this particular case, your content met the need to acquire knowledge.
Also, remember that a specific user may have been attracted to the website through a newsletter. The news that you present in it may record many single-page visits.
One page with contact details or a company presentation will also record one, usually a short visit. If someone returns to such a site, it is usually to give a recommendation.
Therefore, in such cases, the bounce rate is not only justified but above all unreliable. It is important to make customers aware that, not taking into account factors related to the purpose of the content and a given subpage, misinterpret the data collected by the blog.
In order to have more benefits for bounce rate analysis, you should also take into account the time the user spent on the page. This will be a fairly subjective assessment, because each time needed to analyze the suitability of a particular subpage can be different. However, it can be assumed that a dozen or so seconds is the minimum necessary to at least become initially familiar with the content of a particular page. How can you get valuable information based on this assumption? It's worth using the event tracking option in Google Analytics. We set the information about the collected data so that the bounce rate is calculated before the time elapses, which we set as the minimum.
The time parameter is always given in milliseconds. Remember that 1 second = 1000 milliseconds.
Website optimization with a high bounce rate - should it be implemented as soon as possible?
One thing is certain - it is not worth making changes during the initial analysis of a particular page. In fact, it doesn't matter if the bounce rate is high if the business goal is being achieved. Reducing the bounce rate in itself may not really generate any benefits. The time spent optimizing this indicator in such a situation is better spent on other activities.
For the sake of effective work, it's worth analysing the bounce rate of the following:
pages that generate the most income,
pages with the highest traffic generated,
pages where you see the chance to improve the quality of traffic.

Source: Google Analytics.
If you want to control your bounce rate and draw the appropriate conclusions from the collected data, it should be remembered that:
it is recognized that information sites that are mainly visited to find the phone number can have a high bounce rate,
blogs with a big variety of guidebooks and substantive values should have the lowest bounce rate possible,
How do you improve your bounce rate if necessary? Useful tips
It's worth starting by finding out the cause of the problem. Most often, extensively long page loading time is responsible for the high bounce rate. Yes, many online shops, especially in industries such as beauty and fashion, still have this problem. Users do not want to waste their valuable time on these types of sites. Most often they give up the purchase and return to search results. What can you do in such a situation?
2020 is primarily a struggle to stop the user who is "attacked" from every page by online advertising. Interesting, addictive, valuable content that exhausts the topic (and by the way builds the Topical Trust Authority of a given domain), as well as variations such as a graphically attractive website (of course within reasonable limits) and extremely helpful in many video industries. It is worth remembering that it will be very helpful to measure the degree of site scrolling by visitors and track the point where most of them leave the domain. Yandex Metrica with its ability to record visits can also be helpful.
- Paweł Kozłowski, Independent Consultant at PAKO Solutions.
---
It is definitely worth eliminating the attacking ads because it is an element that extremely annoys users. Especially when the ads cover the content and it is difficult to find the characteristic "X" symbol. We say a firm NO to pop-ups.
Non-intuitive navigation and a poorly planned sitemap are other common reasons for the bounce. When a user gets lost in the jungle of nested categories and cannot find a product, one cannot expect them to become the Sherlock of our shop. He/she will look for a solution and product elsewhere.
Although the need to adapt the site to the mobile version has been talked about for several years already, we still have a lot of backlog in this area. If a user visits a website using a smartphone or tablet and sees that it is not adapted to the needs of mobile devices, he/she will close the browser or look for a different one. A responsive version of a website can be designed with not much expenditure.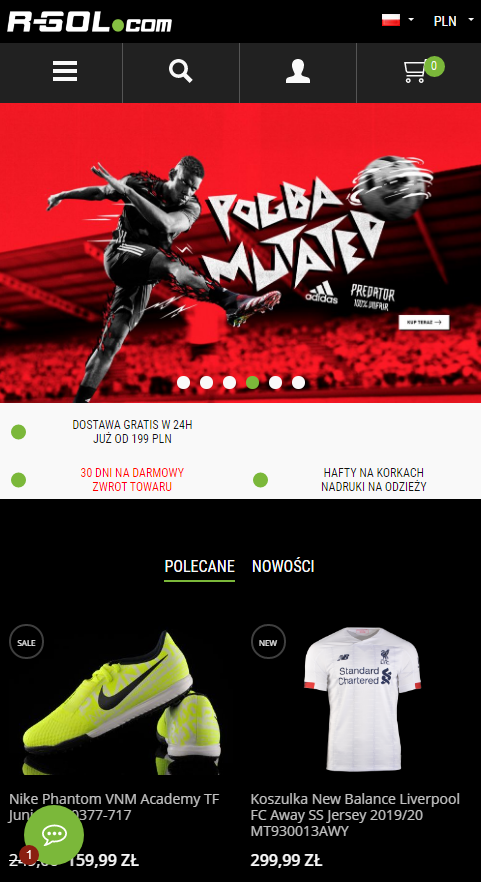 View of the mobile version of the website: www.r-gol.com.
First of all, however, you need to check the correct implementation of the Analytics code and how to collect data. Incorrect implementation will show a distorted image of the analysis. Remember that spam traffic can significantly increase your bounce rate, and there is nothing worrying about it.
It is also appropriate to track events in Google Analytics. What can be an event? For example, scrolling down the page or adding a product to the basket - this is just one small example of visitor behaviour from which you can learn.
One of the ways to improve the bounce rate can also be the properly done internal linking, even in the content section of the website, which will keep the user on the site for longer. In this case, remember to open links in new browser tabs.
Source: www.x-kom.pl/poradniki/4412-jaki-aparat-kupic-fotografia-dla-poczatkujacych.html
Can the language be responsible for an excessively high bounce rate? Certainly. When looking for a reason, you should carefully examine all possibilities. Perhaps communication that is excessively specialised or simply incomprehensible means that visitors quickly leave a specific section and look for answers on pages of the competition. Better language matching the target group can be very helpful, as well as ensuring that the data in each entry is updated.
As you can see, there are many factors affecting unsatisfactory bounce rate. Fortunately, there are as many solutions that can be implemented, and the simplest ones should be kept in mind, as they can significantly improve page performance. Getting rid of the problem successfully is primarily a matter of testing and how to make changes. Keep in mind that analysing your bounce rate for your entire site doesn't make much sense. Optimization activities should be carried out individually for each section and for the most important URL addresses on the website (e.g. category or product that is responsible for the largest conversion).
You can find more optimization articles in our Knowledge Base.