How to integrate WhitePress® with Looker Studio
At WhitePress® we go out of our way to meet our customers' needs, so this time we provide you with an option to integrate with another tool: Looker Studio (formerly Google Data Studio) - a free and intuitive application for creating reports and dashboards. Now you can conveniently analyze the information provided by our platform, juxtaposed with data from other sources. Check out how to add a WhitePress® connector to Looker Studio and what possibilities this connection offers.
What is Looker Studio (formerly Google Data Studio)?
Looker Studio is an online tool created to present data from various sources in the form of customizable reports and panels. The tool from the Mountain View giant has been in operation since 2016 and is constantly being developed.
Looker Studio has gained popularity due to its ease of use and the combination of different data sources. It is a very good complement to Google's tools, whose interfaces are sometimes limited. Looker Studio is one of the faster options for collecting seemingly inaccessible data in one place.
Now you can also pull data from your WhitePress® activities straight into your Looker Studio!
How is this possible? Data in Looker Studio can be linked through connectors (coupling software). The basic connectors are those that allow you to pull data from other Google tools, but there are also partner connectors in the toolbox. Of course, nothing prevents you from adding your own coupling software and being able to use data from other sources.
That's how we integrated WhitePress® into the tool - we developed a connector that any user of the platform can use to generate more comprehensive reports.
How do you integrate WhitePress® with Looker Studio?
By integrating Looker Studio with WhitePress®, you can get data on the activities on a selected advertiser's project. Each checkout activity can be included in reports and combined with other data sources such as Google Analytics and Search Console for even more insight into the effectiveness of activities.
To add project data from the WhitePress® platform to Looker Studio, follow the steps below. You can also watch Steven Khanna's tutorial and follow his instructions.
1. After logging into your account, go to "My Account".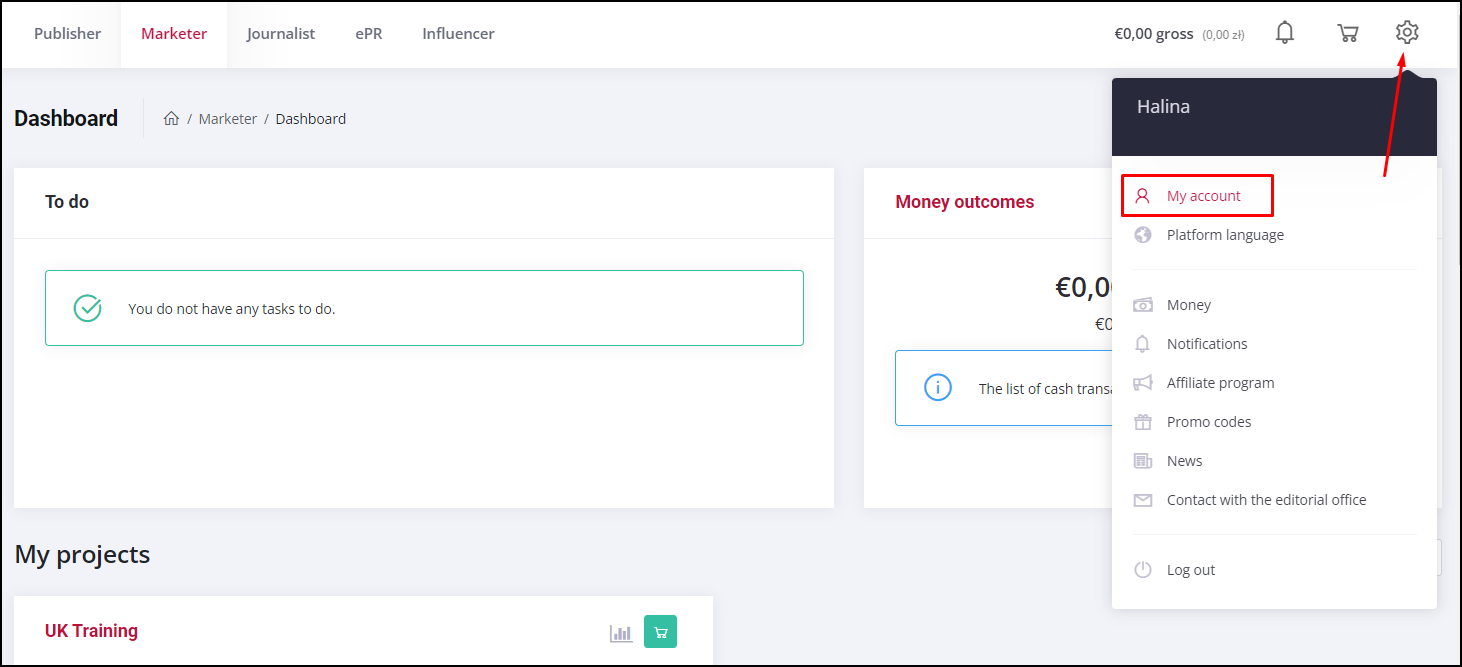 2. Next, go to the "Integration" tab.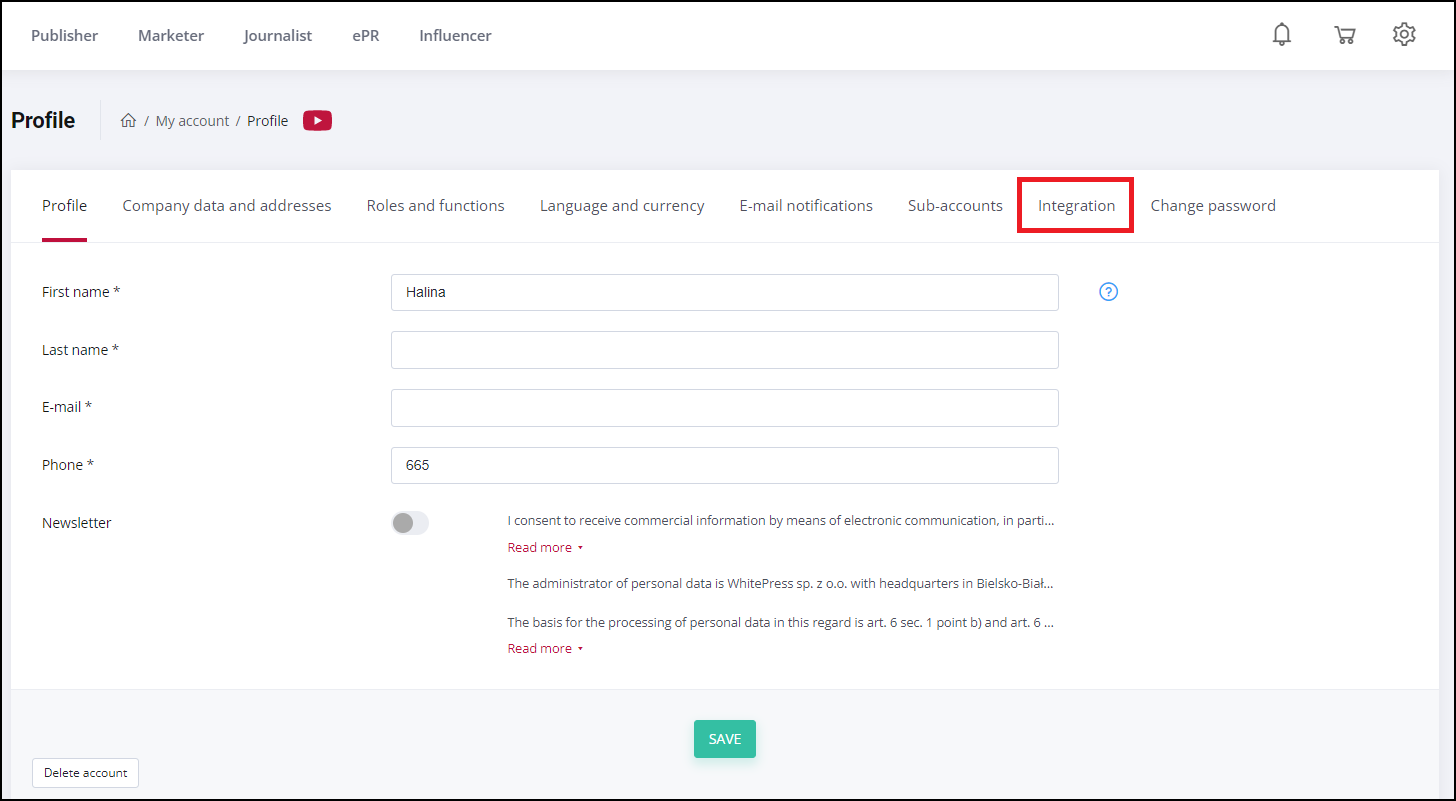 3. Under Integration, there is a section for Google Data Studio (yes, its former name is still used in our platform) - click Add integration.
4. After adding the integration, the API Key and the address to integrate with Looker Studio are displayed. Without closing the integration tab (because you will still need to copy the API key), open a new tab and go to the address provided.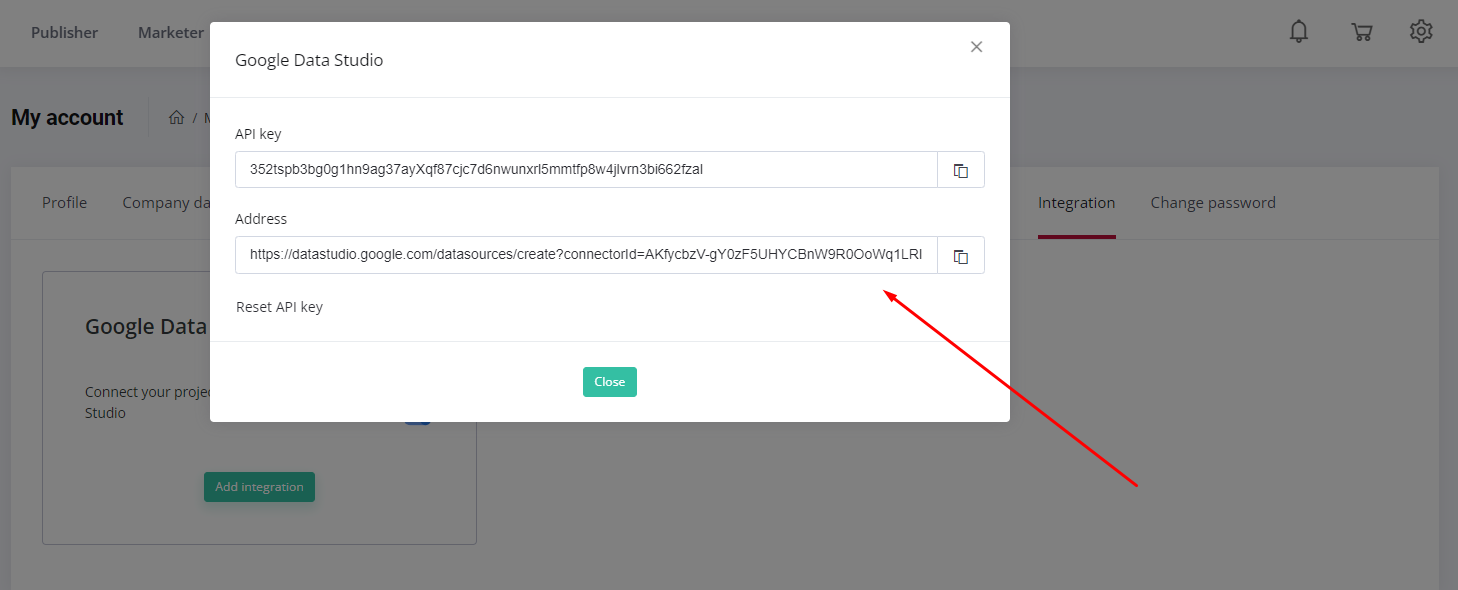 5. After logging into your Google account, create a Looker Studio account, unless you already have one.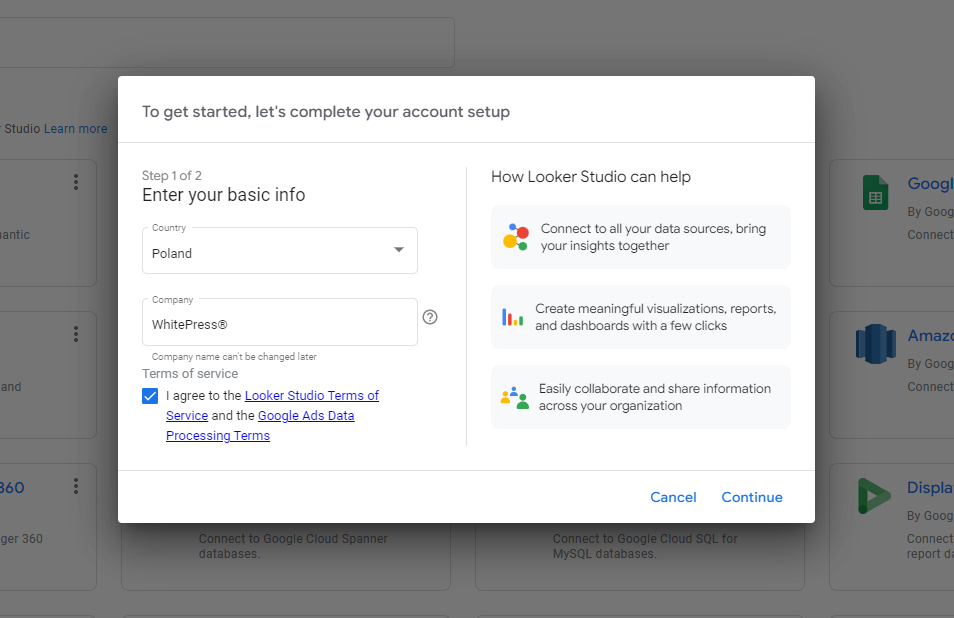 6. By clicking the link from the WhitePress® settings, the WhitePress Project Data connector will appear automatically.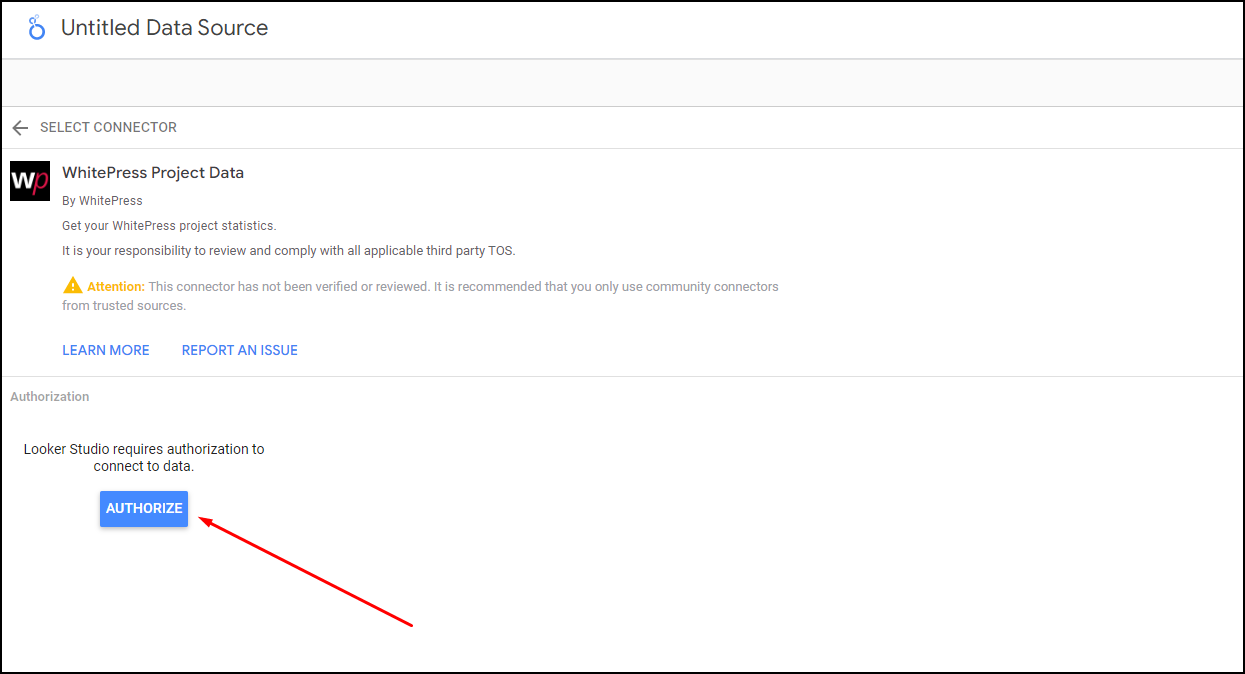 To continue connecting to the Connector, choose your account.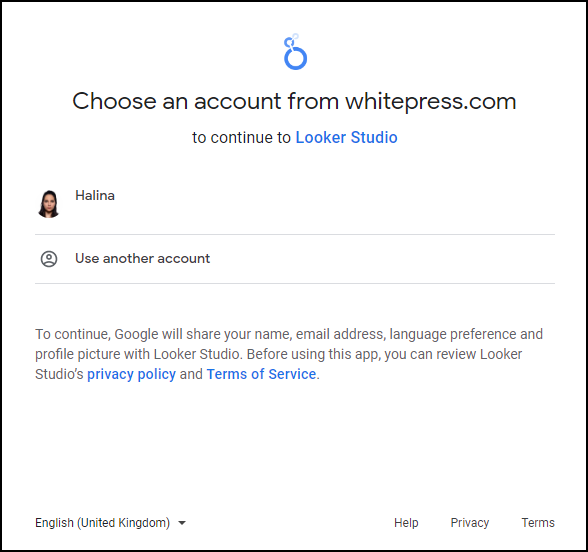 Next, allow the WhitePress® Connector to connect to your Google account.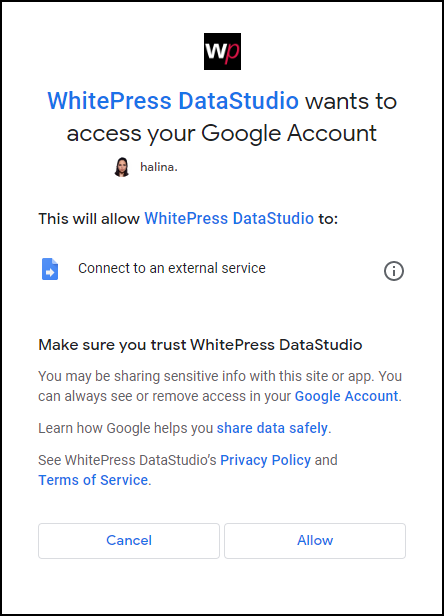 7. After a successful authorization, a box will appear in Looker Studio for you to enter the API Key, which you can find in the WhitePress® settings.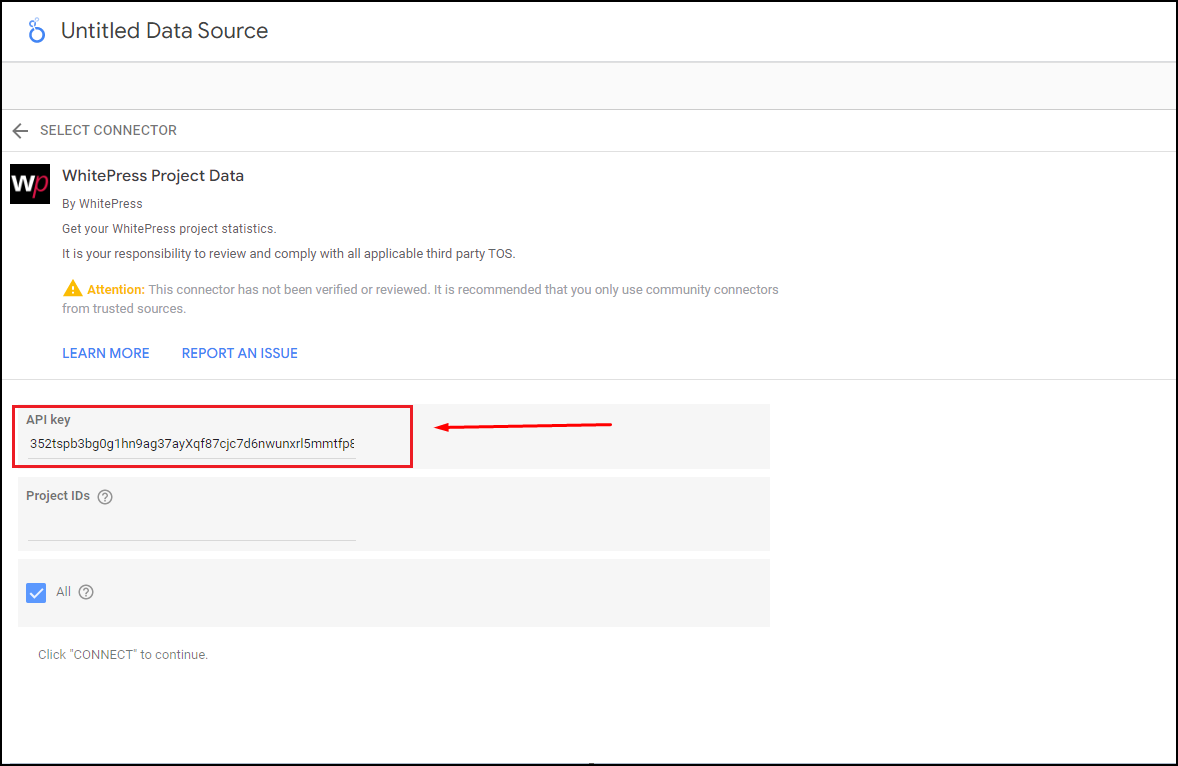 8. Right below the API Key box you will be able to type in all the Project IDs you would like to create a report for. You can also tick the "All" box, which allows all your projects to be taken into consideration while creating a project in the Looker Studio.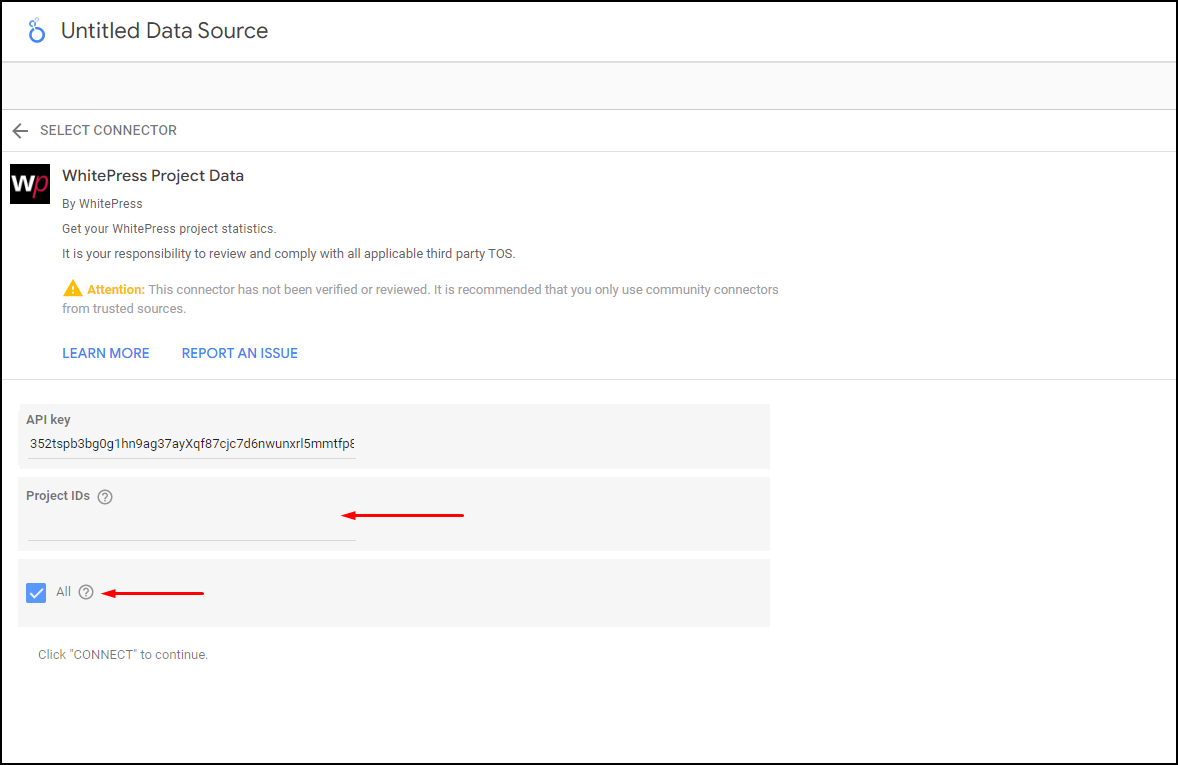 9. In the last configuration window, you have a view of all available data from the connector. Create a report from it by clicking Create Report.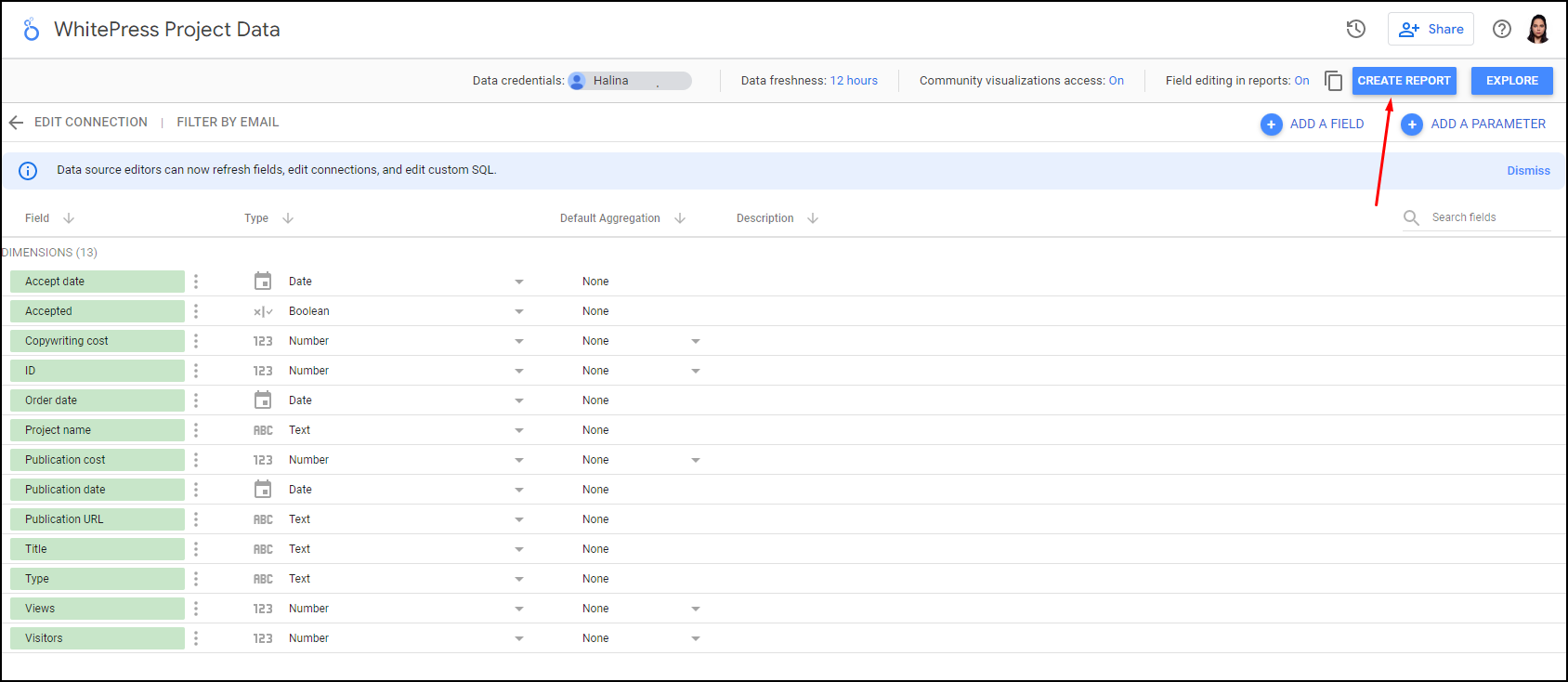 10. The last step is to confirm the addition of data to the report - to do this, click: Add to report.

Integration is complete! You can now add data from the WhitePress Project Data connector to your report in Looker Studio. Now all you have to do is to add the appropriate data visualization and construct the report according to your needs.
All data will be refreshed automatically every 12 hours. All you need is a one-time setup to use the reports in your analytics.
What data from WhitePress® will you display in Looker Studio?
It is up to you to decide which information provided by WhitePress® will be visible in Looker Studio reports. Data from projects that are visualizable are:
Order date - the date the order was placed in the panel;
Accept date - the date of content approval from the journalist;
Publication date - date of publication on an external portal;
Copywriting cost - the cost of writing the content ordered in the panel;
Publication cost - cost of publishing the content on the external portal;
Publication URL - link to the publication;
Title - title of the publication;
Type - type of publication:

Paid - paid articles,
Guest - guest articles,
Copywriting - articles for personal use.

Views - views (works in case of ordering statistics);
Visitors - number of visitors to the site (works if statistics are ordered).
Data sources
The Looker Studio tool is free and quite intuitive to use. It's worth using, especially if you already use other tools from Google. Care has been taken to make data from core services easy and quick to add.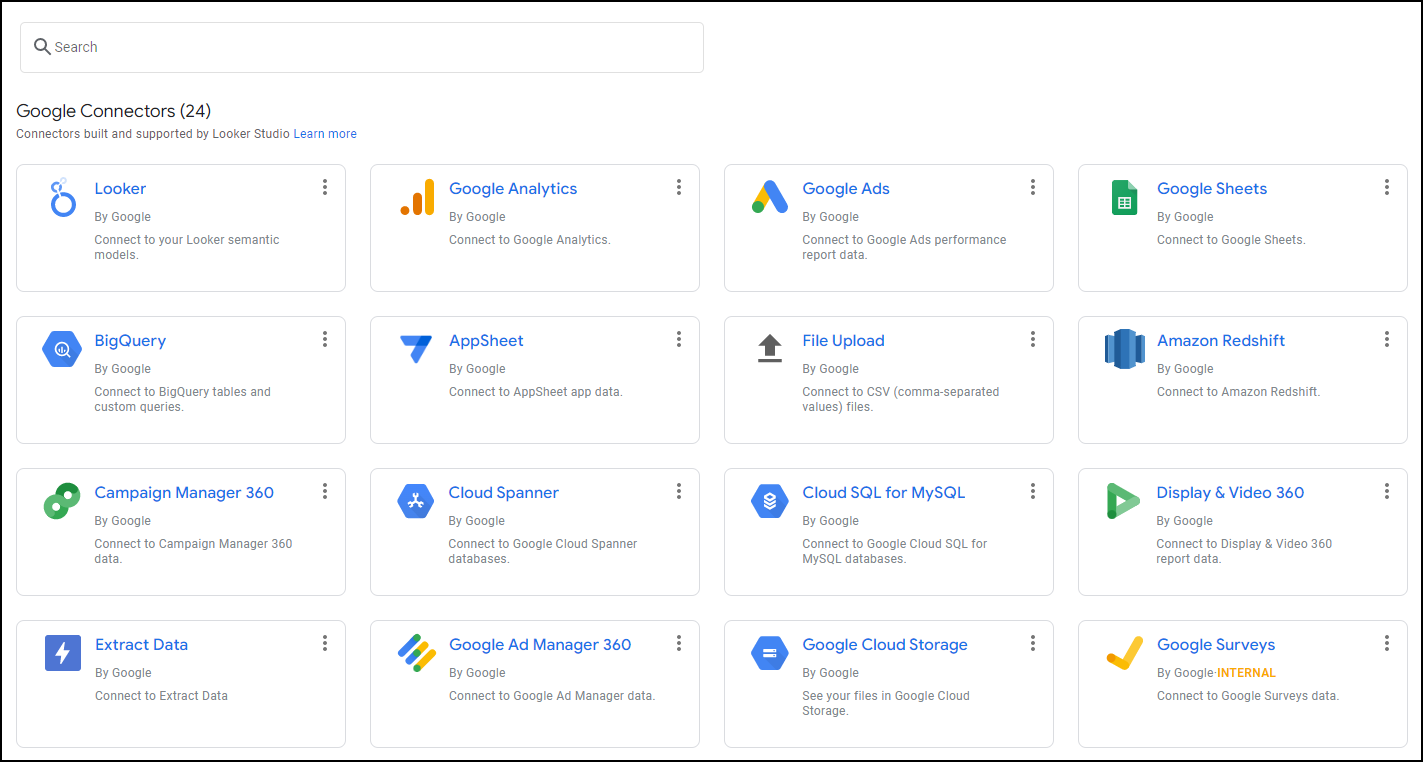 Looker Studio's primary connectors include:
Google Analytics
Google Ads
Google Sheets
BigQuery
Google Surveys
Search Console
YouTube statistics
Google Cloud Storage
Google Ad Manager 360
Compaing Manager 360
Search Ads 360
Creating additional connectors also allows you to integrate data from completely different, external sources - as in the case of WhitePress®.
What capabilities does Looker Studio have?
If you're not yet using Looker Studio, this might be a good time to start. Viewing data from various sources configured into clear panels and reports makes it much easier to analyze the effectiveness of your efforts.
Presenting data
In Looker Studio we have a lot of flexibility when it comes to presenting data, the basic forms of presentation include:
Tables,
Summaries,
Time-series charts,
Bar charts,
Pie charts,
Google Maps,
Line charts,
Layer charts,
Point charts,
Pivot tables,
Bullet charts,
Diagrams,
Indicators,
And other visualizations created by the community.

Data control
Of course, data control is also important. In Looker Studio, we have several options:
Lists,
Windows for data entry,
Advanced filters,
Sliders,
Checkboxes,
Date range settings,
Data controls.
Themes
If you care about the presentation of your data, you should be interested in themes, which can be predefined. In addition, you can also add your own content, links, images and predefined shapes to the reports. This allows you to create information panels as you see fit.
Templates
Looker Studio has the ability to create templates that give you a quick start to creating your own reports. Google has created a special subpage Template Gallery, which makes ready-made reports available completely free of charge, with the possibility of editing them according to your needs. Of course, nothing prevents external companies from also making their reports available, which is a very common practice.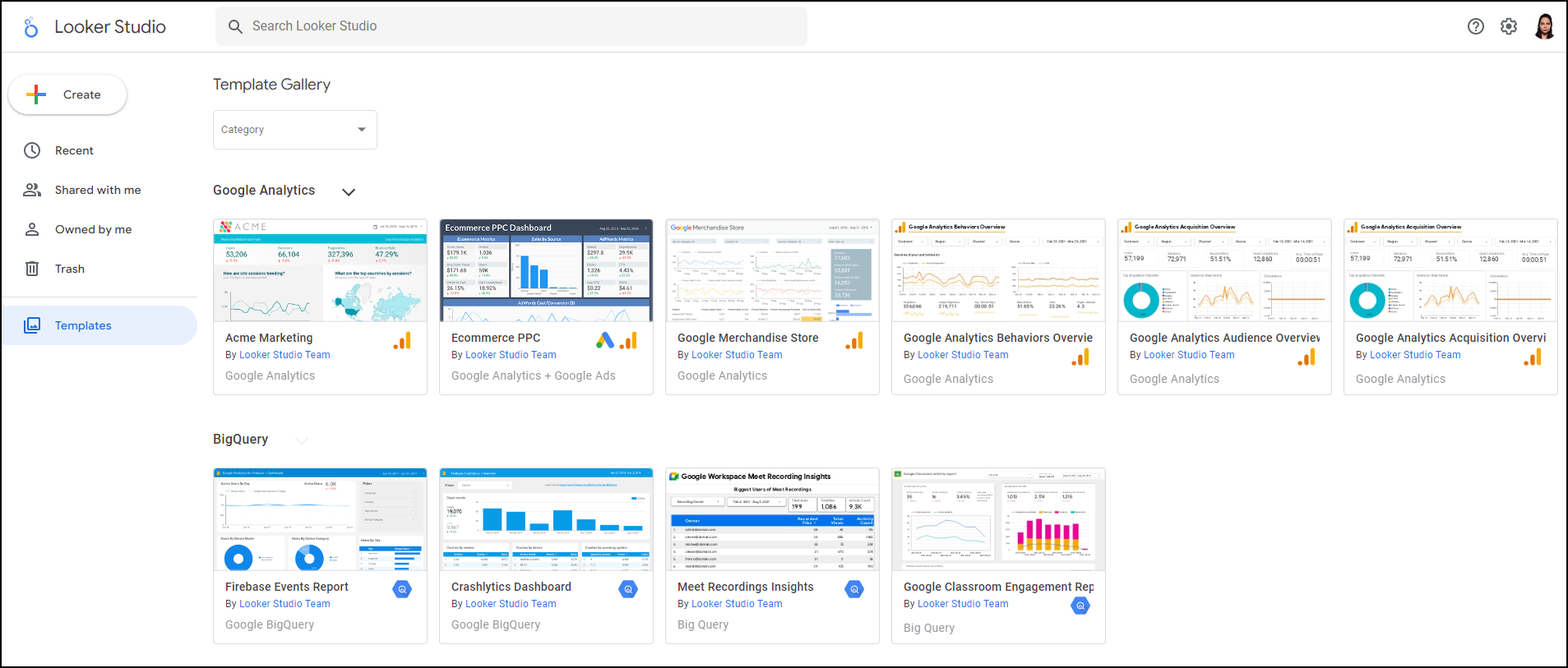 Linking data sources
A feature that is very important and difficult to achieve in other tools. The multitude of connectors and full compatibility with Google tools is one of the most significant capabilities of Looker Studio. Once you have added all the data you need, simply click Merge Data and after matching the dimension (key), the data will be merged.
Access to reports
Data security is extremely important, which is why Looker Studio reports can be shared with the right people. Of course, nothing prevents everyone from seeing the report by selecting special permissions for all users. Familiar from other Google tools - sharing, has also been implemented in Looker Studio.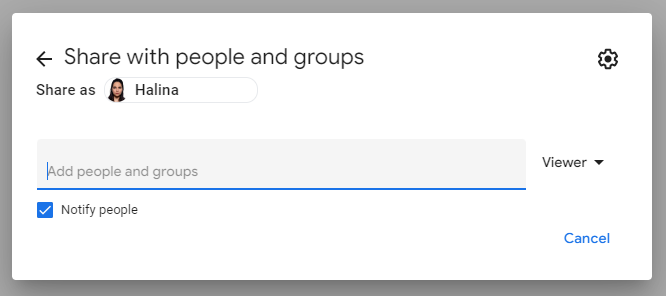 Data updates and cyclicality of reports
Interactivity and timeliness of reports is very important. Reports in Looker Studio are kept up-to-date through connectors. The ability to send reports cyclically is also integrated into Looker Studio.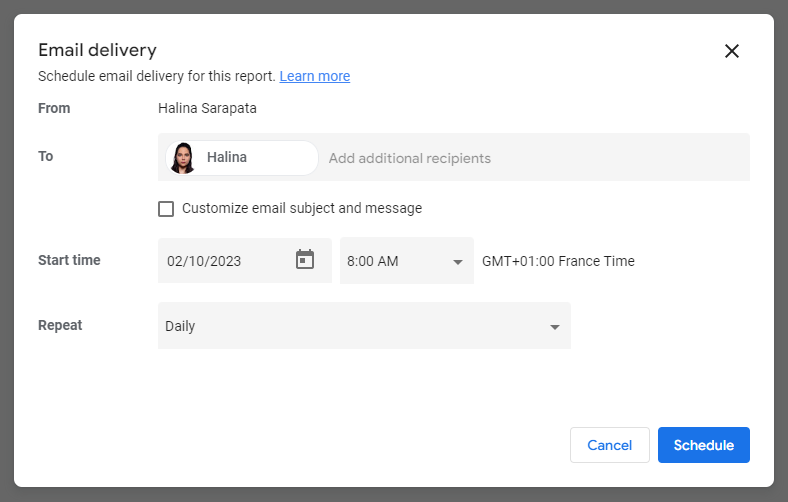 Advantages and disadvantages of Looker Studio
No tool is perfect, as each has its own advantages and disadvantages. We have mentioned the most important ones below:
Advantages
Free,
Integrations with other Google tools,
Lots of other connectors to well-known tools and the option to create your own,
Integration with WhitePress,
Quick and almost one-time setup,
Transparency of the interface,
Constant Looker Studio updates,
Reporting automation,
Combining different data,
Interactivity,
Security of data in the Google cloud,
Ability to embed the report.
Disadvantages
Little technical documentation,
Slow loading of data at times,
Data merging can sometimes be problematic.
Summary
Looker Studio is undoubtedly a very useful tool to use. Thanks to the integration with WhitePress, you will be able to analyze your content marketing activities together with data from Google.
We hope that this new capability will improve the work of many users of the WhitePress® platform!