WhitePress® Certified Course of SEO and content marketing is on!
Become a digital PR and content management expert with the WhitePress® Certified Course. Our comprehensive online training provides practical information, tutorials, and tips to help you run successful marketing campaigns and achieve your goals. Learn how to improve website visibility, build a strong brand, and maximize the potential of one of the most popular marketing automation platforms in Europe. Start your free lessons now and take your skills to the next level!
We're starting our free course that will guide you step by step through the international SEO and content marketing platform - WhitePress®. Join over 1000 registered students, go through 28 lessons, and get certified to gain key competencies in working with positioning and content management.
Instead of several days of training - an online course
Regardless of whether you're just starting to use SEO or online marketing tools, or you already know our platform and run your campaigns on it, now you have the chance to gain truly specialist skills. The WhitePress® Certified Course allows for in-depth learning about the services and features that will speed up your work.
In 28 instructional videos divided into 5 modules, we explain how to choose and publish articles on quality websites, commission copywriting, manage content, operate the budget on the account, comfortably analyze the effects of actions and much, much more.
The course has just started, and you can already begin your first lessons - for free, at any time that suits you.
In order to learn more about our course, be sure to visit our landing page and watch our trailer:
What will you gain from the WhitePress® course?
Our free course will significantly streamline the digital PR, content management, and positioning processes. It's full of practical information, detailed tutorials, and valuable tips. Thanks to it:
You will learn how to conduct content marketing campaigns on a national and international scale, improve website visibility in search engines, build a strong brand, and achieve marketing goals.
After passing the final test, you will receive a WhitePress® Certificate confirming your knowledge of the tool, which will increase your chances in job interviews and can be a valuable asset in your CV or LinkedIn profile.
You will learn how to maximize the possibilities of one of the most popular online marketing automation platforms in Europe.
You will get to know the advanced features and interesting facts about WhitePress® platform that you might not know about.
Furthermore, you can direct your new employees to this course and save a lot of time on training.
How to start our course?
It's very simple: if you have an account on WhitePress®, start by logging in. If you haven't used the platform yet, register first. Regardless of what roles you have chosen in your account, you can access the course from the main view
In the upper right corner, after clicking on the settings icon, you will see a drop-down list of options. Find "Training and Certification"— that's where it's hidden!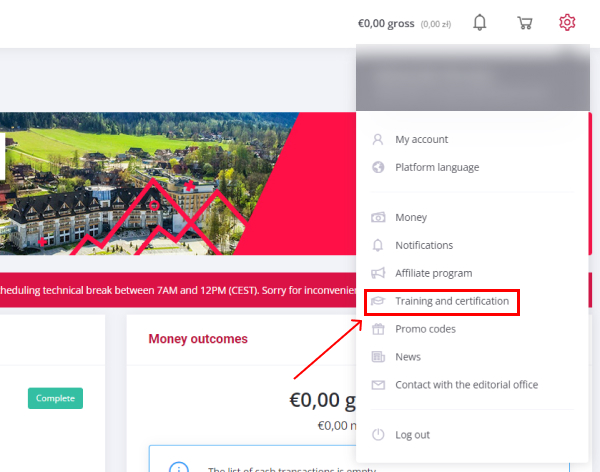 Great! You're now in the course panel. Here you can start watching the lessons in any order you wish to.
After completing the course and passing the certification, don't forget to share your success on social media! So, shall we begin?