WhitePress® Expands Its Reach: Entering The Middle East and North Africa Markets to Unlock Digital Marketing Potential
Digital marketing has become a crucial channel for marketers worldwide, and the Middle East and North Africa (MENA) region is no exception. With the MENA region experiencing a significant growth in digital marketing investments, WhitePress® is thrilled to announce its entry into this thriving market!
Why the MENA Region?
According to Statista, spendings on e-marketing activities in the MENA region totaled about $4.4 billion U.S. dollars in 2020, and the number is expected to reach 7.9 billion U.S. dollars by 2024. This growing investment highlights the region's increasing significance in the digital marketing landscape.

The MENA region presents an enticing market for businesses, characterized by a large internet user base and a flourishing e-commerce market. The region is projected to have 78% of its residents using online services by 2023, making it the fourth-largest internet market globally. Additionally, with approximately 141 million e-commerce users, the MENA region offers a thriving online consumer market.

This strategic move represents our next phase of growth as we extend our presence beyond the 30 countries, where we are already operating in. The MENA region, particularly countries like Saudi Arabia and Qatar, is opening up to the world right now, and we are witnessing a surge of initiatives in digital marketing. It is imperative for us to position ourselves where our clients are, ensuring that we can cater to their needs effectively. We appreciate the support and hard work of our teams as we embark in a totally new region for us. Together, we will seize the opportunities that lie ahead and ensure a successful expansion into the MENA market.

Tomasz Domański
Head of International Expansion, WhitePress®
Portals that the MENA Region has to offer:
With over 200 portals available in the MENA region, including notable publishers such as Layalina, Mawdoo3, Arabian Business, and Arab GT, WhitePress® offers a wide range of opportunities for businesses to reach their target audience. The portals cover various topics, including economy, sports, politics, fashion, health, and travel, catering to diverse interests and demographics.
To further support businesses in the MENA region, WhitePress® also offers native copywriting services in Arabic language, ensuring localized and culturally relevant content.
The MENA region has been witnessing significant growth and development in the field of digital marketing in recent years.

I am delighted to have the opportunity to partner with WhitePress® in the MENA region during a time when advertisers are actively seeking ways to enhance their SEO efforts. The market is showing a growing interest in platforms like WhitePress®, which effectively connect agencies, advertisers, and publishers who are eager to monetize their websites through sponsored article placements. I am confident in our ability to establish a strong presence in the MENA region's digital marketing landscape.

Wasfi Qaddoumi | وصفي القدومي

CEO, Jeel Media
How to publish on MENA sites?
To benefit from the sponsored article publishing offer in MENA region and/or local Arabic copywriting, follow these steps:
Log in to your WhitePress® account.
Create a "new project".
Choose "Arabic" as the publication language.
Select country of the publication.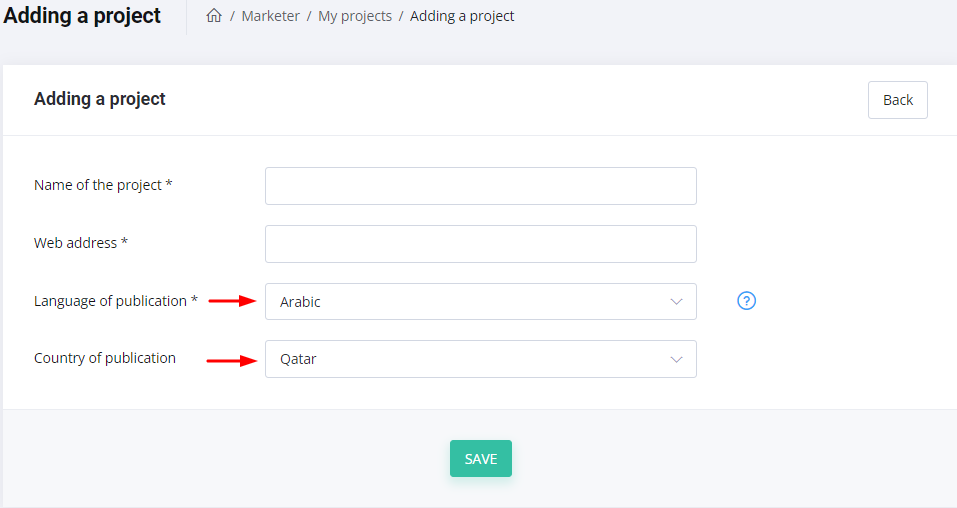 We are excited to have WhitePress® entering the MENA market, offering expertise in Arabic content marketing. Our goal is to empower businesses in the region by enhancing their online presence and effectively engaging their target audience. Leveraging our experience in global markets, we understand the significance of localized and culturally relevant content. Through tailored solutions for the MENA audience, we help businesses optimize online visibility and drive meaningful engagement.

Additionally, we will organize webinars and workshops focused on SEO and content marketing strategies specific to the MENA region, providing practical guidance and actionable tips for businesses to maximize their online impact. At WhitePress® MENA, we believe in the power of content marketing to build strong brand identities, establish thought leadership, and drive business growth.

With a successful track record of over 200 portals on board, we are enthusiastic about registering more portals. Together, we will drive remarkable growth in the MENA region.

Azzam Yahia | عزام يحيى

Growth Director, Jeel Media

By publishing in MENA region, you can reap long-term benefits for your brand. It not only gives your brand an international identity, but also simplifies the technical aspects of expanding into new markets. This strategic move lays the foundation for smoother expansion and growth opportunities.