WhitePress® is expanding: Bosnia and Herzegovina and Serbia have become part of our family. Discover the potential of the potent Adria region!
Discover the Hidden Treasures of the Adria Region with WhitePress® Expansion! Croatia, Bosnia and Herzegovina, Serbia, and Slovenia - a region brimming with beauty, rich history, and culinary excellence. Now, WhitePress® opens the gateway to this promising Adria region, welcoming Bosnia and Herzegovina, and Serbia into its family.
You must have heard about the beauties, historical and cultural heritage of Croatia, Bosnia and Herzegovina, Serbia, and Slovenia, and let's not forget about their culinary excellence. These countries have a strong bond and a lot to offer. You can now publish in all of them using the WhitePress® platform and achieve better results.
A Tiny Region of Great Importance
WhitePress® proudly welcomes Bosnia and Herzegovina, and Serbia to its family, adding to its capabilities in the vibrant Adria region. This small, yet significant, area holds great importance in terms of e-commerce development, cultural diversity, IT market growth, and expanding international platforms. With the potential for economic growth and the increasing popularity of online shopping, these countries offer new opportunities for businesses looking to expand their reach and tap into the dynamic e-commerce market.
According to a report from ecommercedb.com In Bosnia and Herzegovina, e-commerce has skyrocketed over the last couple of years, with a predicted revenue of US$424.6 million by the end of 2023. The country's unique blend of Eastern and Western cultures attracts tourists and investors alike. The local e-commerce platforms and international giants, offer a diverse market for the WhitePress® clients.
Serbia, a rising IT hub, is witnessing growth in electronic payments and B2B e-commerce. International platforms like Amazon and eBay are increasingly popular, allowing Serbian customers to access global products. The top 100 Serbian online stores raked in around US$397 million in 2021.
With WhitePress®'s reach, businesses can now tap into the Adria region's e-commerce boom and diverse cultural appeal. Expand your horizons and achieve better results in this promising region.
Adria region in WhitePress®
After operating in Croatia and Slovenia and working closely with our clients, we wanted to offer even more. Bosnia and Serbia are crown jewels in the WhitePress® family because now you can reach the whole Adria region in just a few clicks via WhitePress®. Opening these markets also means that we have reached a new milestone: WhitePress® is now available in 30 languages worldwide.
The potential of this region is well known, and you get to use it to reach your target audience. With more than 1000 portals available, you have the opportunity to publish your content on the most reputable portals and niche markets as well. From big game media groups featuring: Index, 24sata, Večernji list, Slobodna Dalmacija, Avaz, Kurir, Telegraf, Novosti, Informer, and Journal to niche portals from various industries such as fashion, lifestyle, beauty, sport, business, entrepreneurship, politics, economy, health, travel, tourism, gastronomy, and many more.
Our regional manager, Vida Janekovic, has the best insight. With over 20 years of experience in marketing, she offers you a piece of advice:
After a successful two-year operation on the Croatian market, we expanded to neighboring markets in the Adria region. Serbia and Bosnia and Herzegovina are new markets where WhitePress® will implement all existing solutions and offer its services. WhitePress® is the world leader in the SEO and Content marketing market. More than 1,000 of the most-read portals in the region are available for clients to order articles. By opening new markets, you can order the publication of articles or the writing of texts by native copywriters in as many as 30 languages.
As always, we offer native copywriting services. Ordering content via WhitePress® means that native copywriters will create bulletproof copy that will get your message across.
How to publish in the Adria region?
To benefit from the sponsored article publishing offer in the Adria region and/or local copywriting, follow these steps:
Log in to your WhitePress® account.
Create a "new project".
Choose "Croatian", "Slovenian", "Bosnian" or "Serbian", as the publication language.
Select the country of publication.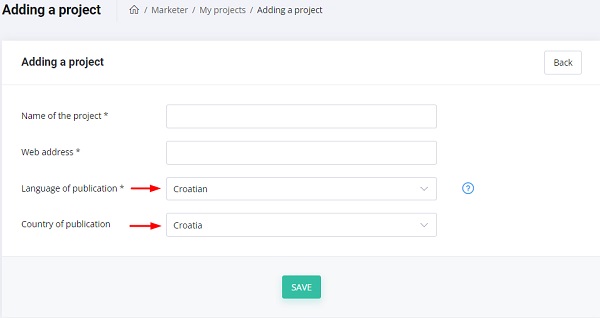 Remember, if you would like to order articles in various languages, you have to create a separate project for each language.
By publishing in the Adria region, you can expand easier, grow your business faster, and reach a pool of new customers. WhitePress® is here for you. Publish now and enjoy the results.