A manual for Google Search Console
Google Search Console is a tool that will help you optimise your pages to make them visible in the search engine. But often, incorrect use may lead to decreased traffic. Below, you will find a manual that will help you use GSC properly – you will learn how to operate in this environment and what features of the Console you should care about.
Google Search Console is a tool developed by Google Search Engine which allows you to monitor your verified websites and observe their visibility in the search results. Not long ago it was known as Google Webmaster Tools, but not much changed except for the name. It is still monitoring the mechanisms that are a foundation of your site, including its user availability. It is the only platform that allows the webmaster to communicate with the search algorithms and search engine itself.
Although GSC is a free and popular tool, many of its features are not well known. Thus, we decided to describe how Google Search Console really work.
Before we delve deeper into details, we should verify your website. Having a GSC account is useful, but irrelevant if you don't have a page to monitor.
If you are wondering whether Google Search Console is necessary for website SEO, read the linked article about search engine optimisation.
Table of contents
1. Verifying your website in Google Search Console
2. General overview of tools for webmasters
3. Top bar
4. Side menu options
5. Index
6. Enhancements
7. Security & Manual Actions
8. Legacy tools and reports
9. Links
1. Site verification
You should start with going directly to GSC: https://www.google.com/webmasters/. Click "log in" in the upper right menu and use your Google account credentials. If you don't have a site registered, the list of pages will be empty.
You can add a site here: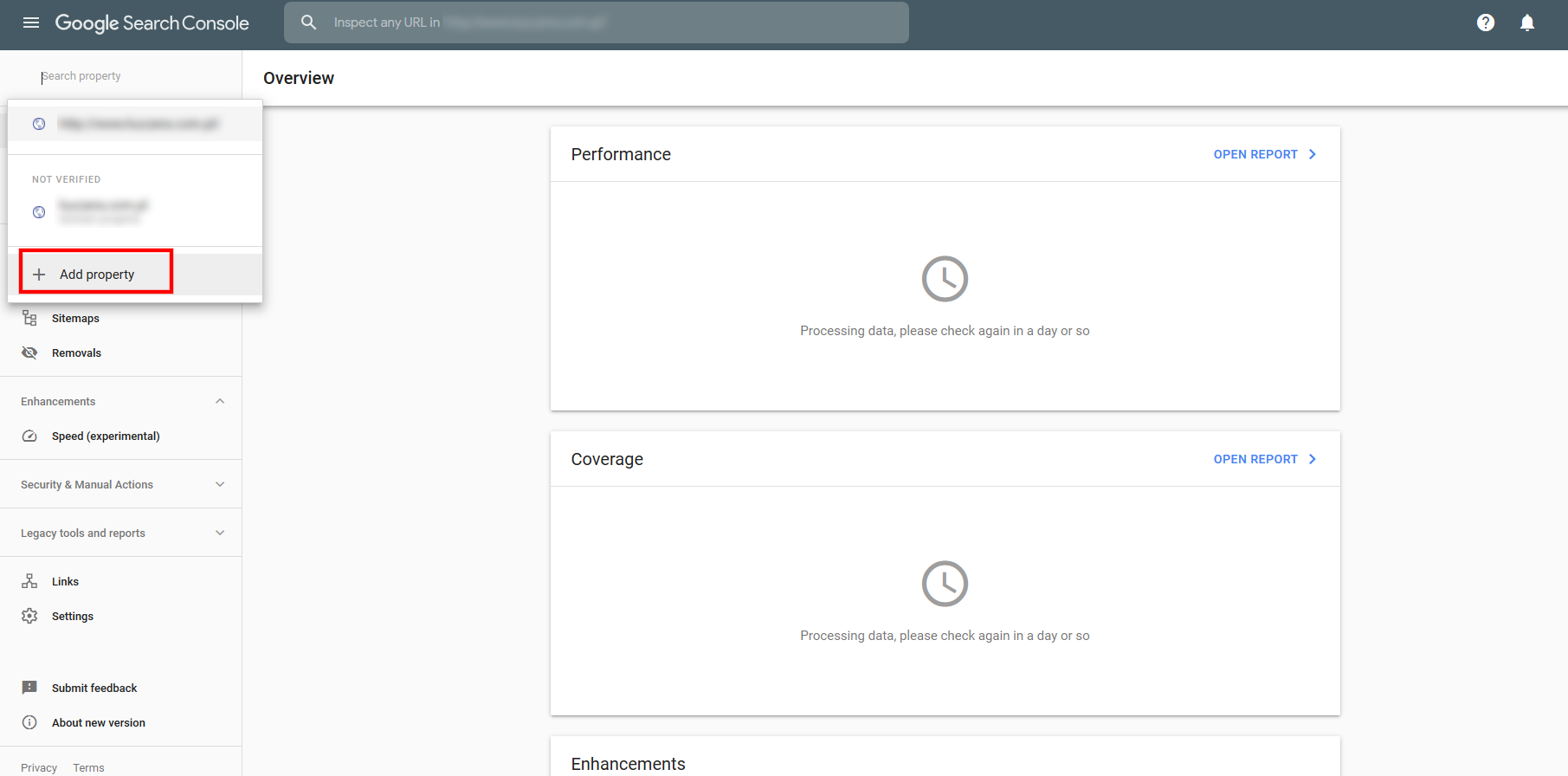 Clicking "Add" will open a window where you should type the address of your site. The page should be visible on the internet, so you cannot add a developer-built or a password-protected website.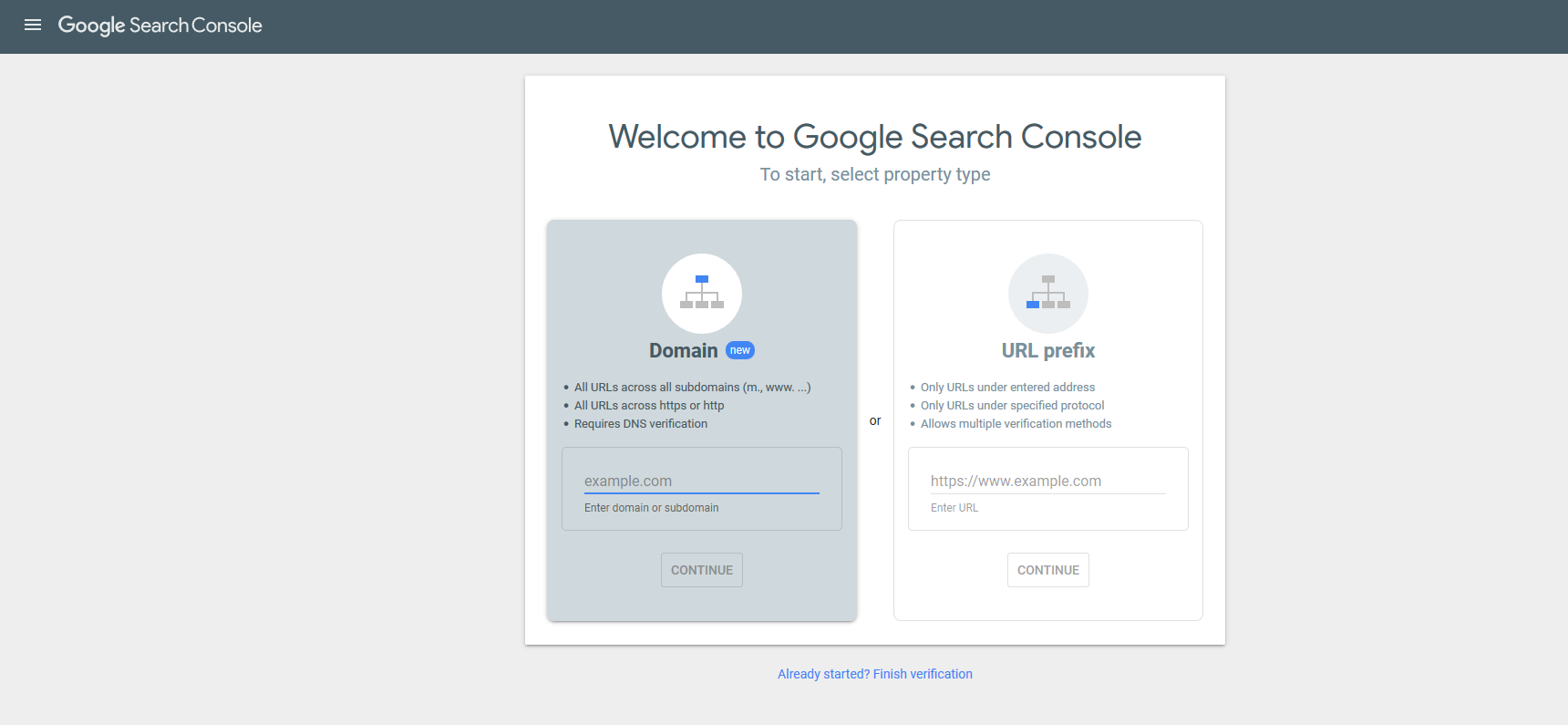 It should be noted (and you will be reminded about it by Google through e-mail) that you can add the page both with and without the "www" prefix. This way you inform Google which domain name you prefer. You should read all e-mails you receive from GSC, as they are full of useful information and hints, which will help you.
When you click "next", you will start the most important process, namely site verification. It is crucial because GSC is loaded with useful data which can be utilised further to promote your page or block a subpage in search results.
Google Search Console should display (theoretically) the easiest verifying solution first.
Adding a file to the server where the page is located is not always possible, especially if you wish to add a blog created on one of the blogging platforms or if you don't have sufficient technical expertise.
Fortunately, there are some alternative methods of GSC verification: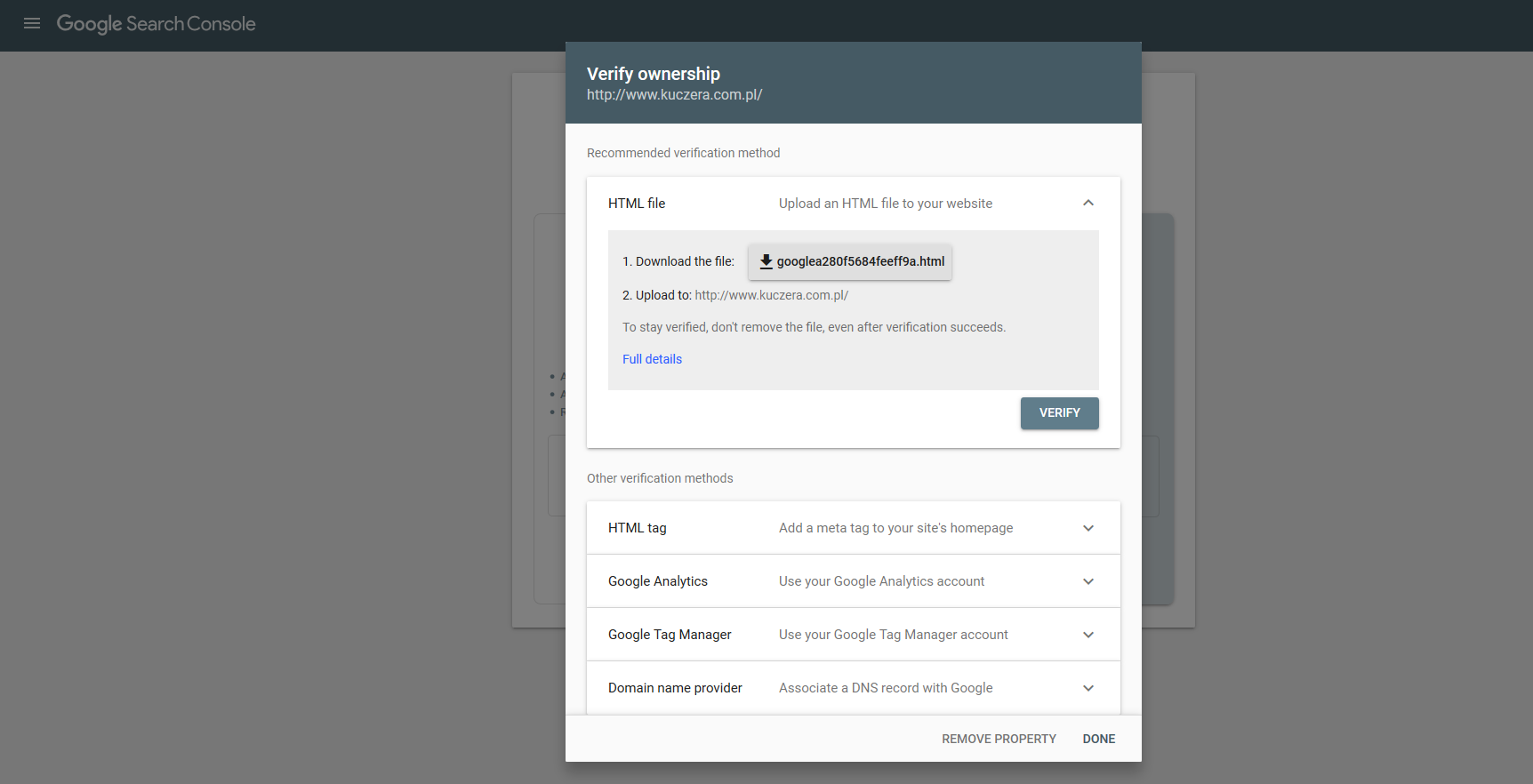 Aside from the above file added through FTP, you have 4 other ways to verify your page:
HTML tag – adding a special code in the <head> section of your site

Google Analytics – the easiest way to verify your page. You just have to implement the Google Analytics code (use the same e-mail login for GSC and Analytics). Google automatically checks for this code. In addition, this method gives you a lot of important data, as both services share the information.

Google Tag Manager – almost as easy as the Analytics verification, but uses a tag container instead of a code.

Domain name provider – adding a special TXT record in the domain settings
When you select the solution which you like the most, just click verify. If there are no errors, you will be redirected to page view.
If there are any problems with verification, consult Google help page.
2. General overview of tools for webmasters
After you verify the domain, you can easily analyse the page using available tools. When you choose the page you wish to check, you will see something that looks like this: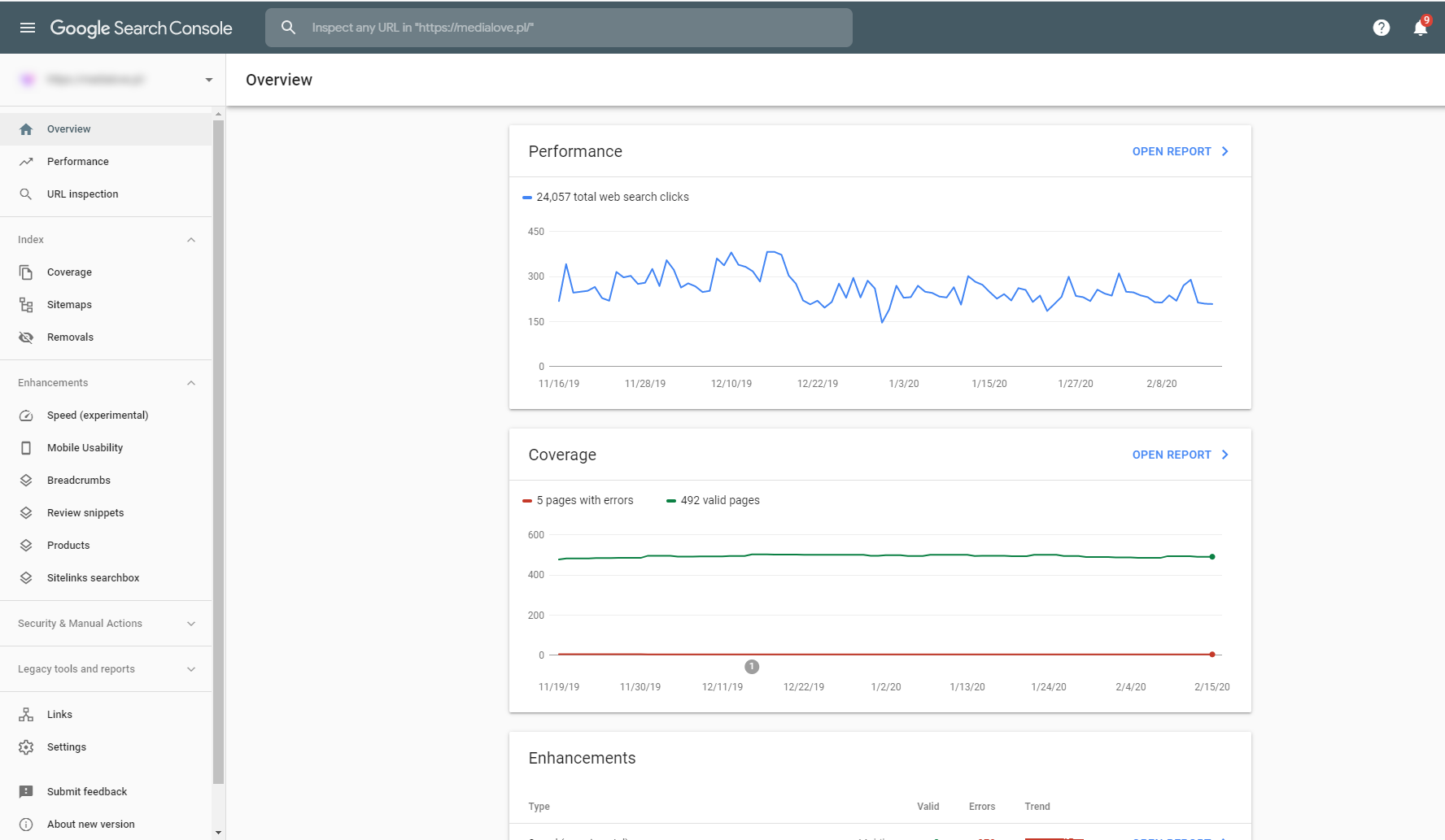 It is a simple, minimalistic view, but it doesn't mean the data presented here is incomplete.
The main view gives you the most important page info, indexing errors, traffic from search engines or enhancements. You can quickly browse all the information you wish.
This view is great to quickly check the condition of your site. It is extremely useful if you have a dozen different pages in GHSC and you wish to quickly see what's happening with them.
Google Search Console view can be divided into three parts:
side menu

data view section

upper taskbar allowing
The interface is intuitive and easy to use. Proper interpretation of all the data might be the only problem.
Clicking any chart or message will redirect you to one of the many views with detailed info.
3. Top bar
There is a search bar located in the upper part of the menu that enables us to check any URL within the selected site quickly. A help icon appears on the right side of the bar.
Messages tab is a place where all of the information from Google and its moderators appear. This includes helpful tips on increasing search engine visibility for your page and errors found by Google bots (such as page load errors, disabled links or increased traffic).
These messages usually also appear in your Gmail inbox. This way any critical errors or important info cannot be missed.
4. Side menu options
Side menu offers an overview of all of the available tools and reports you can access using GSC. The menu is divided into few large sections and allows you to visit important places: Performacne, Index, Enhancements, Security & Manual Actions and Legacy tools and reports.
4.1 Performance
This section is a real treasury of information for those who deal with page promotion. This option gives you access to search analytics, which shows actions and views on the page.
4.2 URL inspection
After clicking the "Check URL" field, you'll be taken to the search bar in the top menu that allows you to enter a specific URL within your site.
5. Index
This section of GSC deals, as the name implies, with crawling the page by bots - you can see the page through their "eyes", how they interpret your content and how they index the whole site.
5.1 Coverage
Here you will find reports regarding crawl errors or relevant crawl stats.
In addition to the specified type of error, we also receive information on how many pages it relates to, and we also have the option of direct access to the problematic page. In total, the coverage tab contains 4 groups of subpages: Error, Valid with warnings, Valid and Excluded.
5.2 Sitemaps
Adding a map of your site to Google Search Console is optional, but strongly recommended, especially if you regularly update the site with new content or change the old one. A sitemap can speed up indexing, rendering and interpretation of the site.
The sitemap should be added in the XML version using the button in the upper right corner.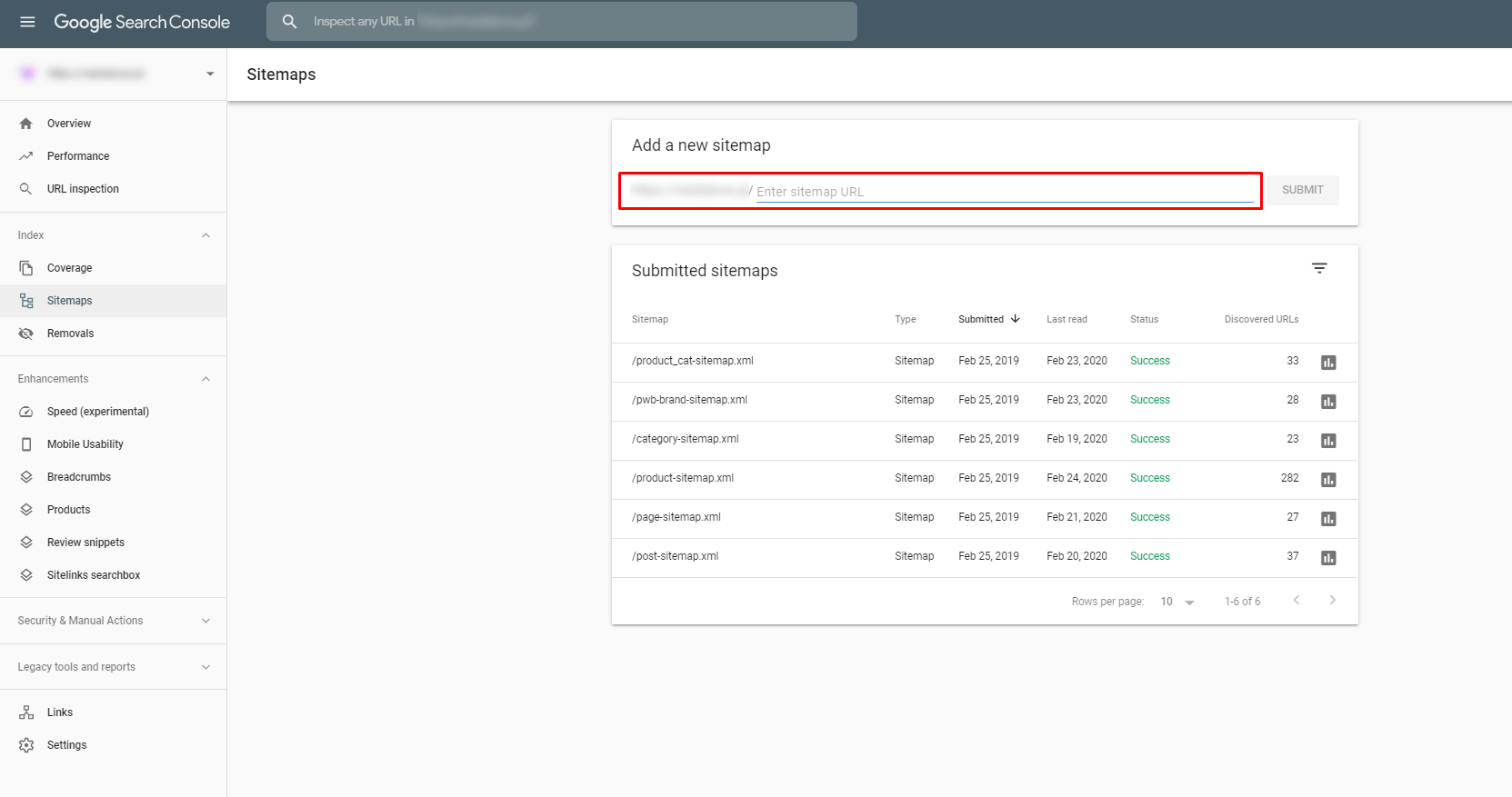 Adding a sitemap which includes all subpages can also establish how many pages will be added to the index and displayed in search results. This is very useful piece of information because each page which is not indexed may mean a lost sale or fewer users finding your site through searches.
You can read more about sitemaps on the respective Google help page. A sitemap can be created in a simple way. All of the most popular CMSs have additional plugins or options used to generate a sitemap automatically. For WordPress, you can try the XML sitemap generator. There are also third-party generators which crawl your site, check every page and build their own map. These generators can be found in the Google documentation.
5.3 Removals
The last option is "Remove URLs".
The deletions were divided into 3 groups: temporary removals, outdated content and sefesearch filtering. In the first, we have the option of temporarily blocking the display of URLs in Google search results for 6 months. In the outdated content tab, we can view the history of notifications regarding outdated content on our website reported by external users.
6. Enhancements
In the improvements tab we will find information about improvements that are implemented or can be added to our site to optimize the display of the page in Google organic results.
6.1 Speed (experimental)
The speed report presents data collected based on real visits by Google Chrome users regarding the speed of specific subpages of our website. Page speed can be rated as slow, moderate or fast. Using the report, we can select subpages that should be subjected to further detailed analysis https://developers.google.com/speed/pagespeed/insights/
6.2 Mobile Usability
The mobile usability report provides information on possible difficulties occurring on our website on mobile devices.
Similarly, as with many other reports in GSC, we can immediately check which pages are affected by the indicated problems.
6.3 Breadcrumbs
Breadcrumbs enable us to verify the correct implementation of the navigation menu within our site.
6.4 Review snippets
If you use a rich snippet on your website, you will definitely be interested in the data collected in the review snippets report, which collected errors, warnings and valid pages on your site.
6.5 Products
The products report provides information on errors and available improvements within the presentation of our products in Google organic results.
6.6 Sitelinks searchbox
If your site uses Sitelink Searchbox in GSC you can find a report regarding errors, warnings and valid items.
7. Security & Manual Actions
In this tab, you will find information about the security of our website and manual actions taken in connection with the breach Google's webmaster quality guidelines
7.1 Manual actions
It's better to see this message on such a page: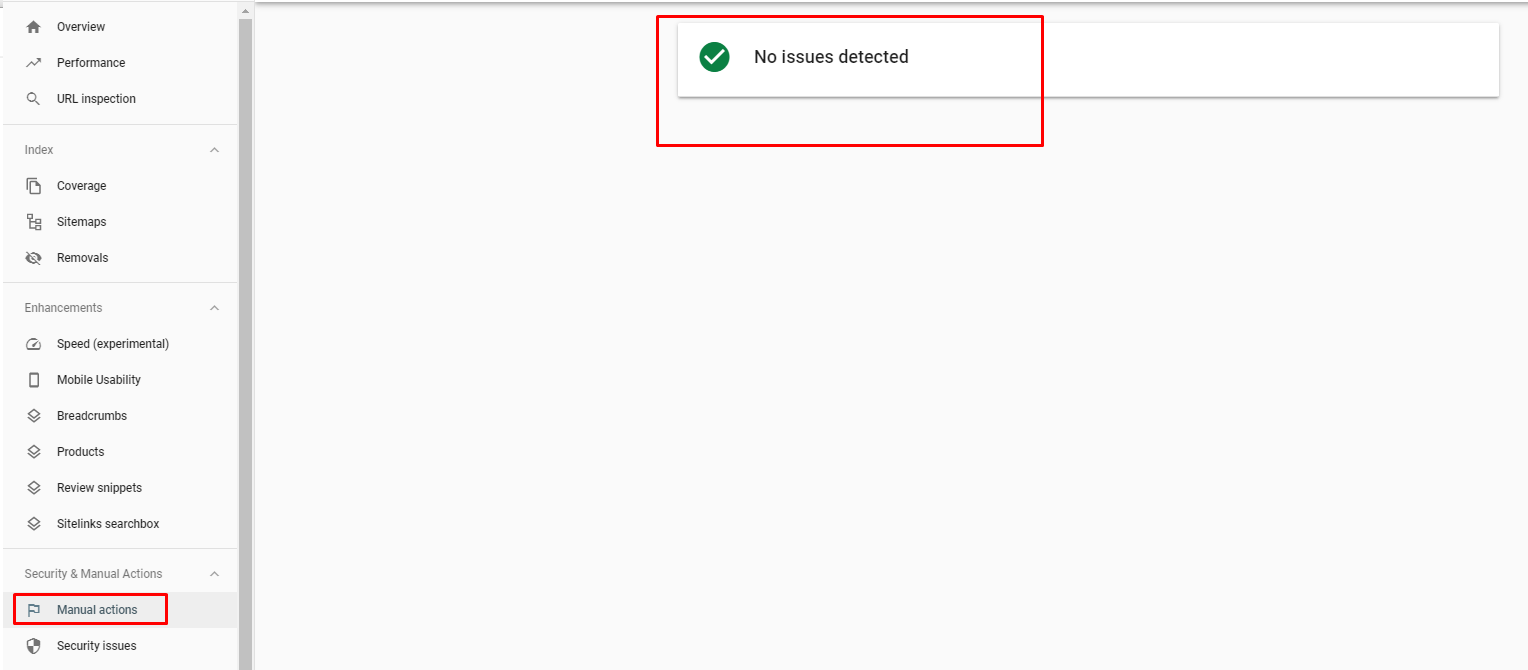 The "Manual actions" view shows bans and penalties from Google moderators. Penalties are often incurred because you did not conform to the guidelines for webmasters, especially if you scrape low-quality links for your page. If you wish to know how Google penalties work, you can read the article about webmaster guidelines. [link do anglojęzycznego arta o wytycznych]
If your website gets a penalty, you have to get rid of the factors that caused it in the first place. Usually, you have to work on the quality of your links. Repairing it requires a lot of time and work. You should also use the Disavow tool to dispose of wrong links.
7.2 Security issues
Sometimes your site can be attacked by hackers, particularly if you have one of the more popular CMSs, like WordPress or Joomla. This situation is not as rare as you may think.
Hacking usually replaces the content with one specifically designed for Google bots (cloaking) or adding spam subpages linking to other sites. Google quickly deletes such sites from index to protect its users. It also sends a message (using GSC) to the site's owner, with the information about the problem and proposed solutions to deal with it.
The "Security issues" tab lists tasks you can perform to repair your page, so it can return to the index.
8. Legacy tools and reports
On the 9th of September 2019 Google officially closed the old version of Google Search Console, however, thanks to the Legacy tools and reports tab, we can still use the solutions of the previous version of GSC.
8.1 International targeting
If your page is available in several language versions, you can implement a hreflang tag to direct different users to the appropriate versions of your page. You can read how to use hreflang on the Google help page. When you implement this attribute, you can choose how to redirect users to different language versions. It is a very convenient feature for multi-language sites.
8.2 Crawl stats
Google bots have a limited time and number of resources which they can devote to visits on your site, but you have to take into account the fact that they have to restrict data usage to the minimum. If bots had unrestricted access to everything at once, they could quickly use a whole transfer limit or – in the worst-case scenario – block the page because of too many queries at once (accidental DDOS attack).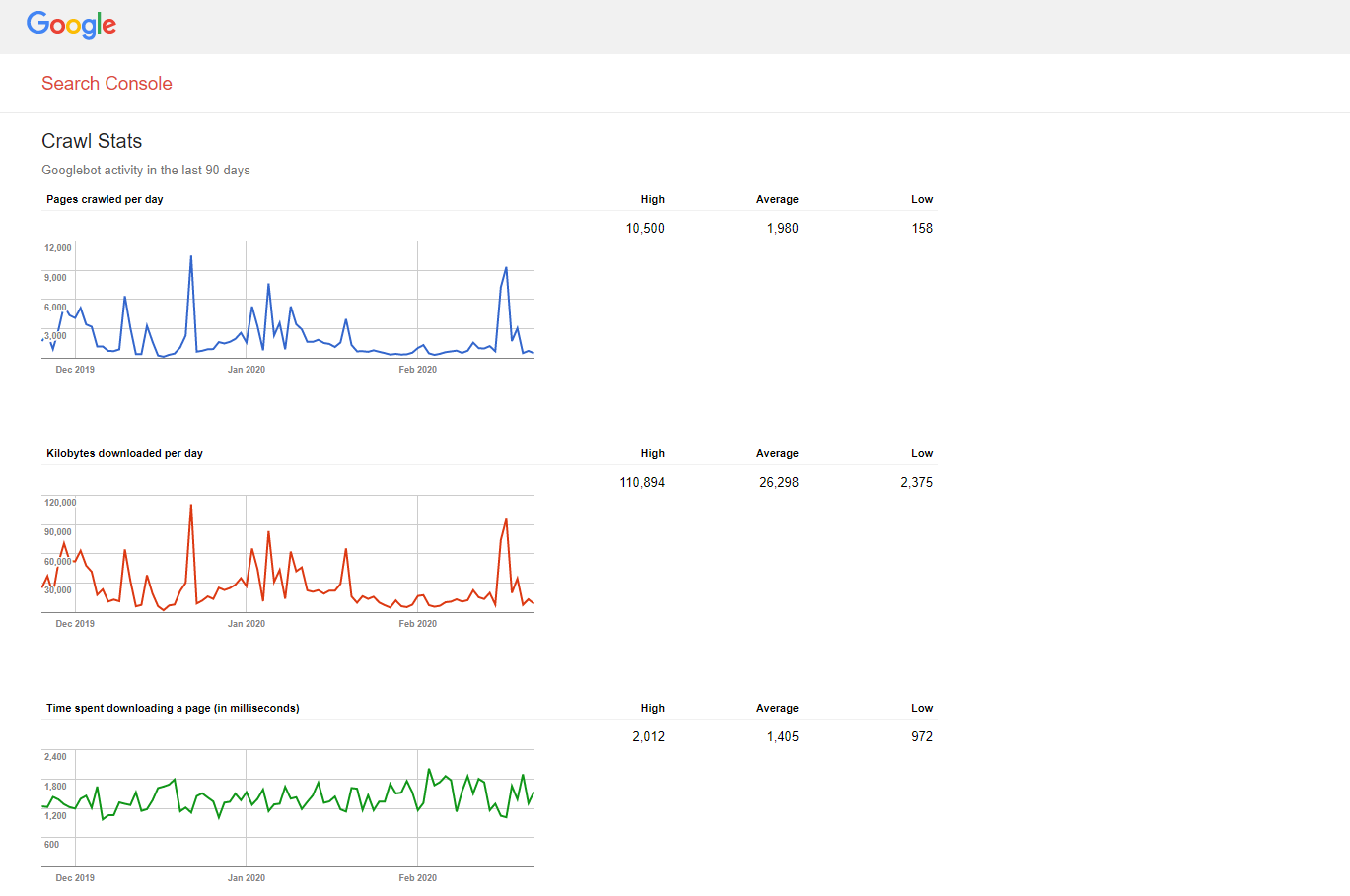 To show the Google bots' engagement in indexing the site, you can visit crawl stats. This data is useful for those who are interested in technical aspects of web pages.
8.3 URL parameters
The last tool in the "Crawl" section helps you to control all of the website's parameters and is especially useful for online shops. You can disable indexing of certain parameters (for example those which are implemented in the internal browser) and decide how Google bots should behave when they encounter a given parameter.
Each parameter can have a set of values:


Working on parameters gives you even more control over page indexing. You can use GSC to deliver better content visible in the search results. But be careful! Unskilful use of this tool may lead to loss of a website's rank and availability.
8.4 Web Tools
This tab consists of additional tools which enhance the work of Google Search Console for example:
Email markup tester – check the structured data of an email.

Structured data testing tool – it allows to check if Google correctly sees the structured data tags and shows them in search results.
9. Links
This view shows links leading to your domain, found by Google bots.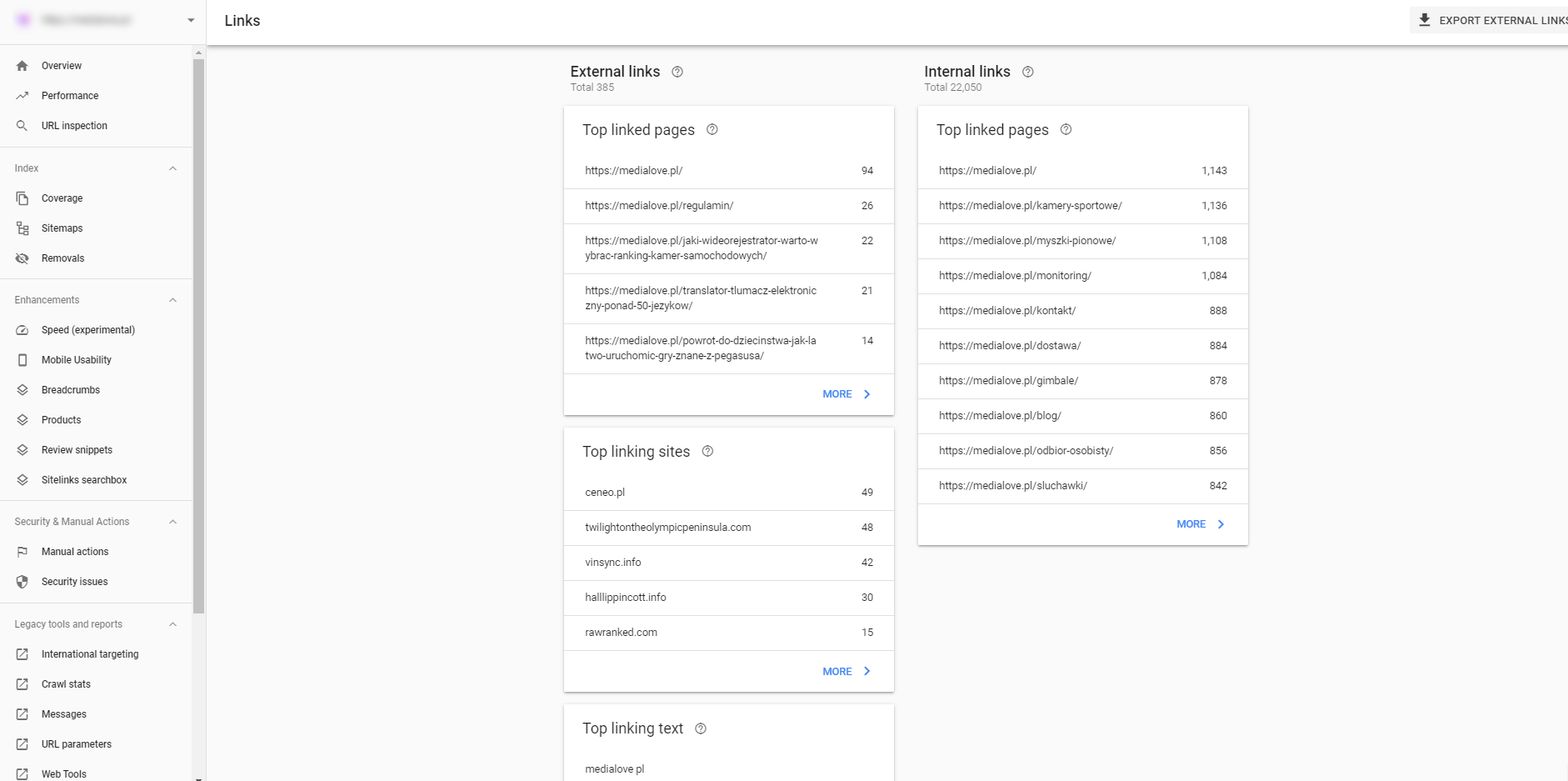 Link info is divided into four groups:
Top linked pages
Top linking sites
Top linking text
Internal links
Unfortunately, it is not the whole data the Google bot is able to find – this is only a small sample. Why? Because some webmasters and SEO specialists could use the data to find new ways of unfair manipulation with Google algorithms.
Nevertheless, you are not prohibited to download link lists from every domain. It is a very time-consuming work, but still manageable if you know what you're doing. What's more – if you get a penalty for low link rating, it's better to use alternative tools. It's sad to say, but this view is not as useful as it could be – it does not prevent errors, it does not allow to search for more opportunities and you cannot analyse the links easily.