Meta tags – the basis of website optimisation
Optimising your website is crucial, but it's worth starting out with simple things that can result in a higher number of clicks on our search result. One of these are undoubtedly meta tags. Read on to find out why these tags should contain useful, interesting information, and what other characters can have an effect on your website's visibility.
Table of Contents
When you're starting out with SEO, or beginning your adventure with search engine marketing in general, two enigmatic issues quickly arise: how to obtain links and how to optimize your website. Obtaining links, however, should be left until you have carried out at least basic website optimization.
So what should I start out with when I'm just beginning to promote my site?
Above all, it's worth making sure that the website will appear in the search results. Having an interesting site that provides comprehensive answers to a user's questions will get us nowhere if we don't encourage the user to click on our search result.
Luckily, there is a very simple mechanism that allows us to influence the display of our website in search results. These are called meta tags, which are entered into the website code between the symbols <head> and </head>. The most important ones are meta titles and meta descriptions.
What is a meta title?
A meta title is an element of a website that is practically invisible to the user when browsing a webpage. However, it can be found in three places:
| | |
| --- | --- |
| In search results | |
| In a tab name in a web browser | |
| In favorite sites added to the taskbar or tab | |
You can edit this element in your website's HTML code. Depending on the CMS you use, it is also possible to edit the element using the administration panel.
There is basically no limit on the length of a meta title. However, it is worth adapting it to the most popular search engine in Europe, which is Google.

The basic principle is the length of the title, which shouldn't be longer than 600 pixels, or 55-70 characters. Thanks to this, we are almost 100% certain that the whole title we have entered will be visible in search results, which, as we shall see in a moment, can be of key importance.
What is a meta description?
A meta description can only be seen in search results. There is no other place on a website or in a browser where this element is visible. Despite this, it is worth making sure that it is functioning properly and that it is displayed correctly.
Meta descriptions can be edited in the website code, just like meta titles. Almost all content management systems (CMS) have an edit function for meta descriptions for every entry or subpage.

Just like for meta titles, there is no maximum limit for the length of meta descriptions. However, it is worth keeping to the character limit that can be displayed in Google search results – around 156 - 170 characters. This means we can be sure of how our website will be displayed in the search results.
The Keywords meta tag
Using this tag was recommended about 7 to 9 years ago. Unfortunately, due to a large amount of misuse of the tag, and lack of clarity as to the effect using this tag had, the software engineers responsible for the Google search engine decided to stop supporting this piece of code. Information on the issue was even published on the official Google blog.
Tags only for search engines
There are certain meta tags that are interpreted exclusively by search engines. The presence of these tags can have a huge influence on a website's visibility in search results.
One example of such tags is meta robots, which inform a search engine whether or not a site can be listed or displayed in search results. This simply means that incorrect use of this tag may result in a website not being visible in search results.
Here is an example of a meta robot tag:

The influence of meta tags on search engine visibility
Meta tags, in particular titles and descriptions, do not have a direct influence on improving the position of a website in search results. So why bother spending so much time to make sure they contain unique, interesting text? The answer is that a meta description or title may be the first element that our potential user comes across!
It is worth making sure that the first time a user comes into contact with our site they have a positive experience. It is good to catch their interest using the description or title, which then increases the chances that they will click on the search result with the link to our website. Unfortunately, there is no single tried and tested method for what a good description and title should look like. However, you should take into account that a phrase entered into a search engine causes words and phrases in the title and description related to the search phrase to be displayed in bold.
For example, if we enter 'cafe London', we may get these results: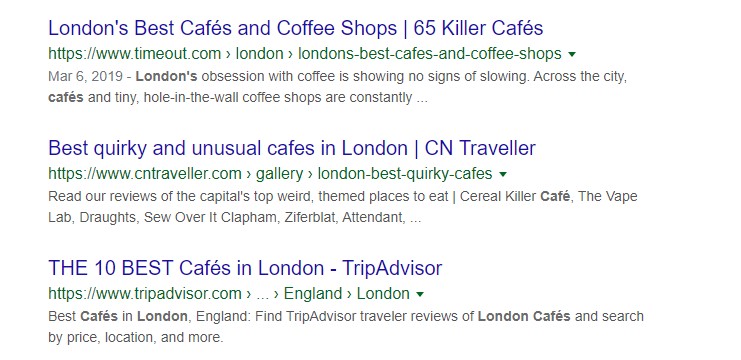 As you can see, the words cafes, London and coffee shop are in bold. It is worth therefore thinking about preparing your description and title so that there is the highest chance of them having words displayed in bold.
When writing descriptions and meta titles it is also a good idea to see what paid adverts look like for the phrases we are interested in.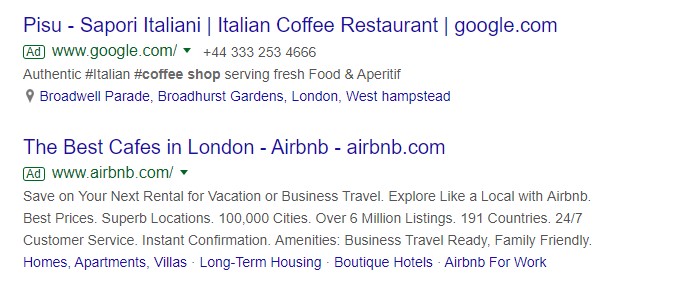 Paid adverts are often prepared in such a way as to maximize the number of clicks. For the huge number of users who have AdBlock software installed, Google Ads adverts are not displayed. This, therefore, is an ideal opportunity to get through to those people using our optimized search result.
More information about meta tags and how they are interpreted by Google can be found in Google help.
Author: Tomasz Stopka