Content Premium - a platform for professional copywriters
Dear Copywriter! The Content Premium platform will change your work!
Acquiring orders, signing contracts, communicating with customer - all these activities require a lot of time from the copywriters. Content Premium by WhitePress® simplifies the entire process and connects content authors (contractors) with marketers from many European countries.
The tool is already successfully operating on the Polish market, where WhitePress® launched it in September 2020, in response to the demand for professional content written by specialized copywriters. Over 120,000 texts have already been commissioned at WhitePress® for over EUR 1 million. This is a good forecast for copywriters who can quickly expect their first orders.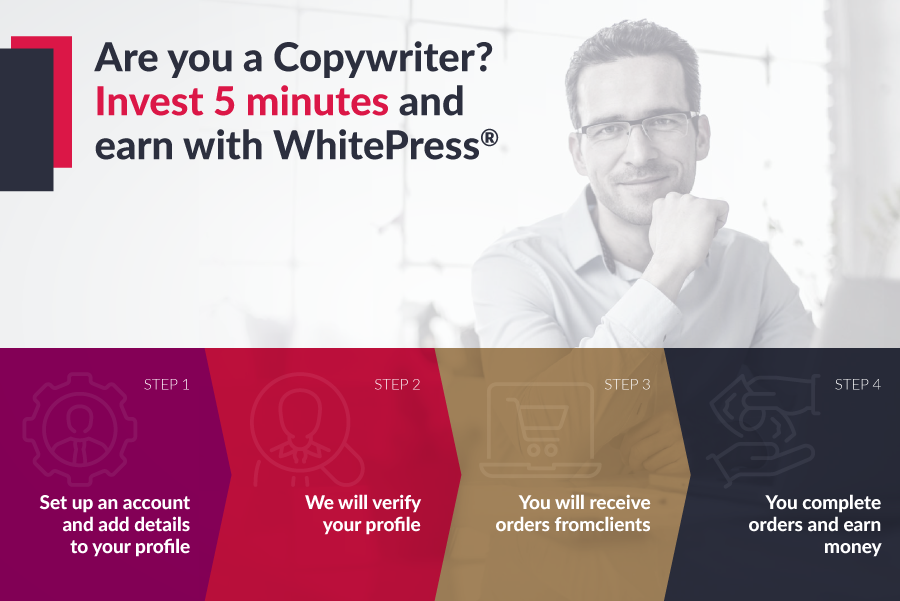 Register now!
Attractive rates and quality policy for content authors
To start using Content Premium, all you need to do is create a WhitePress® account and complete your business card in the intuitive wizard. The profile consists of the following sections: basic data, information about education (fields of study, specializations, courses and certificates), professional and copywriting experience, portfolio and price for individual types of orders. The author decides at what rates he/she wants to provide the services. However, the wizard has defined service groups and provided default and minimum rates. The assumption of WhitePress® is to offer attractive remuneration in exchange for high quality. The company's priority is respect for the content authors, giving them the opportunity not only to create a pricing policy on their own, but also to resign from unsatisfactory orders and to evaluate their employers.
Why is it worth going through the entire process and joining Content Premium? Some of the benefits you will obtain:
access to orders from well-known brands and leading customers from (enter country here) and other countries;
orders at attractive rates and with clearly-defined requirements;
the possibility of self-pricing of services as well as rejecting financially-unattractive orders;
access to the ordering system that makes communication easier and stores the full history of transactions;
analysis of the number of orders and revenues over a specific period of time;
free website (business card);
access to an intuitive profile wizard as well as tips that will help you optimize your business card;
advertisers' recommendations helpful in obtaining new orders (each transaction adds up to the journalist's history, improves his/her authority and rating);
the possibility of assessing the customer and reporting unfair practices;
information regarding the time the content was accepted by the customer;
express money transfer (up to 1 business day from ordering and delivery of the bill or invoice);
an easy-to-generate template of a proprietary copyrights transfer agreement.
Intelligent algorithm ensures precise selection of orders
After the journalist completes the profile, the system automatically selects thematic scopes based on the information and keywords provided. Assessment of the copywriter's suitability and skills relating to a given topic, i.e. the score, is also built. It will help marketers find a copywriter well suited to a given order, and more precisely to the guidelines regarding the required content.
How to optimize a business card in Content Premium?
The author sees the score and tips on how to improve the entered information (more on this). Each profile is also verified by a WhitePress® account manager, and business cards containing false or carelessly completed information are rejected.
Authors can improve the attractiveness of the offer by sending an open contract to WhitePress® for the transfer of proprietary copyrights to the developed content. This element is desired by advertisers and will allow access to more attractive orders. The contract is generated automatically, but according to the law, it must be printed and sent by post or with a qualified signature.
Copywriting agencies and publishers can also benefit from the platform
The platform can be used by freelancers running their own business, journalists who do not manage a business, as well as copywriting agencies and publishers employing many authors. For an entity that represents multiple creator, you can add multiple journalist profiles under one account. Each author has their own business card, receives and carries out their own orders via this account.
Bonus for copywriters - free portfolio website
Each journalist receives their free business card in the form of a website where they can present their professional profile in an attractive way, including:
short description/bio of the author;
education (fields of study, specializations, courses and certificates);
professional experience;
experience in content creation;
portfolio;
rates for services.
The author can use the business card also outside the WhitePress® platform, which contributes to professionalism, while making it possible to avoid the costs of creating your own website. The link to the business card is public and the unique address is set by the journalist.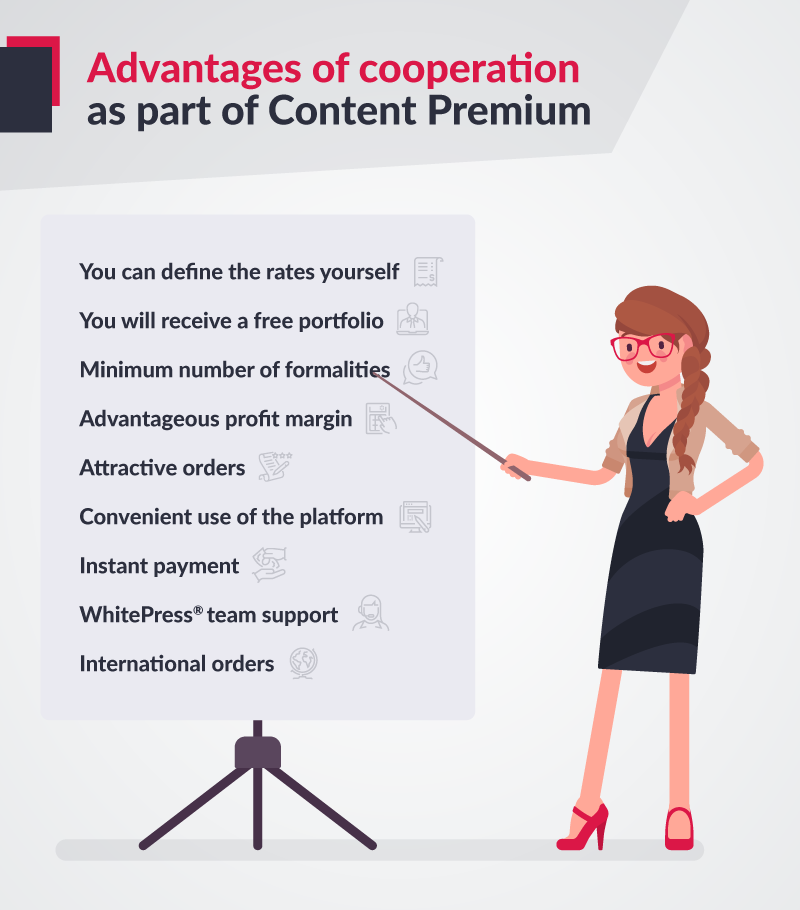 Are you a journalist or copywriter? Register now!
Registered authors are updated about the progress in creating the Content Premium module and news from WhitePress®. They also receive substantive content in the field of copywriting, obtaining attractive orders and increasing earnings. Selected copywriters are already getting interesting orders from customers using the platform.
The process of implementing the new module is still in progress and you can become a part of it. Are you a journalist or copywriter and have suggestions regarding features? We are looking forward to getting to know your suggestions.