Why content Marketing is important for SEO?
Table of Contents
A new way of SEO focuses on other aspects
In the last 8 years, there were a lot of changes in the Google algorithm. Panda and Penguin which were responsible for the evaluation of the search queries quality made SEO much harder and time-consuming.
Thus, the actions of SEO specialists and agencies had to change dramatically. All people dealing with SEO had to place the quality of content and links under the spotlight. Old automated methods which brought quick results quickly became:
ineffective
short-lived and the effect they brought were not permanent
dangerous for customer's website
Nowadays, methods count on a page's optimization and the content's usefulness and value. Old link-building solutions, like gathering links from poorly rated directories, presell pages, badly optimized support, and automated posts on forums and blogs can only damage your website instead of making it more visible in search results.
Many agencies that could not adapt to the changed rules disappeared from the market or stopped providing SEO services. It was caused mainly by ignoring Google guidelines which stated what to do to make your page more visible and how to do it properly. These guidelines interconnect with the rules of Content Marketing, which relies on good, well-written articles, useful for the users and giving them solutions to the problems at hand.
Benefits for SEO agencies and customers due to the change in payment methods
Security
In new rules of SEO, your website is not at risk of getting a ban from Google which was often the result of activities focused on "payment for the certain position". Such actions mean that SEO company tries to get the rating desired by the customer at low cost and without worrying about consequences. Security of the website and a wish to cooperate longer with the customer are ignored - the client won't pay if the page is not on the chosen position in the search engine results, right? Subscription for a set of SEO activities results in a high-quality service because the company gets paid for the whole period of the agreement, which motivates it to work not only on the website but also on a good relationship with the customer.
Added value of the service
Content marketing campaign which is cyclical adds even more quality to the existing content, through:
making the brand more recognizable
increasing the traffic on the website using "long tail" phrases and important key words
the increase of views coming from social media, referral and direct channels
More integrated services
In the subscription model, the customer gets a full list of activities and actions performed on-site and off-site. Thus, each client can clearly see how much work was done for him or her. SEO services include not only link building but also brand enhancement actions. Better search engine positions are only one of the effects of the activities, not the only goal. The customer gets a lot of services in one SEO agreement, including:
SEO Audit
constant optimization supervision
updates of FAQs on the website
Social media profile administration
quality link building
UX analysis
word-of-mouth marketing using monitoring tools (Brand24, Sentione)
marketing automation
E-PR
Clear payment model for concrete actions
Subscription means that the customer pays for a whole scope of activities of the SEO agency. There should not be fluctuations in search engine rankings or Google penalties resulting from dangerous dealings. The customer pays only for the finished activities based on work hours and additional costs of the agency, such as paid articles or advertising in Social Media (for example - Facebook Ads).
3 reasons for using Content Marketing in your SEO campaign
It allows you to build a "long tail"
Google likes to index web articles, especially if they are promoted well. If you optimize your content you can easily build the so-called "long tail" - a visibility in search queries based not only on the main keyword but also on its longer variations which may generate more traffic than the main phrase.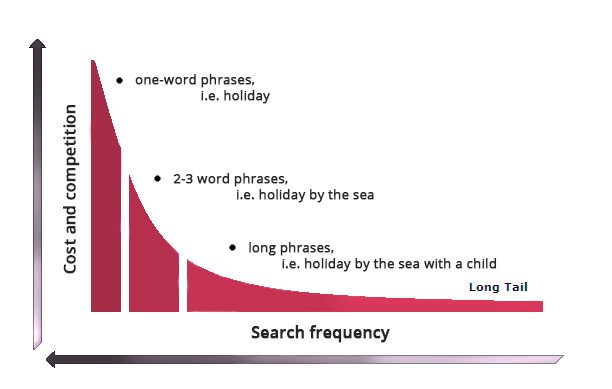 Source: http://www.mediart.pl/

An example of such a helpful article can be found here:
https://www.whitepress.com/en/knowledge-base/4/how-to-choose-the-best-keywords-for-seo

It allows getting the top 10 spot in search results for the most competitive phrases
Google loves high-quality content which is helpful to the users, so it ranks such articles higher even for really hard phrases. Especially if the content is 100% relevant to the search queries.
Allows to acquire high quality links for free
Google guidelines clearly state: "Create good, unique content and people will link to you on their own". You can agree with all Google rules or not, but the statement above is true - if you write a great article, there is a good chance internet users will link to your site for free, because it is useful for others. Old methods relying on low-quality texts tailored for search engine robots don't give you such opportunity.
Summary
Thanks to the change from payments "for positions" to the subscription methods both agencies and customers gain completely new ways of gaining profits through the use of good content and long-term strategies. If you analyze what Google has done in the recent years you can be sure that quality will be even more important in the nearest future while SEO activities will be even harder and more dangerous if not done properly. Actions which won't follow the guidelines may result in painful penalties. Content Marketing is the answer to this change in SEO philosophy which is now based on quality. Thus, you should remember about long-term goals and balanced development.
Author: Tomasz Biegun