What is Affiliate Marketing And How to Make Profit on It?
More and more self-made entrepreneurs base their businesses on affiliate marketing, connecting audiences with brands that are compatible with each other - and making a hefty commission while doing so. What exactly is it and how to make a profitable affiliate marketing business? Today, we'll be taking a closer look at some affiliate marketing strategies for making profit and help you grasp exactly how it works.
Table of Contents
What is Affiliate Marketing?
Let's start with the basics - what even is affiliate marketing?
Affiliate marketing is the process of promoting products and services made by other brands while making a commission-based profit on it. It allows marketers with ready access to audiences to connect businesses and potential customers, in reward for a payout based on the number of viewers that actually become clients. Affiliate marketers like influencers and bloggers have easy access to tons of potential customers, giving them a great source of passive income for simple placing a few affiliate links.
There are different methods of affiliate marketing, of course - it's not only about adding affiliate links to the content. Marketers get paid for each sale, but the exact method of convincing their audiences to do it is often up to them.
How exactly does affiliate marketing work?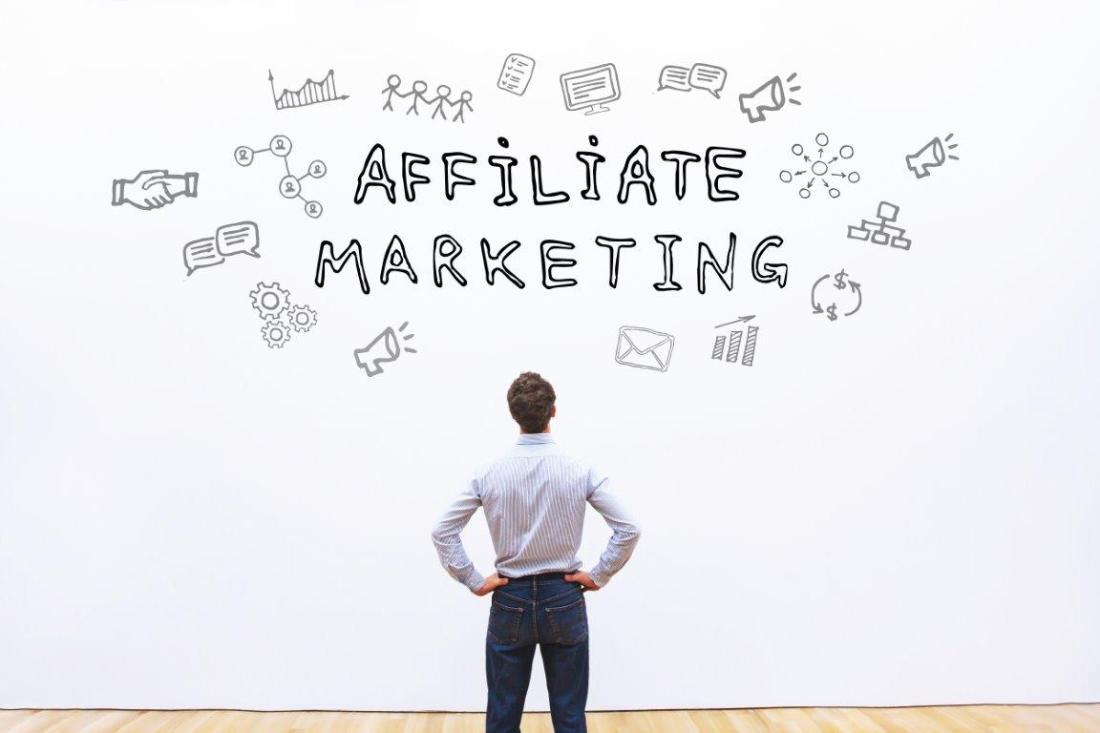 Source: Adobe Stock
To become an affiliate marketer, you'll need to find a manufacturer or provider of products or services that you can advertise to other audiences. Joining an affiliate program is often free, and there are plenty of manufacturers and retailers across industries that allow pretty much anyone to join.
Before settling on an affiliate program to join, do your research - how does the program work? What types of products or services will you be advertising? How will you get paid?
You can sign up for the program if you like the terms they offer - if not, look for better opportunities elsewhere. You'll need to make sure the product or service you're choosing to affiliate with is actually connected to your audiences in a marketable way, or else you might not see much profit.
There are also whole affiliate networks that you can use for a steady stream of affiliate offers - however, these do often take a commission themselves on each sale, so you're left with fewer profits.
How to make a profit on affiliate marketing?
Affiliate marketing comes without most of the downsides of actually selling products, like distribution and handling payments. Instead, you get paid based on the impact you make on the target audience and how many sales, leads, or clicks the seller gets.
Paying per sale is the most standard payment model for affiliate marketers. After accessing the seller's website from an affiliate link, affiliate sales will grant the marketer a certain payment. Each affiliate program features their own payout limits, and you usually have to earn a certain amount first before being able to take it out.
Not every affiliate marketing program is about sales - they can also be about generating leads. Paying per lead is common with B2B businesses that want potential customers to take a desired action, like filling a contact form or subscribing to a newsletter.
Marketers can also get paid per click in certain affiliate marketing programs. Search engine optimization (SEO) is a great way to gain organic traffic - but sometimes that traffic simply isn't enough. A PPC (Pay Per Click) model offers brands a way to purchase increased traffic, and marketers a way to earn affiliate marketing income by simply redirecting others to a certain website.
How profitable can affiliate marketing be?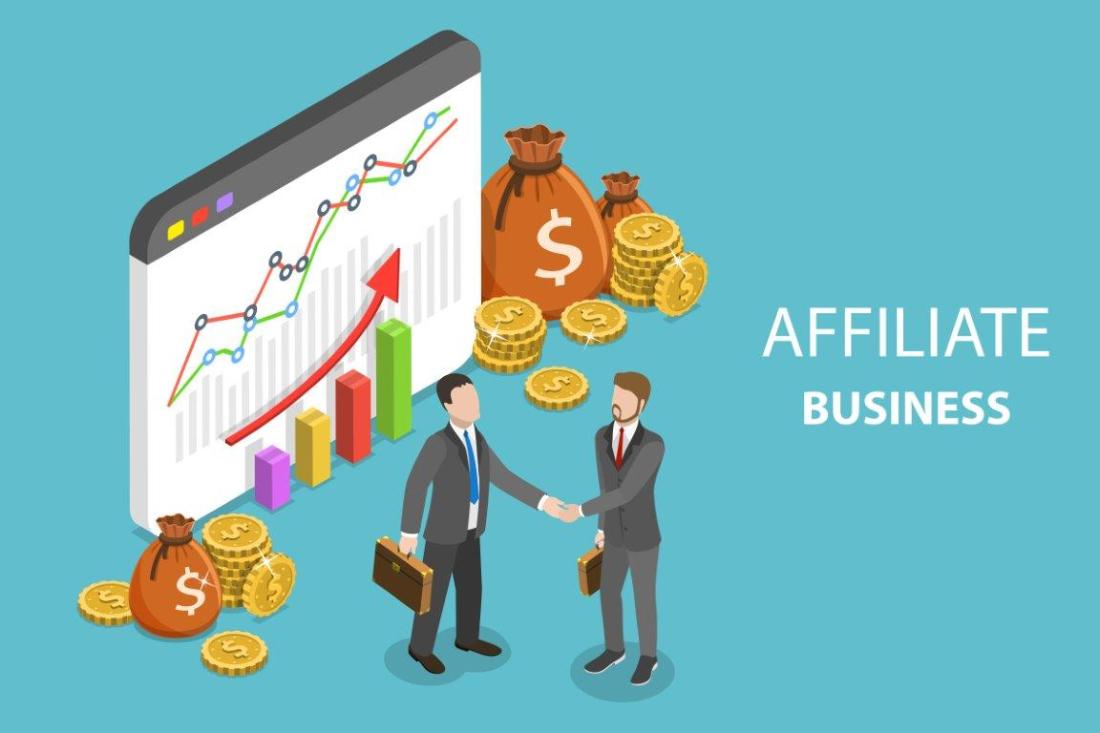 Source: Adobe Stock
If you like the concept of passive income, you'll definitely love affiliate marketing. Besides placing the affiliate link and getting people to visit it, there is no more work involved in the process. You can even earn money while you sleep, as night owls and people from other time zones continue to visit your link. To get people's attention, you will have to invest some time and marketing efforts into the initial campaign, but after that it's effortless profit.
In 2017, the affiliate marketing industry was worth $5.4 billion in the United States alone, and is supposed to reach up to $8.2 billion in 2022. It's becoming one of the go-to business models for young entrepreneurs, as it carries very low risk levels compared to other models, and isn't expensive to begin.
According to PayScale, the average affiliate marketer yearly salary is around $53,300 - not bad, especially considering it's only a passive income. A successful affiliate marketer can earn a six-figure salary simply from placing affiliate links that resonate with their audience and gather large amounts of sales, leads, or clicks.
Types of affiliate marketing
There are tons of approaches to affiliate marketing, which can be broadly categorized into certain types, based on how close your connection with it is. Unattached affiliate marketing doesn't involve an emotional or any other type of connection to the affiliate product or service the marketer is promoting. Most often, it's a simple affiliate link placement with not much context behind it. This type of affiliate marketing can generate quick traffic, but usually doesn't build long-term relationships with the customers or build hype for the affiliate product or service.
Related affiliate marketing is somewhere in-between the two extremes. When marketing a related product or service, marketers don't necessarily have to have actually used the product, but it is still connected to their audiences in one way or another. You can often see this type of affiliate marketing with influencers, advertising a product or service that's related to their affiliate marketing channels' subject and their audience's interests.
Finally, involved affiliate marketing is the most, well, involved. In such campaigns, marketers are closely tied to the products or services they are advertising, sharing their personal experience with using them and putting their own authority behind the product. In such campaigns, the audience often looks at the marketer as a reliable source of information, which could backfire if the product or service turns out to be poor in quality.
Famous examples of affiliate marketing
A lot of high-profile websites and influencers take the opportunity to make some additional affiliate income and join an affiliate marketing program to earn commissions - let's take a look at some notable affiliate marketing examples.
Journalistic websites and internet magazines often take part in affiliate marketing, like the Wirecutter run by The New York Times. With more than 10 million monthly visits, Wirecutter is one of the best-earning affiliate marketing websites, filled with the best products and gadgets for technology enthusiasts.
Online travel agencies often make additional profit on affiliate marketing. Sites like Skyscanner help users find cheap flights, hotels, and rentals, promoting affiliate sites, but also genuinely giving the users the cheapest available offers, no matter whether they're affiliated or not, increasing the website's trust. That's another important aspect of affiliate marketing - don't make it too obvious for your audience that you're in it for the money.
PCPartPicker.com is another great example of an affiliate marketing website. The website helps PC enthusiasts in building computers, comparing and recommending hardware components based on the user's budget and needs. The website is affiliated with many hardware manufacturers like Intel or AMD and features affiliated links for purchasing recommended products.
What are the benefits of affiliate marketing?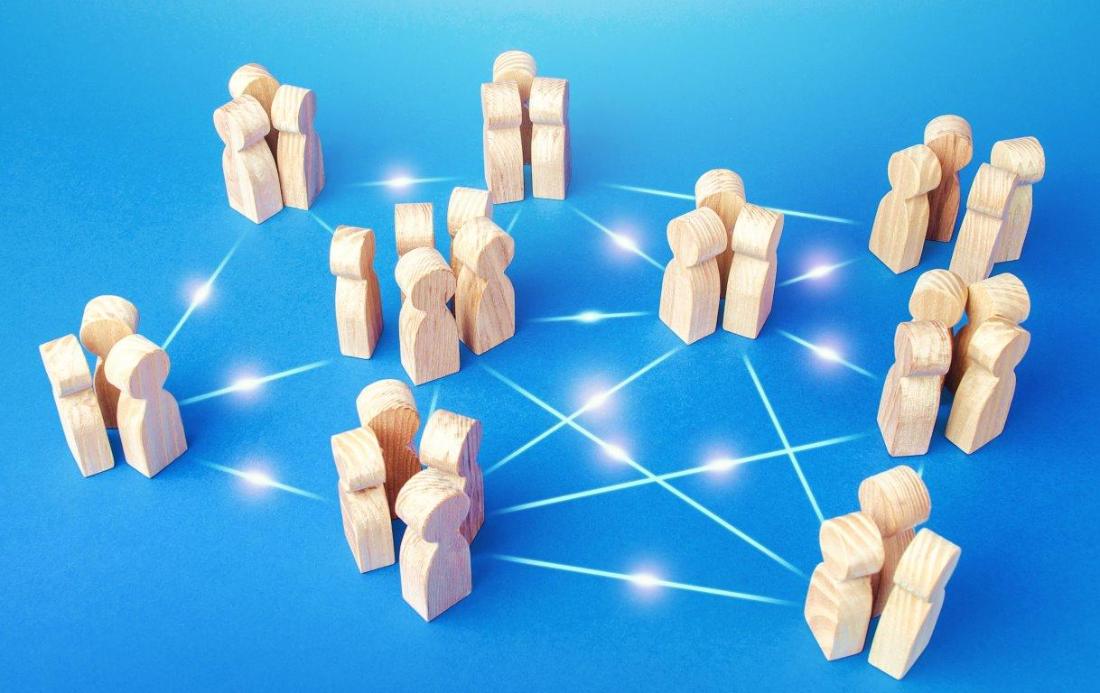 Source: Adobe Stock
If the prospect of a passive income isn't enough of a benefit to you, there are additional upsides to becoming an affiliate marketer as well. For example, you don't have to deal with customer support, as all the responsibility for sales falls on the seller, not the marketer. You'll never have to worry about orders and deliveries - your job is only to connect the seller with potential customers.
Affiliate marketing is an extremely cost-effective business model. Not only can you work from home without much input, but there are practically no startup fees involved. All you need is an affiliate program to join and a way to reach audiences with affiliate links. What's more, it's relatively easy to begin without prior experience.
It's a very flexible career - you get to set your own goals and realize them in whatever way you wish. If something doesn't work out, you can simply change your path and adapt. You have full freedom in choosing which products and services to affiliate with and working your own hours. There's also no boss above you and no monthly quotas to reach.
You get paid based on how you perform. You can work a full week in another job and still earn less than with affiliate marketing and minimal effort. If you're effective in connecting audiences and brands, you can get a lot of value from each campaign.
Do you need a following to become an affiliate marketer?
Affiliate marketing can be a great source of income once you get the ball rolling - but it can have a painfully slow start, especially if you don't already have access to a sizable audience. Before you can start making money on affiliate links, you'll have to grow an audience and become influential enough to persuade your viewers into checking out affiliate products.
If you already have an audience, that's great - you can find a niche product or service that's relevant for your audience and start making money on affiliate marketing today. If you don't, you'll have to build one first - how to do it?
How to build an audience?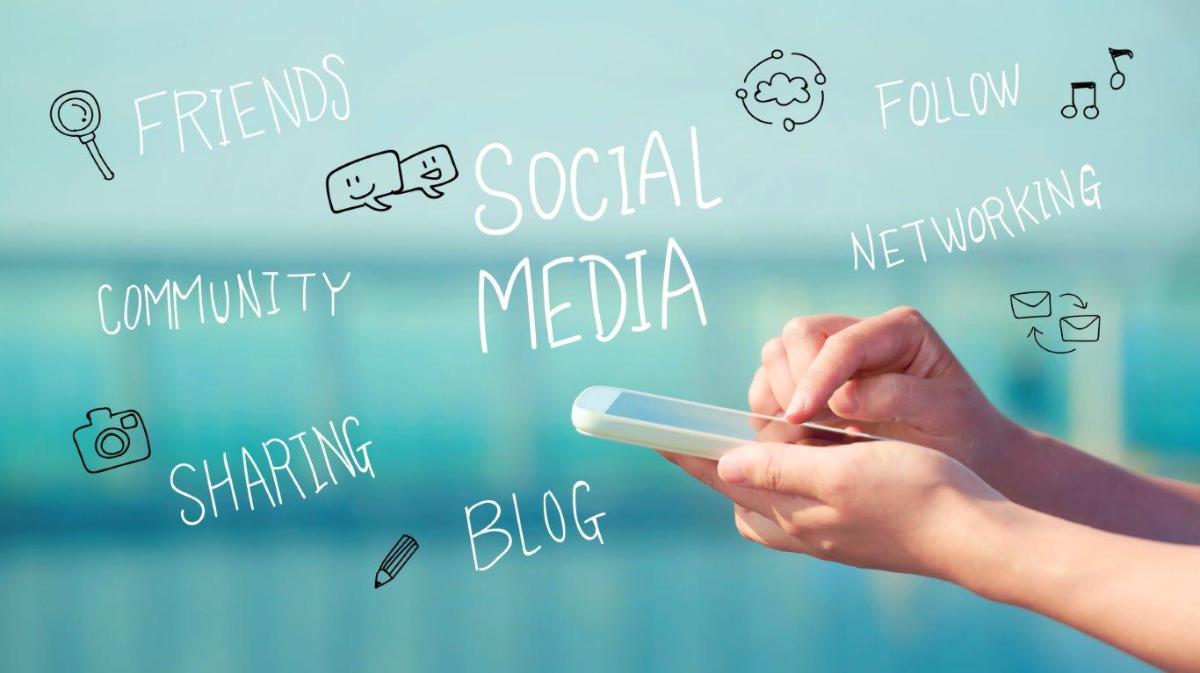 Source: Adobe Stock
Building an audience is significantly more difficult than reaping the benefits of affiliate marketing. The first step is to choose the platform on which you will be building your audience. If you want to become an influencer, this can be a social media platform like Instagram, TikTok, or YouTube. You can also create a blog post, or any other type of internet medium that will attract visitors - the sky's the limit here!
A great idea to build an audience is to create a niche market product review website, providing recommendations and tips for a specific audience. Finding a relevant affiliate website shouldn't be too difficult, and you can combine writing reviews with posting affiliate links for additional profits.
All types of digital content creators are in the perfect spot for advertising affiliate marketing products. Whether you're a YouTuber, a Twitch streamer, or an Etsy craftsman, you can create highly-targeted niche content that will resonate with your audience. This way, you can introduce products and services that your audience will actually benefit from, instead of just advertising random products.
Once you have a platform established, you'll need to choose your niche. Find something that you're knowledgeable enough and could be enough of an authority for other people online to follow and listen to. Popular subjects will be hard for beginners to explore, since they're already dominated by huge companies and websites.
There are a lot of options when it comes to choosing the actual products for affiliate marketing. Try choosing a product that's as much related to your audience as possible. For example, if you're an online bodybuilder sharing advice with your audience, marketing bodybuilder supplements might make for a popular affiliated product.
Tips for creating successful affiliate marketing
If you can't find a manufacturer or service provider to affiliate with, you can try an affiliate marketplace or affiliate network instead. These platforms connect marketers with manufacturers and providers, just like marketers connect brands with consumers. You can also try to visit the websites of any products or services you actually use yourself and see if they offer an affiliate program. If they don't, you can still contact them with your proposition, and maybe you'll work something out.
If you want to reach affiliate marketing success, remember this rule. For your audiences to actually listen to your recommendation, your review needs to be honest - don't try to recommend products or services to your audience that you don't genuinely believe to be great. If you lie to your audience in a review and the product turns out to be a disappointment, it could have a negative effect on your trust, potentially disrupting your audience. Be careful.
If your channel gives you the chance to, you can try creating a tutorial on how to use your affiliate product or service. It's a great affiliate marketing strategy to show the product's benefits and how it works, as well as resolve potential issues and questions your audience might have after making a purchase.
Do I have to disclose affiliate links?
It depends on where exactly you live, but generally yes, you have to disclose affiliate links. In the United States, the Federal Trade Commission controls the disclosures of affiliate links, requiring that whenever you place a link on your website or channel that results in commissions, you must inform the viewers.
This was done to level the playing field and avoid unfair business practices, with companies trying to hide their affiliation with other brands. Make sure to place the disclosure in a visible area, or else the FTC might think you were trying to hide it. Sometimes the legal situation is more vague, and you could argue whether you need to disclose affiliation or not - but to avoid issues and losing your audience's trust, it's recommended to always disclose when you've been paid to promote anything that isn't yours, with a clear statement on every page that features the link.
Platforms like YouTube or Facebook also have their own rules when it comes to disclosing sponsored content. Make sure you read the rules carefully before starting to earn money from affiliate deals, or else your account might get suspended in the future. When using hashtags to highlight your sponsored content, make sure to use the hashtag #sponsored or #promotion to avoid any ambiguity.
Summary: Is Affiliate Marketing worth it?
There's a lot that goes into affiliate marketing - but the benefits are certainly worth it, proven right time after time by businesses big and small, from every sector of the market. There is always an audience that has a certain unmet need, and your business can be there to provide a solution that will satisfy the niche. The only thing left is to monetize it the right way.
Affiliate marketing can be a major growth-inducing factor, and a great tool for generating extra profit. For more on affiliate marketing, content marketing, and digital marketing as a whole, visit our knowledge base!