How to Start a Blog and Monetize it? A Comprehensive Blogging Guide For 2023
Blogging has become a popular hobby and side hustle for many people, and with the right approach, it can even become a full-time career. In this guide, we will cover everything you need to know to start your own blog, including choosing a niche, setting up your website, creating content, and monetizing your blog.
Table of Contents
What is a blog?
Why even start a blog in the first place?
Starting your first blog step-by-step
Narrow down your field and establish your niche
Choose your blog name and domain
Choose your blogging platform
Consider hosting options
Design your blog's appearance
Brainstorm blog topics
Create your first blog post
Publish consistently with an editorial calendar
Promote your blog
Monetize your blog
How to choose the right CMS for blogging?
WordPress blog
Blogspot/Blogger blog
Medium blog
Tumblr blog
Running your blog on social media
How to make money blogging?
Affiliate marketing
Advertise within your blog
Offer paid subscriptions
Write sponsored content
Sell e-books and merchandise
Provide consulting services
How to make your blog more popular?
Whether you're a beginner or an experienced blogger looking to take your blog to the next level, this guide will provide you with the tools and strategies you need to succeed. So, let's dive in and learn how to turn your passion for blogging into a profitable venture!
We've all read at least one blog entry in our lives - in fact, you're reading one right now. But what exactly is a blog, and what distinguishes it from other forms of online writing?
What is a blog?
Let's start with the definition - a blog is a website, or part of a website, that's used by a person or an organization to write about any topics of interest. These blogs are maintained with regular entries, including commentary, descriptions of events, or other informative material, including graphics and videos.
Entries on a blog are displayed in reverse-chronological order, which means you start with the latest blog post and can move on to older ones. Anyone can start a blog on any subject, and they can be both personal and professional in nature. Blogs can be used to express opinions, share personal experiences, provide information about interesting topics, or simply entertain readers. Blogs have become an important part of the digital landscape and have opened up new opportunities for self-expression, communication, and sharing of information - but also monetization.
Why even start a blog in the first place?
There are many potential reasons for starting a blog. Before we cover how to start a blog, let's focus on the why.
Self-expression is a common reason - blogging is a great way to express yourself, share your thoughts, and connect with others who share your interests with each blog post.
Blogging is also a great way of building your personal brand, and can be used to help you establish yourself as an expert in your field.
Sharing information, building a community, and personal development can all be potential reasons for starting a blog. Blogging can also be a profitable venture if you decide to monetize it through methods like advertising, sponsored posts, affiliate marketing, and even selling products or services directly through each blog post.
Starting your first blog step-by-step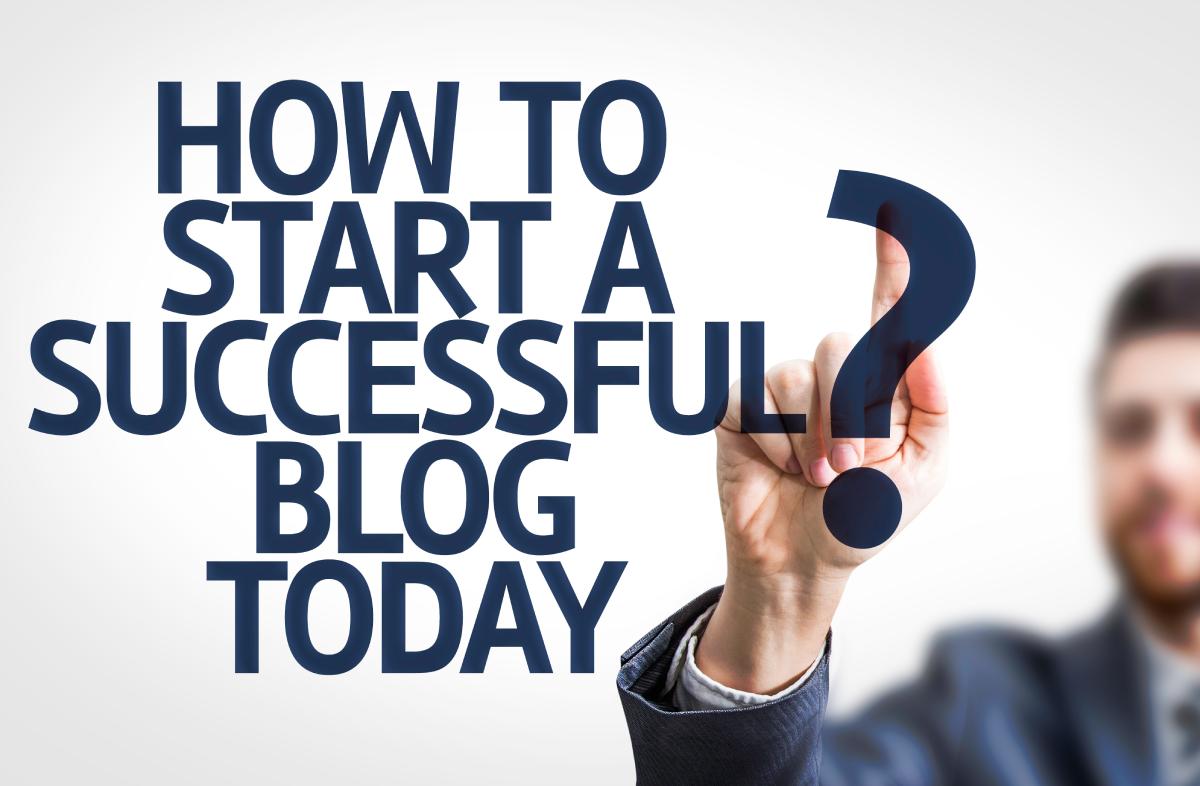 Source: Adobe Stock
You don't need to be a world-class writer to create a successful blog post - your personal perspective and insight might be just what your audience is looking for. Even though starting a blog can seem like a daunting task, it can be a very rewarding and overall fun experience with the right approach. Let's see how to start a blog from scratch.
Narrow down your field and establish your niche
We'll start with finding who is actually going to be reading your blog. Choose a topic that you're passionate about - it'll be much easier to come up with new blog post ideas and keep your blog updated if you're genuinely interested in your niche.
Consider your expertise and look for a niche that has a target audience. Check your competition - lots of other blogs in your niche might mean breaking through will be more challenging, but it's also an indicator of demand for this content type.
Analyze the monetization potential of your niche. Research monetization options, check for affiliate programs and advertising opportunities. When planning, create SMART goals - Specific, Measurable, Achievable, Relevant, and Time-Bound. They will help you figure out how to start a blog in your niche more effectively.
Choose your blog name and domain
Choosing your blog name is one of the most important steps in starting a blog, establishing its identity and helping you attract readers. Try to keep the name simple, easy to spell and remember. The name should also be relevant to your niche, giving your readers an immediate idea of what your blog is about.
Think about how your blog name will present itself as a domain. Make sure it looks and sounds catchy and isn't too long. Choose a domain extension that fits your niche.
Choose your blogging platform
Look for a platform that is user-friendly and easy to navigate, as this will make it easier for you to create and manage your blog, while also improving the experience for your readers. Customization options such as templates and themes can be used to make your blog unique, and a SEO-friendly platform will help you promote your blog in organic searches.
Consider monetization options that your platform allows, and look for platforms that offer a strong support system and a vibrant community of users who can help you with any issues that you may have. Your platform should also be scalable, meaning that it can handle large amounts of traffic and can accommodate new features and integrations as your blog grows.
Consider hosting options
Reliable, fast, and secure blog hosting will allow you to keep your readers engaged, improve search engine rankings, and protect your blog from hacking and other security threats. Hosting services often offer a user-friendly control panel, making it easy to manage your blog's settings. Consider the cost of using the hosting service, as some services can be expensive for what they offer, while others are more affordable, but their features may be more limited. Look for a hosting service that boasts a high uptime to make sure your readers can access your blog 24/7 without issues.
Design your blog's appearance
Creating a visually appealing layout and choosing a color scheme and typography that reflect your brand will help you appeal to your target audience. Decide on the placement and looks of elements such as the header, sidebar, and footer, and pick a color scheme that reflects your brand. You can use a free color scheme generator to help you find matching colors. Choose a font that is easy to read and reflects your niche, and make sure that it's legible on all types of devices.
Images and graphics can be used to spice up your blog, with additional widgets and plug-ins to add functionality such as social media buttons or search bars.
Brainstorm blog topics
Consider how you can turn your interests into topic ideas. Look at your industry, your audience, and use keyword research tools to find what people are currently searching for. Check out what your competition is writing about and use this information to come up with new and unique blog post ideas. Mind mapping, listing, and free writing are some of the most useful brainstorming techniques worth checking out.
Create your first blog post
Choose a catchy topic that's relevant to your target audience, perform research on it, and create an outline for your first blog post that includes a clear introduction, several headings, and a conclusion. When writing, we recommend using a grammar checking tool and always proofreading the text before publishing - mistakes can easily undermine your authority as an expert in the field.
Publish consistently with an editorial calendar
Creating an editorial calendar can be a good way to keep yourself consistent when writing a blog. An editorial calendar is a place where all your tasks and upcoming blog articles are placed to make sure you never forget about writing and publishing texts on time. You can use apps like Trello, Asana, or Basecamp to create your own editorial calendar.
Promote your blog
There are many ways to promote your own blog online - sharing new entries on social media, setting up a newsletter, promoting your blog on various online communities like Reddit or Twitter, and even investing in paid ads. You can also try writing blog posts for other sites to spread the word around.
Monetize your blog
You can monetize your own blog and earn an income from your writing - there are many ways to do so, from affiliate marketing to advertising. You can try offering paid subscriptions to your readers, which could grant them access to additional, exclusive content. Once you're recognizable, you can think of selling e-books or your own merchandise, and even provide consulting services and share your blogging experience.
How to choose the right CMS for blogging?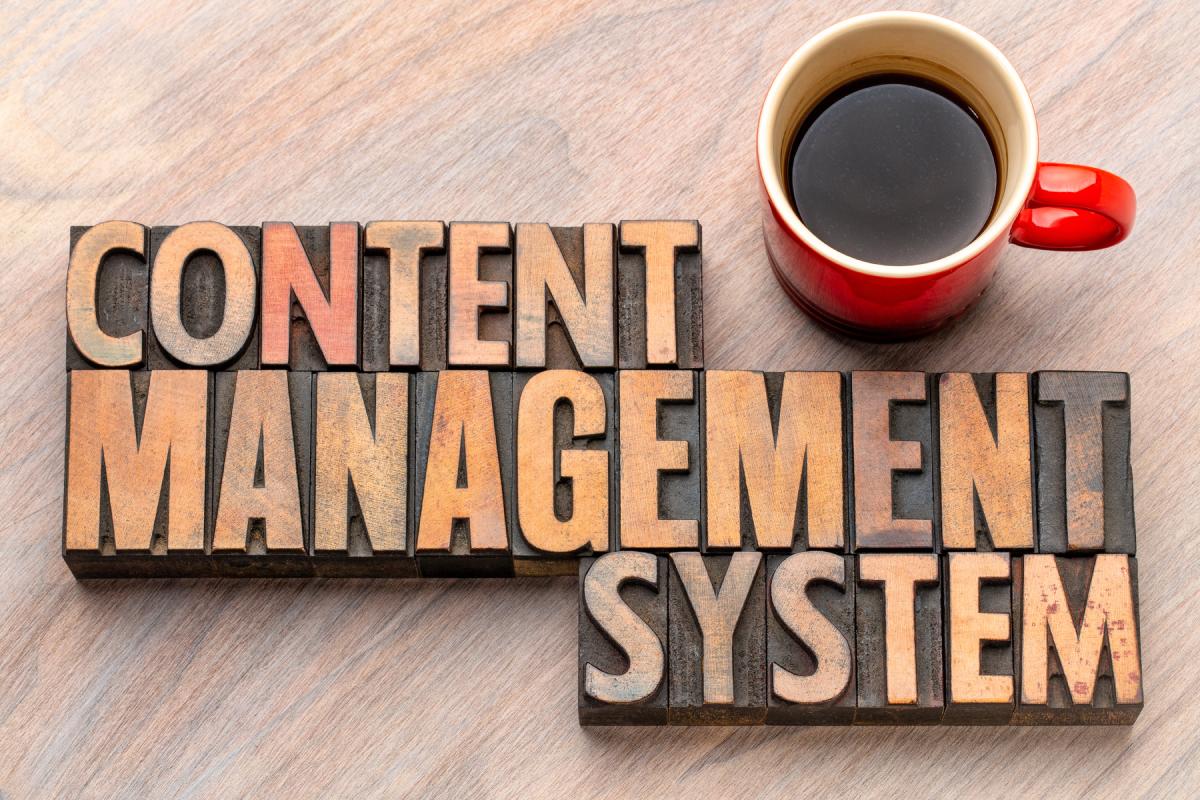 Source: Adobe Stock
Choosing the Content Management System (CMS) for your blog is crucial when trying to start a blog and will affect its overall performance and functionality. A CMS needs to be easy to use, customizable, SEO-friendly, secure, scalable, and affordable - let's take a closer look at some of the most popular ones.
WordPress blog
WordPress offers a wide range of customization options for bloggers who want to start a blog, including templates, themes, and a massive library of plugins that can add extra functionality to your blog, including e-commerce and various integrations. WordPress is SEO-friendly, making it easier to rank higher in search engine results, and also features a massive active community of users and developers. WordPress CMS is free to use, but you'll still need hosting and a domain, which come at an additional price.
The platform's popularity, however, makes it a common target for hackers. Always keep your WordPress installation and plugins updated, and use additional security plugins and two-factor authentication if you decide to start a wordpress blog.
Blogspot/Blogger blog
Blogger, also known as Blogspot, is a free blogging platform developed by Google. It's a popular choice for many beginner and professional bloggers because of its ease of use, many integrations (including Google Analytics), and a range of customizable templates to choose from. When writing on Blogspot/Blogger, you don't need your own hosting and domain - the platform is fully free.
Compared to WordPress, Blogger might offer limited customization options and scalability - it's more suitable for personal blogs and small business blogs rather than enterprise-level blogs.
Medium blog
Another popular platform for bloggers is Medium, designed primarily for writers and creators of quality content. The platform offers clean and simple formatting, making it easy to create professional-looking blog posts, and provides various forms of monetization, including Medium's proprietary membership program and sponsored content.
The platform does, however, offer limited SEO options and control over monetization. In general, the platform also offers more limited audience engagement options, but you can publish your articles for free and don't have to pay for a domain and hosting.
Tumblr blog
Tumblr is a mix of social media platform and a blogging website - users post short, stream-of-consciousness type blog posts, often containing images, quotes, video files, or audio. Setting up your own blog on Tumblr is free and simple - create your account and immediately start posting!
However, your content might not be fully yours on Tumblr. The owners of the website have the rights to all the content posted on their website (which is not the case on WordPress). Overall, Tumblr is a simple and user-friendly platform that's ready to use out of the box, but features limited themes and customization options, and all content on the site is owned by Tumblr in the end.
Running your blog on social media
The wide reach of social media is a great benefit for bloggers, increasing your blog's visibility. You can also target a specific audience based on demographics, interests, and other factors, helping you reach the right readers. Content on social media is also extremely easy to share, and the costs of setting up and maintaining a social media blog are generally much lower than hosting a website.
Social media platforms, however, have strict guidelines and terms of service that you must abide by, which can limit your ability to customize your blog and the type of content you post. Since your blog is hosted on a social media platform, you also do not have full ownership over it, and some platforms may restrict your monetization options.
Some of the best social media platforms for bloggers are Instagram, Facebook, Twitter, LinkedIn, and YouTube.
How to make money blogging?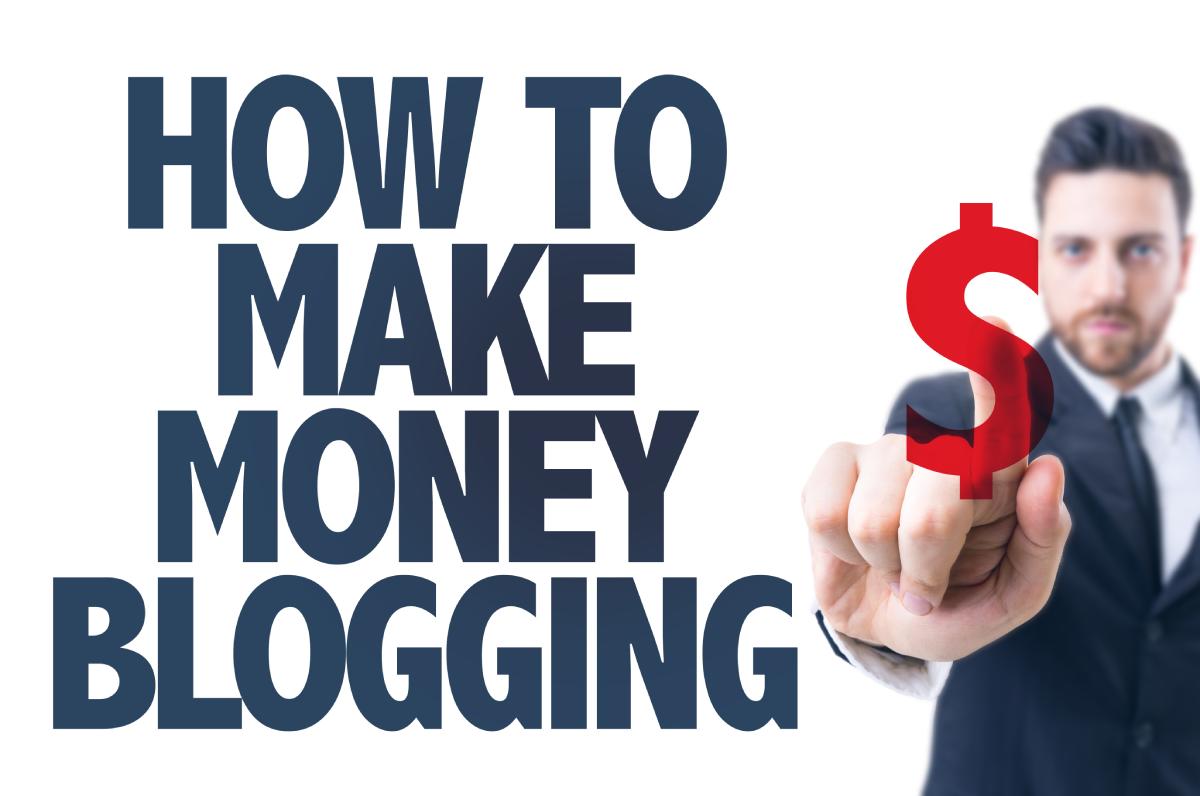 Source: Adobe Stock
Whether you're a beginner or a seasoned blogger, there are many ways to monetize your blog and turn it into a profitable venture. In this paragraph, we will discuss some of the most effective ways to make money blogging, including affiliate marketing, sponsored posts, and advertising, as well as tips for maximizing your earning potential and creating a sustainable income stream.
Whether you're looking to supplement your income or turn your blog into a full-time job, the right strategies and techniques can help you achieve your financial goals.
Affiliate marketing
Affiliate marketing is a popular and effective way to monetize a blog. It involves promoting other people's products or services and earning a commission for each sale or lead that is generated through your unique affiliate link.
First, find an affiliate program that is relevant to your blog's niche, promoting a product or service that your readers might actually want to use. Sign up for the affiliate program, generate a unique affiliate link, and incorporate the affiliate link into your blog content. Remember to promote your links on your social media accounts and email newsletter as well.
Advertise within your blog
Advertising is another popular way to monetize a blog. It involves placing advertisements on your website and earning money for each click or view. As you keep up building a sizable audience, you'll be able to receive more revenue from paid advertisements. Choose an advertising network like AdSense, Media.net, InfoLinks, or any other that suits you. You'll have to place the ad code on your blog, usually in the header, sidebar, or footer.
Offer paid subscriptions
With paid subscriptions, you can charge your readers directly for access to exclusive content or features. Premium articles, videos, e-books, webinars, and other types of content that your readers will find valuable are great examples of exclusive content. Sign up for a subscription platform like Patreon, where you can offer different perks and benefits to different levels of subscribers. Remember to promote your subscription service on your blog, social media channels, and newsletter, and keep monitoring your revenue to adjust pricing or content offering to optimize earnings.
Write sponsored content
Sponsored content can be a great way of monetizing your blog, but you'll need to be careful to maintain the integrity of your blog and not compromise your content or reputation. Sponsored articles are a form of advertisement, ordered by a brand relevant to your niche and including links to sponsored products or services. To find sponsored content opportunities, reach out to potential brands and companies with a media kit and pitch them your idea for a sponsored blog post.
Always disclose that the content is sponsored - not being transparent with your readers might ruin your reputation, and many platforms consider it a breach of contract.
Sell e-books and merchandise
As your audience will keep growing and your reputation spreads, readers might be interested in buying additional products such as e-books with unpublished insights and merchandise like t-shirts, mugs, plushies, and other items related to your blog. You can set up a sales platform like Amazon Kindle Direct Publishing or Shopify to sell your merchandise and e-books, but remember to promote them on your social media channels as well.
Provide consulting services
After you establish your blog as an industry expert, you might be able to offer consulting services to beginners in your niche. Create a consulting page on your blog where you explain your services, including your rates and what you offer, and what your clients can expect from working with you. Networking with other experts in the field can also help you attract clients and promote your services.
To make everything work smoothly, create a system for client onboarding, where your clients can sign a contract, fill out a questionnaire, and schedule a meeting or call.
How to make your blog more popular?
There are many ways to make your blog more popular - the most effective of them being simply creating high-quality, relevant content. To beat your competitors, however, it might not be enough to just post great content.
Optimize your content for SEO, using keywords in each blog post title and throughout your content to make it easier to discover in search engines. You can also promote your blog on social media platforms like Facebook, Twitter, and Instagram, as well as guest post on other blogs to reach new audiences. Comment frequently on other blogs and create a mailing list, sending out updates and new content notifications to your readers.
Be consistent with your branding and identity, making sure your blog's design, tone, and message are all coherent. Don't forget to network and collaborate with other bloggers and influencers in your niche to build valuable relationships and create opportunities for cross-promotion of each other's content.