SEO Through the Eyes of Women: What Surprised Us? International report 2023
SEO is one of the fastest growing industries at the contact point of IT and marketing. At WhitePress® we work with hundreds of specialists in the field every day, while attending industry conferences regularly. Men dominate the stage, with more women appearing on the user side of our platform each year. Therefore, this year, on the occasion of International Women's Day, we decided to take a closer look at the presence of ladies in this sector.
Table of Contents
Why this particular topic?
There has been a lot of discussions about women in IT for a few years now (e.g. campaigns like #girlswhocode), but little attention has been paid to the SEO industry so far. But it is time for a change!
The initiative has already started to originate from the women themselves, who are coming together on many different levels: from Facebook groups (such as Sisters in SEO), to conferences (Women in Tech SEO or Women in STEM Leadership Summit). Why are there more and more events focused around women? From conversations with their originators, it is clear that they wanted to be taken seriously, rather than being invited to the panel just because of their gender, without having to add anything significant to it.
Successful female professionals are an inspiration to others, but can also provide them with practical support. Dr. Marieke van de Rakt, when she was director of Yoast from 2019 to 2021, which provides SEO auditing for 13 million sites worldwide, ran coaching programmes for women in her organisation, making it easier for them to break through the glass ceiling. Yet even she admitted that gender proportions among her company's workforce (particularly in key positions) were not balanced at the time. And what is it like today? We will try to answer this question in our report on the situation of ladies in the SEO industry.
The basics: how many women are actually active in the SEO industry...?
There is no data on how many people work in the Search Engine Optimisation industry in Poland. However, assuming that there are between one and a few SEO specialists working in each of the several hundred online marketing agencies, and adding in freelancers, it is safe to assume that this is at least several thousand people. The WhitePress® survey referred to involved 1,500 people from the industry, but of course it did not include all industry representatives. One in three was a woman.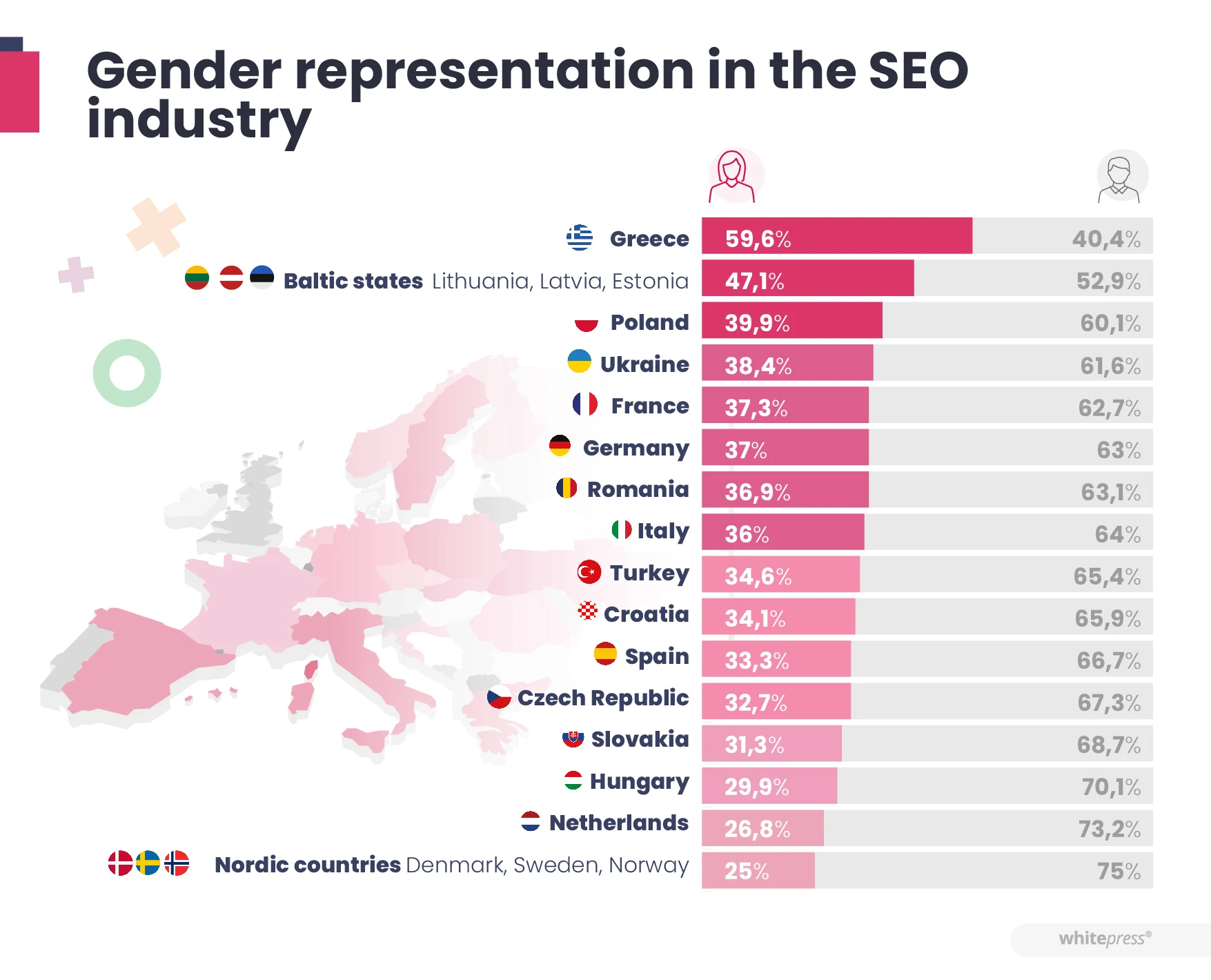 This coincides with research results which that show that, contrary to popular opinion, proportionally the most women in the SEO industry are in Greece and in Eastern European countries: Lithuania, Latvia, in Estonia, Poland and Ukraine
This is confirmed by Ukrainian-born Julia Nesterets, CEO and co-founder of JetOctopus.com.
I have never felt any limitations in terms of a gender in Ukraine working in different spheres. The same with SEO.