How to open an account on WhitePress®
How effective is your content marketing? You can make it better with WhitePress® – publish articles on thousands of websites, save more time and still get fast results. It's easy since we automate communication between marketers, publishers, bloggers, and vloggers. Check out our beginner's guide, make yourself a cup of coffee and join our platform in just a few minutes.
We present you the first article about using our platform. Today we will explain how to create and configure an account at WhitePress®, thanks to which you will join over 50,000 users who created their account before we made this guide. As you will see below, it is very easy!
You can also watch our helpful video tutorials on YouTube (added at the end of the article).
1. Sign up
First of all, go to www.whitepress.com/en/ and click on the Sign-up option in the upper right corner. You will be taken to the next window, where you enter your country of tax residence. Now type your e-mail address and choose a personalized password with the right level of encryption (so that no hacker can get into your account).
2. Tick the two mandatory checkboxes.
The FIRST of concerns the reading of the WhitePress® privacy policy. To read the terms of the privacy policy simply click on the linking and open to document in a new window.
The SECOND checkbox concerns the use of your personal data for the purposes of direct marketing of services and goods offered by WhitePress®. By ticking the checkbox you agree to receive e-mail notifications.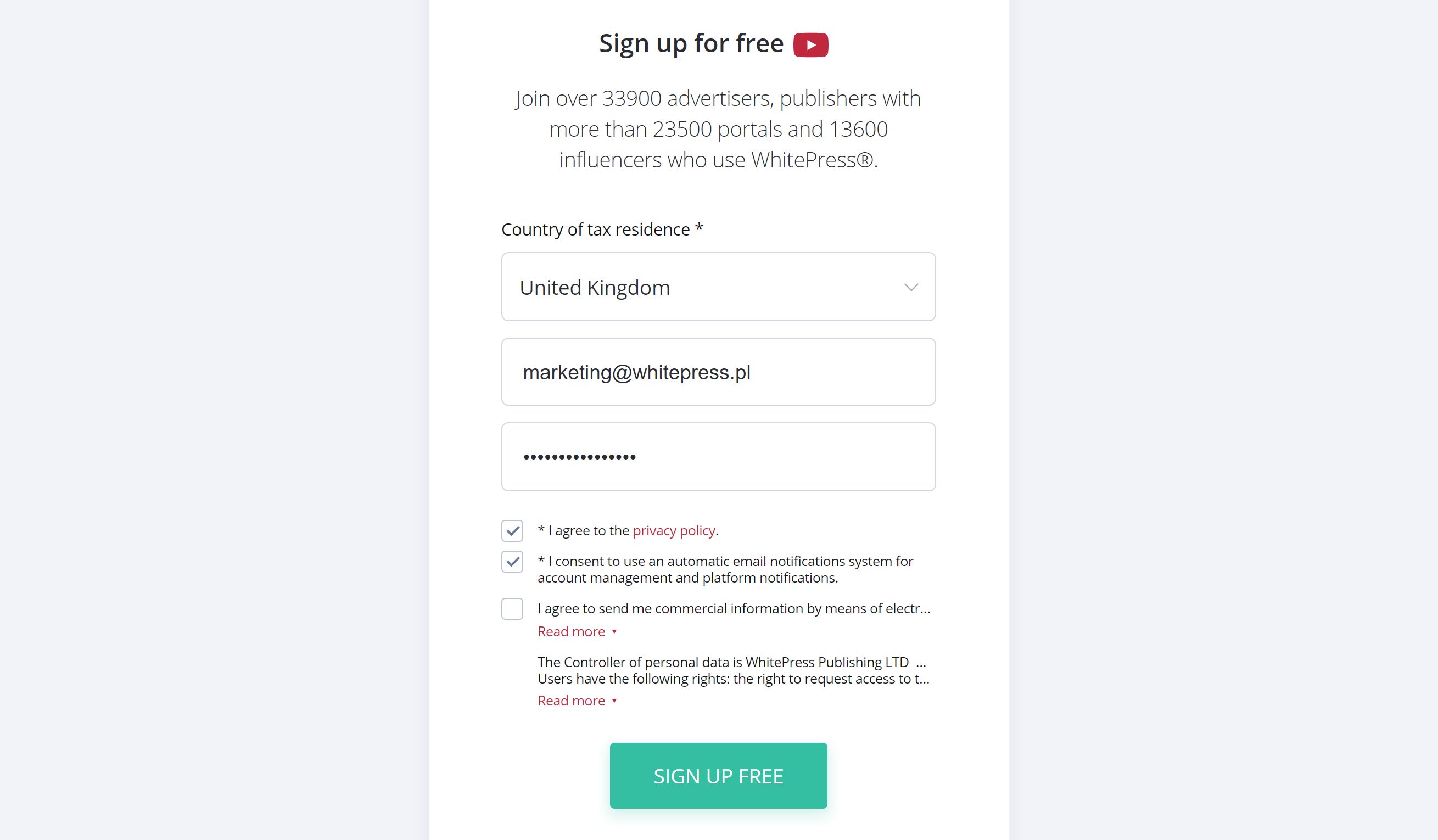 The THIRD checkbox is optional and relates to the use of your personal data for sending commercial information about services and goods offered by WhitePress®. By ticking this checkbox you simply consent to receive the newsletter.
3. Fill in personal data
After completing all fields and ticking the mandatory checkboxes, click on Sign up for free option. Now you are only one minute away from having an account at WhitePress®. Fill in the Name, Surname, and Phone number.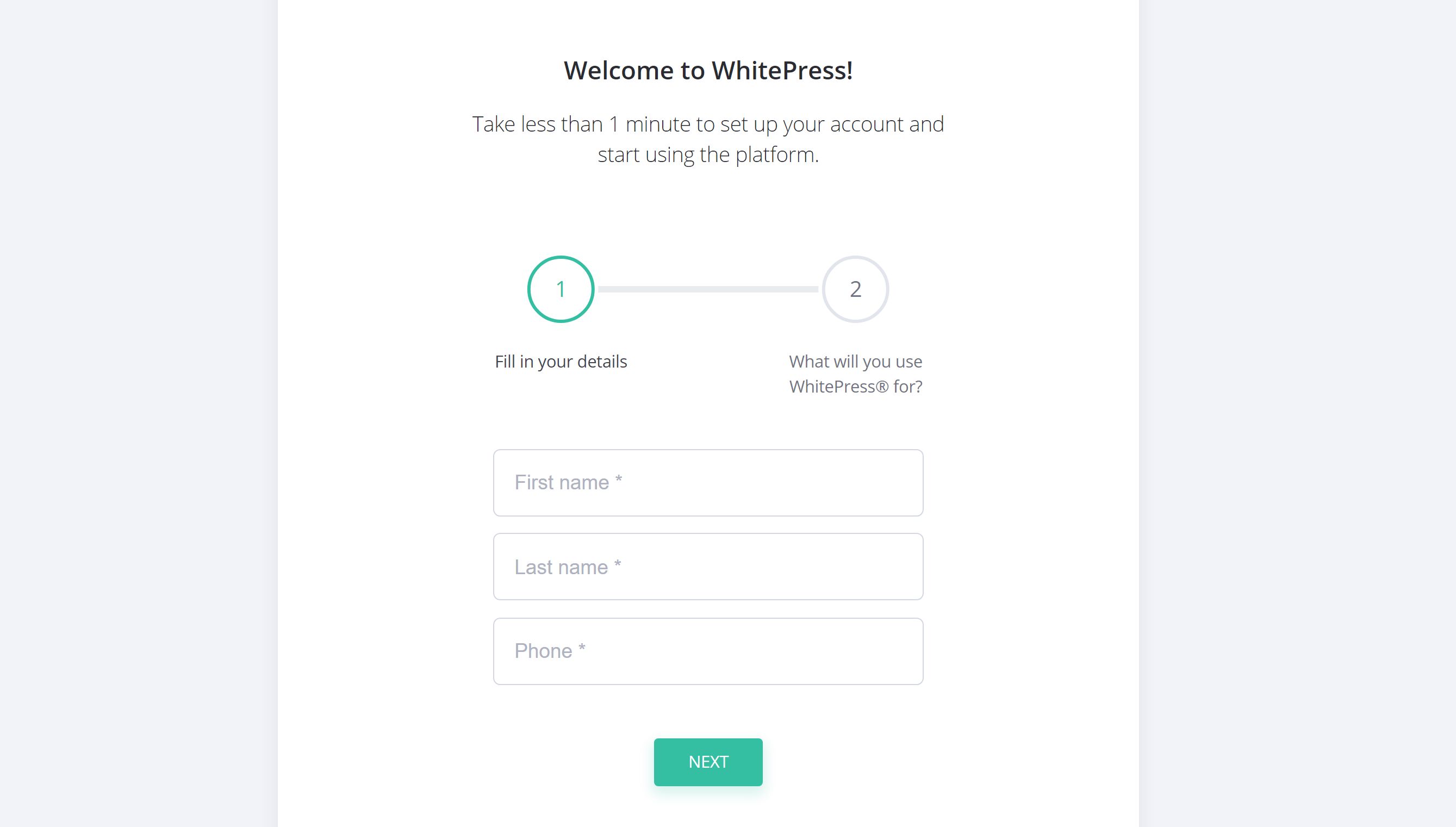 Then click on Next. In the following window, you can indicate what purpose you will use the account at WhitePress® for.
4. Choose your role and confirm registration
The choice of your role at WhitePress® depends on which activities are you most interested in. If you have your own portal or if you are an owner of a website, you can earn money by publishing sponsored content using the Publisher module, in which you can publish articles or order article content.
Or maybe you are an employee of an advertising agency, media house or you have your own company? Then the Advertiser module is created exactly for you. Thanks to this module you will be able to:
quickly order content for articles or infographics,
publish articles on publishers' websites; what is important is that all portals are thematically categorized and have been technically and substantively evaluated by WhitePress® team.

After selecting the appropriate module, you can familiarize yourself with its regulations by clicking on the link that will open a document which you should read in full.
The next step is to mark the appropriate checkbox and click on Start using WhitePress®.
5. Set up the account
Now let's see how to quickly and efficiently set up your account. First, have a look at the To do section on your dashboard, it will remind you about the most urgent tasks. In the beginning, you will be asked to verify your e-mail address and complete the billing information.
Now, go the settings and click on My Account.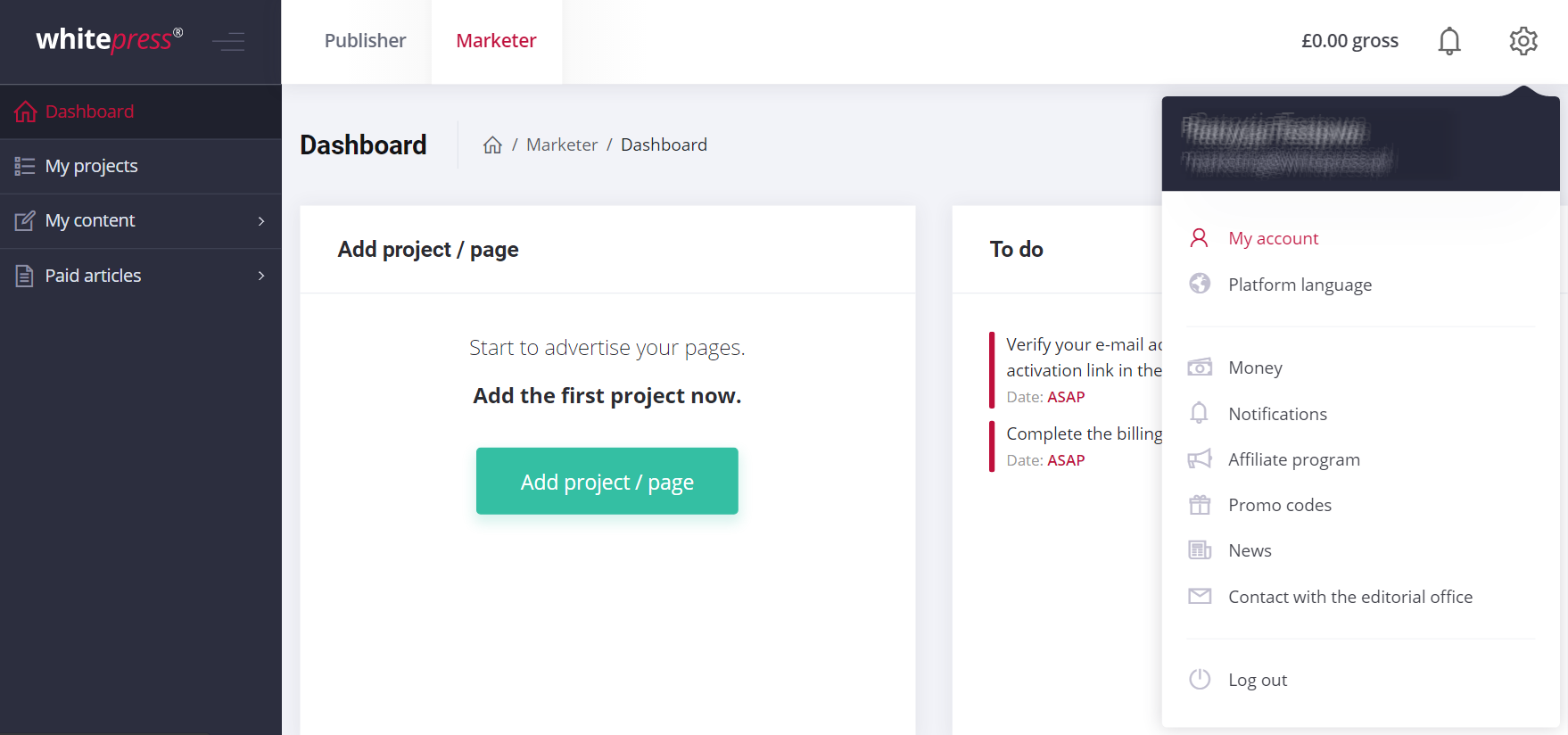 You will see several individual tabs:
Profile – it contains fields already completed during registration, i.e. First Name, Surname, E-mail, and telephone number. Here, you can also give or withdraw your consent for receiving the newsletter. Finally, click Save.
At the very bottom is the Delete account option, which we do not recommend using because naturally, we would like you to stay with us for longer and extensively use the platform's functionalities. Remember, that in case of any problems you can always contact the WhitePress® office.
Company data and addresses – please, complete it immediately and choose the appropriate legal status correctly, because changing data from a private person to a company requires an email contact with our editors. As you see, at WhitePress® we value your time.
So first, you select Legal status in this tab. If you run a business, fill in the Company tab and enter: Country, Company name, City, Postal code, Address. Answer the question Are you a VAT payer? Finally, enter your company's tax ID.
However, if you do not run a business, select the Private person option in the legal status field and fill in the Country, City, Postal code, Address, and Tax ID fields. Optionally, you can also enter the bank account number to which you will receive remuneration for your activities implemented through WhitePress®. Then click Save.
Roles and functions – here you specify for what purpose you use the WhitePress® platform. We have already explained how to select your role above. If you forgot to tick the appropriate checkbox during registration, you can add a new role to your account right here at any time. However, to disable your existing role, you must contact us. In this case, you can write to us at office@whitepress.net.
When you select the appropriate roles and functions, click Save.
Language and currency – here you can change the language of the platform. Currently, the panel is translated into Polish, English, German, Czech, Slovak, Hungarian, Romanian, Ukrainian, Russian, Bulgarian, Croatian, Italian, French, Spanish, Turkish, Danish, Dutch and Portuguese. You can also change your preview currency, but remember that this will not change your accounting currency preview, which is closely linked to your account and depends on the country of your tax residence.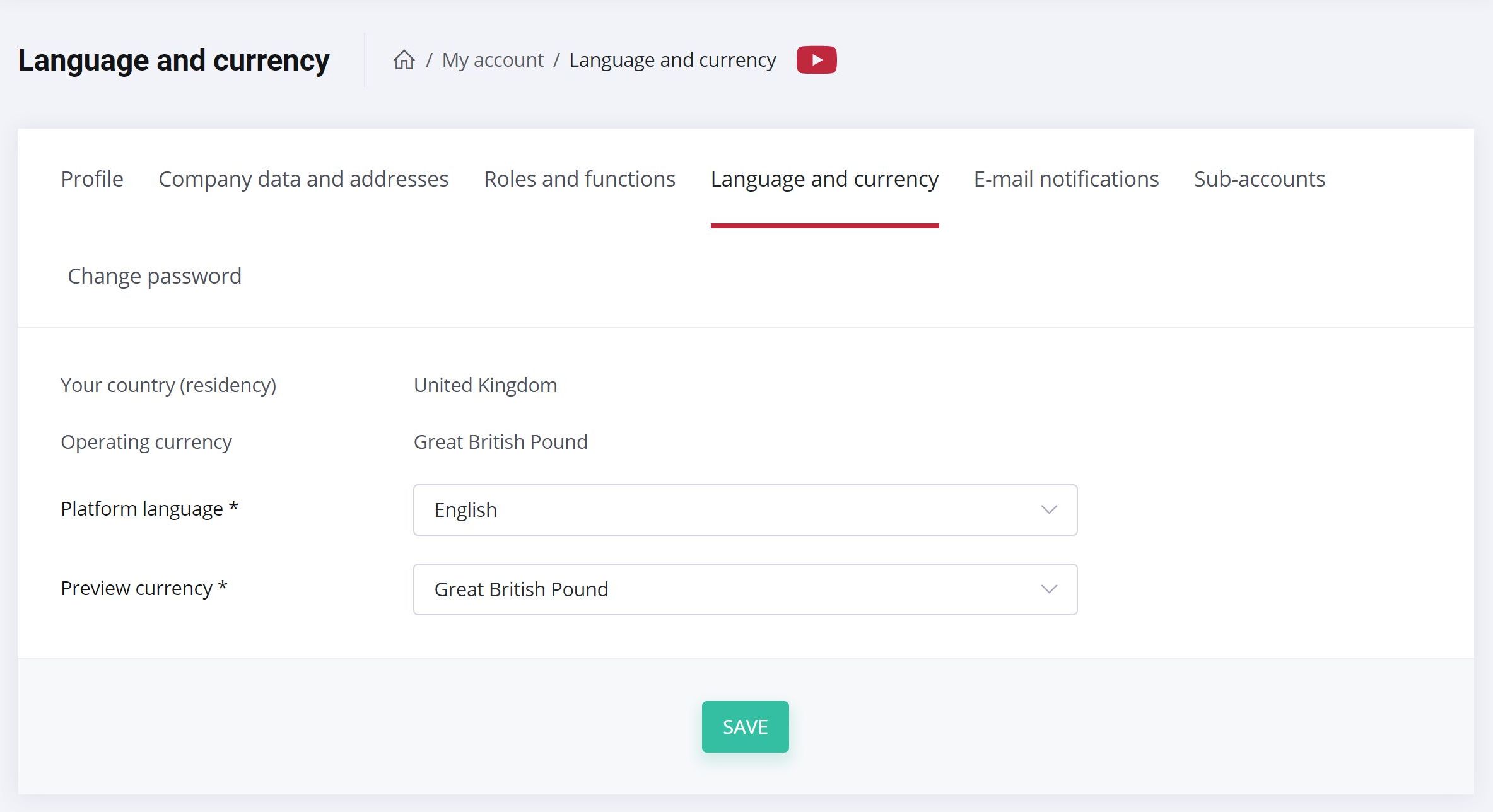 Configuration of email notifications – this is where you can enable or disable notifications regarding your activities in the panel.
Password – the last tab allows you to change the password. In the next guide, you will find some information about the Sub-accounts and what are their functions.
Everything is done? Great!
We hope our guidebook helped you start an account on the WhitePress® platform. Check out our tutorials on YouTube, if you prefer a video:

Now you are ready to start to optimize your content marketing processes as a Marketer or earn some money as a Publisher. Read the next WhitePress® guides to explore our tools!