If you are an advertiser, you are probably interested in publishing your content internationally, and the good news is you can do it on our platform. This guidebook is for you to learn how to do it - get to know how to change languages or countries and start to build your visibility on a global level!
In 2019 at WhitePress® we started an international expansion. Since then, we create a network of publishers and marketers from different markets on one platform. Thanks to that having one account you can publish articles and order copywriting in various languages. We have already started in over 20 countries.
At the moment, we are present in:
Poland,
Czech Republic,
Slovakia,
Russia
Hungary,
Romania,
Bulgaria,
Deutschland,
Austria
Luxemburg
Netherland
Belgium
Espania
France
Italy
Croatia
Lithuania
Greece
Slovenia
Latvia
Ukraine (both in Ukrainian and Russian language)
United Kingdom
Portugal
Turkey
UK platform is gathering English-language portals from various countries.
Additionally, we provide copywriting services, and you should know we cooperate only with native and verified copywriters. To be brief, WhitePress® platform is now probably one of the most convenient tools for content marketing in Europe. Maybe it is time for you to use our tools for publishing in different countries – if you agree, follow the steps below.
1. Create a project
The first and the most important thing to start publishing in different languages is creating a project (unless you have it done already). Fill in a project name that will help you identify a group of publications in the future, e.g. brand name. Then add the website address that you want to promote.

This is important because we will monitor the presence of this link in your publications for 12 months from the time of publication. Then choose the language you want to publish in and click "Save". If you have campaign for one brand but in many languages, you need to create a new project for each campaign.
In such a case we recommend you to add the language shortcut in the name of the project, like for example Nike PL or Nike RO.
The project has now appeared on the list. Now you just need to click on the "Publish" button next to it and you will see a list of available portals in the language you have assigned to the project.

2. Choose a portal
For some languages ​​in the search engine, you will be able to filter portals by country. For example, for an English projects, you can filter UK or US portals.
Remember you don't need to have your own text for articles – you can order copywriting from us. The cost of articles is different in every county and it is automatically linked to the project. So if your project is in Romanian, you will see the list of Romanian portals and prices of Romanian copywriting.

Probably at some point, you will want to publish in the language you don't speak. If you don't know the language in which you are ordering a publication, please add comments to the order in English, if it is possible. If not, use your language – our local teams will translate them for the publisher or copywriter.
If you want to know more about our search engine and ordering publications in general, please read our previous guidebook: How to publish an article in WhitePress®.
3. Order copywriting if needed
If you want to order copywriting in advance, again remember about choosing a project. Then go to My content tab, and click on order articles. You won't see any offer until you don't select a project. Be careful and pay attention to the project's language, because if you named all projects of one brand in the same way, it is easy to make mistakes.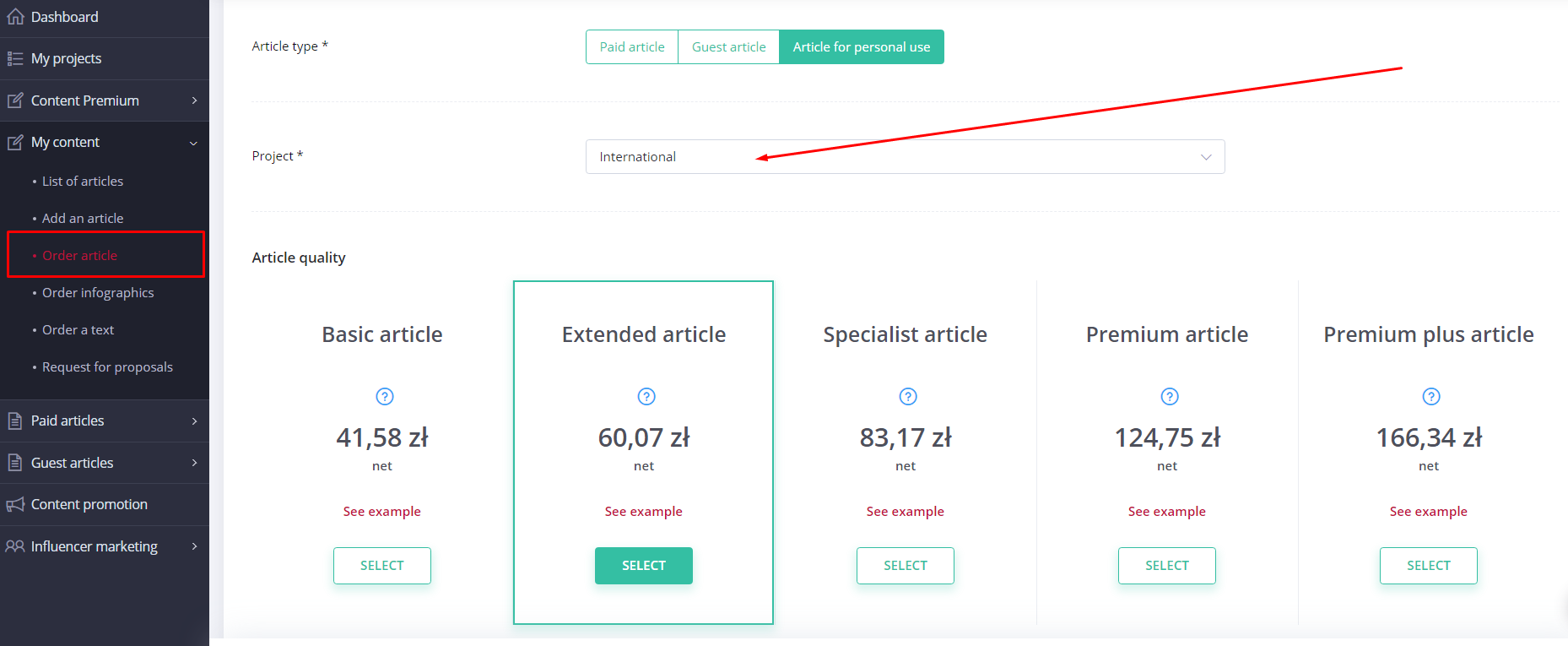 Depending on which project you choose, you will see the offer for copywriting in this language. The price is converted into your currency, so the costs can seem strange to you and will be a bit different each time. When you finish the order, it will go directly to the native copywriter.
Similar to the publication order: if you don't know the language in which you are ordering articles, adding comments in English will faster the process.
4. Use filters to keep an eye on your orders
To make your work easier and protect you from getting lost in the number of projects, on the projects list you will find the language and country filters. Use it to sort your projects and keep an eye on all campaigns.

What's important from the accounting point, you will pay for all activities in the platform in your local currency and get an invoice from your local WhitePress® branch. You don't need to worry about the exchange rates and formalities - our system does all of it automatically.
Enjoy publishing abroad!
Now you know exactly how to start order articles in different countries & languages. We hope you will find these tips useful. Watch the video tutorial if you want to see step by step how to publish internationally:
If you have any questions, don't hesitate to contact your local WhitePress® team. We also recommend you read the rest of our guides for beginners.