How to publish an article?
As an advertiser, are you interested in a large reach or just a dofollow link from a thematic blog? Or maybe you want your text to appear in Forbes? In WhitePress® you can publish your content on thousands of international portals. Read the guide below and learn how to do it quickly and easily.
Are you ready to start publishing on the WhitePress® platform? There are few steps to be taken, so we prepared this guide to help you get through the ordering and publication without any problems.
1. Create or choose a project
You can order publication on the platform in two places. However, to view the list of available portals, you must first create a project. To do this, go to the My projects tab in the side menu and click on Add project/page. Fill in a project name that will help you identify a group of publications in the future, e.g. brand name.

Then add the website address that you want to promote. This is important because we will monitor the presence of this link in your publications for 12 months from the time of publication. Then choose the language you want to publish in, and the country of publication and click SAVE.
The project has now appeared on the list. Click on the "Publish" button next to it, and you will see a list of available portals in the language you have assigned to the project.
2. Paid articles tab
Another place where you can order publications is the Paid articles tab. You need to go to Publish article.
At this stage, you do not need to have articles prepared – you can order them while ordering publication. To start with, choose the previously created project to which the order will apply. You can publish articles on any portal – the decision is yours. Choose a project and click on "see portals and order publications".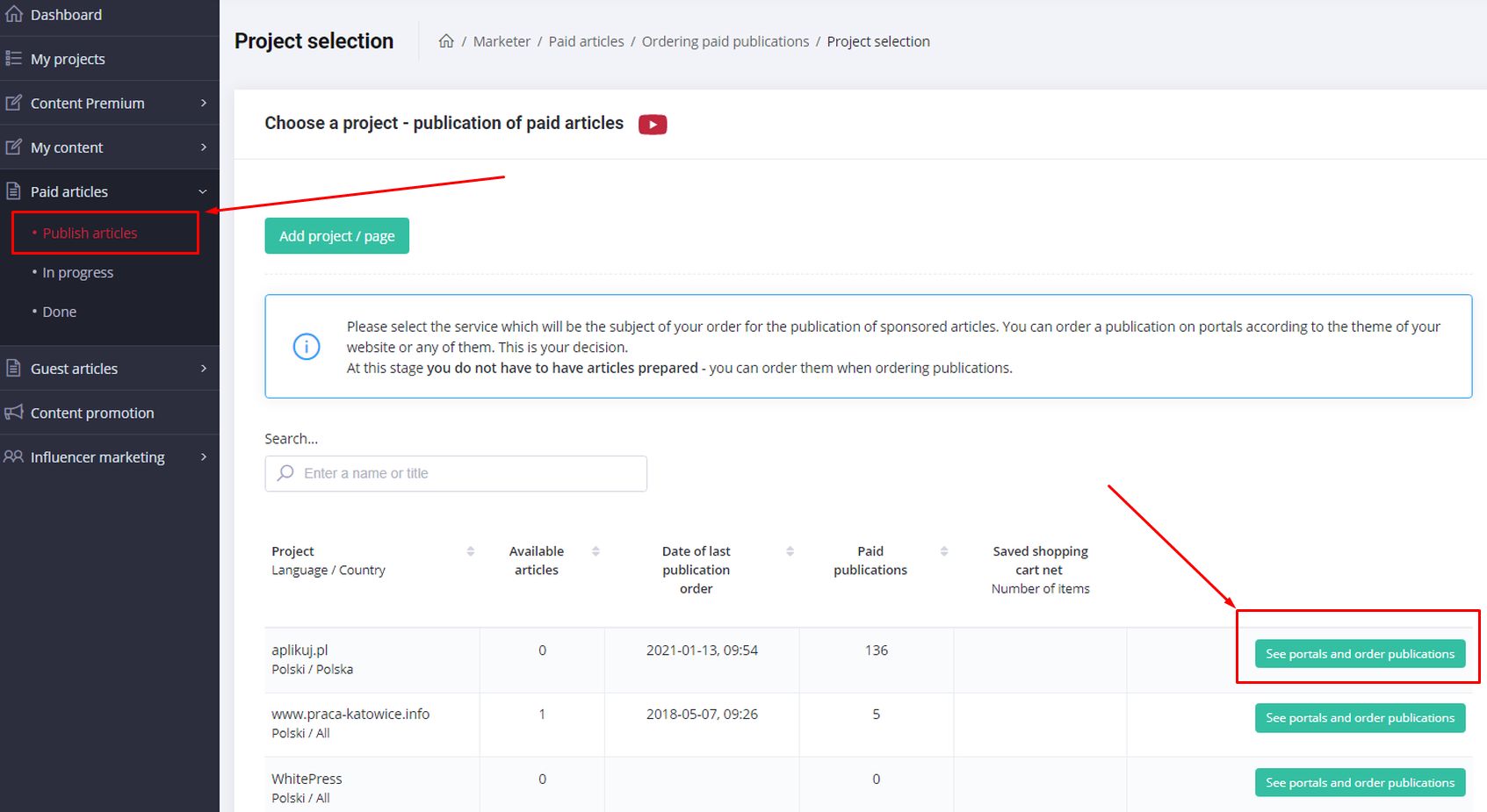 There are many parameters you can search with, and everything depends on the goals of your campaign. It doesn't matter if you want to increase the reach of your publication, get a dofollow link or improve the awareness of your own brand, always carefully analyze offers of Publishers and check the appropriate indicators. If you are not sure how to do it, read the article: How to choose a WhitePress® portal and achieve your goals in our knowledge base.
3. Check the specifics & stats
In the next step, you can search the portals using parameters such as name, price, type or subject, or you can indicate that the portal should offer traffic tracking or dofollow links.

After clicking on the advanced option, you can filter the results using further parameters. There are more technical indicators here, e.g. trust flow, citation flow, domain rating, or Ahrefs organic traffic. If you don't know what a given indicator means, you can hover over it and read what we wrote in the speech bubble. This will definitely make your work easier!

Before publication, you can also check the content and technical assessment of the website. To see that information, click the web site's name on the list. Specifics and detailed assessments will appear on the right:

Choose websites that have high ratings. This usually indicates that they are neat and updated.
Then click on View offers.
4. Choose the offer
You can check the offer details in this window. Publishers in WhitePress® platform usually have more than one offer, so you will probably see a few offers with different prices and additional options (promotion or link types).

Read the most attractive offer carefully and if its content suits you, click on it. More options will appear during the ordering process.
5. Order an article or add your text
At this stage, you can order copywriting from us. To see how to prepare such order correctly and what types of articles we have, read our guide: How to order copywriting in Content Premium.
You can also add a new article here. Complete the Title, lead, content. Check if you want to see the tracking of traffic, using the analytical code which counts how many people have read the article.

Select the type of links in the article, add a photo and attachments.
The third option referring to the text for publication is Decide later.
If you ordered the article before publication or added the text earlier in the My content tab and it has already been verified by our editors, you will see one more tab here: Select own article (you can see this option as the first one on the screen above).
Finally, click on Add to cart.
6. Continue or finish the order
At this stage, you can still edit your order, as well as you can add or remove copywriting. Decide on the publication date, and when your publications cart is ready, click on Pay and place the order.

Done!
Isn't that difficult, is it? Watch the video tutorial if you want to see the process step by step:
I invite you to read our next guidebooks in which we will explain to you how to use the most useful tools in the platform and reveal effective tips that will make your work much easier.