Strategy or improvisation? Seven rules for achieving brand visibility on Facebook
Facebook is your business card and the main meeting place for services and product industries both for small and global brands. All companies wish to achieve success, but it requires a communication strategy. Improvisation in that matter is simply too risky and may hinder your efforts in the long run.
Table of Contents
Many companies create a Facebook page in a whim, with only a general view of their Facebook activity. But you will quickly see that administration of a Facebook page that will be engaging and fun cannot be performed without a plan and budget. All business activities, including a social media campaign, require well-designed strategy. You should possess the know-how of social media and a concept that will make your communication attractive, regular and not random. Without a plan, it is hard to see if your activities are effective or not. Concepts quickly wear out and communication spins out of control.
Thus, being on Facebook cannot only be an afterthought in your marketing campaign and the activities cannot be performed by a random person - it demands your attention, hard work and focus. The campaign has to have a strong foundation made of knowledge, experience, and ideas. Only professionals can achieve the best effects and they usually work in the agencies which provide complex social media services for brands.
No plan = No effect
Lack of strategy can lead not only to chaotic and irregular communication but also to boredom. Posts are usually composed of long sentences and links do the website, without something more – there is no "added value", no engaging content, no call to action. Because copywriting, graphics, animations and videos take time which you don't have, the Facebooks page is only updated when you feel like it and it is not one of your priorities.
Lack of strategy makes it impossible to choose a clear goal and intentions. Your appearance in social media is random, spontaneous and made very quickly, thus the communication doesn't build one, coherent message and one well-designed brand image. Such activities do not build your PR and are unable to communicate properly with the audience.
Moreover, without professional help, your activities are one-dimensional and do not cover other areas in which you may shine and upgrade the quality of your page. Although you have access to Facebook page statistics, you cannot read them properly and draw conclusions from them to modify your marketing campaign accordingly and change the messaging or ad campaigns. You forget about the whole analytical side of things. Lack of technological knowledge also makes your page not properly integrated with your website or an e-shop, so the potential to create more traffic and more sales is not utilised.
To summarise – without a plan and professional help, all the activities on your Facebook page are not worth your time and money.
How to develop a good strategy
To achieve success on Facebook you have to plan your debut, create a clear strategy and monitor the activities in real time to correct any mistakes as quickly as possible. A company that wishes to use Facebook for marketing purposes first has to answer a couple of questions. Analyse the situation of your brand – is it recognisable, its weak and strong points, customer's reception, types of customers. The enterprise should know its goals – long and short-term ones (milestones). You should know methods which will allow you to measure effectiveness. You should develop a concept of communication – themes, tools (plugins, apps, widgets), style and schedule. These elements are all there to create one strategy for brand visibility on Facebook, allow to set targets and evaluate the efficiency.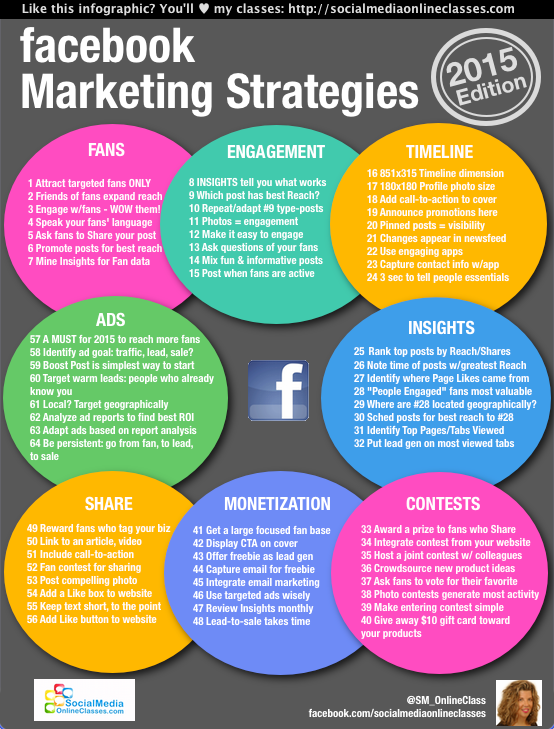 The most important elements of Facebook marketing strategy Source: www.onlineclasses.com

The strategy should include these basic elements:
1. Brand profile
First things first – you should define your brand, decide on its characteristics, scope of service, types of products, the position on the market in relation to the competition and in customer's mind. Answer these questions – what makes your brand different? What is your mission? Note all of your findings, check where you appear, as well as your pros and cons. Analyse your activities up to this moment, evaluate your previous marketing strategies and their effectiveness. Draw conclusions and see which activities were profitable.
2. Big Idea

The next step should involve choosing the so-called "Big Idea" – the main mode of Facebook presence. This will help you set goals and tactics for the bigger and smaller picture. Think about the focus of your messaging, how to create a full image of your brand and what the user will gain by liking your page.
3. The goal of communication

It may seem that everyone is on Facebook for the same reason. It's not true and the aims are very different and are set in accordance with the market niche and target audience. Thus, it is always good to note all of your goals – the main one as well as secondary ones, and to prioritize them. The most common reasons for the use of Facebook in brand messaging:
Building brand recognition and identity

Strengthening the current position

Creating a certain image

Building an engaged audience around the brand

Enhancing sales

Generating traffic on the main website
For some companies, the dialogue between the brand and the customers is the key, while others aim to boost sales and generate leads. Your target should be possible to grade and measure. Only this way will you be able to evaluate if your strategy is effective in the long run.
4. Content
A Facebook page's style is a very important factor. You have to find one main theme, graphics, and tone. First of all – decide the focus of your writing and the scope of your business you wish to describe. Remember that constant bragging about your great offer and asking the customers to buy your product is not effective and engaging, so it should constitute no more than 10% of the whole communication. If boosting sales is your priority, try to think how to present your product in an attractive way (dedicated subpages, special offers).
You should write about your brand in a way that will make it a background, a pretext for discussion, not a main topic of the post. That is why you have to design your content accordingly (photos, video tips, listings, tests, recipes). Content is the foundation of being successful on Facebook, as only good, attractive posts will be shared by the user base. The content should also fit your targets, communication goals and it should be supported by proper tools (offers, contests, apps).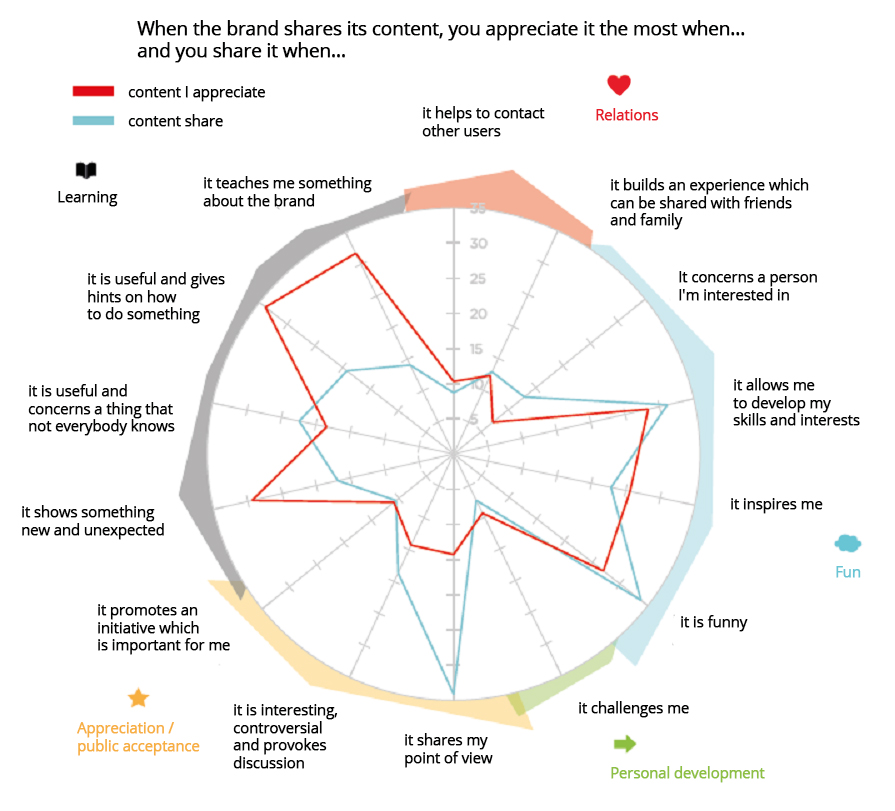 How consumers share information on Facebook (research by Universal McCann, based on the opinions of 50,021 users from 65 different countries. November 2014)
5. Target

Define your main target audience and answer the following question: Do you wish to reach your current customers and get closer to them, or are you searching for new customers? Think about the sex, age, location, wealth, interests, lifestyle and needs. Define the problems of your clientele and think how your product can solve them. What does your audience require from you and how can your Facebook presence fulfil those needs?
You have to understand your target audience. Speaking the language of your customers is not enough – you need to conform to their interests and habits. Facebook is the most popular form of communication for young people (age group 19-25) and it is browsed using smartphones and tablets, so you have to properly design your message. The habits of the young audience are completely different from their parents', even if the older generation also has Facebook.
6. Schedule and budget

Technicalities are also important – you need to know how many times a week you will publish posts of each kind (videos, photos, links), their topic (sales, fun, news) and the what time they will appear (you have to publish the content in accordance with the lifestyle of your viewers – parenting fan pages schedule posts on different times than B2B sites). The schedule most often looks like a simple table with themes and content accepted for publishing.
It is also worth to think about various contests – if you decide to announce them from time to time, you should know how often you will organise them, their rules and how to advertise them. You also have to denote what salary will be paid to the social media agency and whether it includes remuneration for preparing ads and other materials.
7. Anti-crisis measures
The last part of your strategy is development of contingency plans. If any negative event happens, you will be ready for it – thus, you will be able to react quickly using prepared materials and solutions. First, you should familiarise yourself with the most common customer complaints (ask your customer relations department), divide them by type (technical, product, communication), most common periods of occurrence (for example – Christmas fever), reactions and solutions (communication content, tools for damages payment).
Such activities will help you deliver a well-developed marketing strategy. A set plan gives you more time for creation and execution – you can prepare better posts and materials, you also have significantly more time for monitoring and administration. The risk of error is minimal and even if it occurs, you have a backup plan to solve it in a fast manner. A good strategy improves communication between the brand and the person (or agency) responsible for Facebook page administration. And, last but not least, it builds a positive brand reputation and good customer relations.
About the Author:
Justyna Fabianczyk – researcher and creator of comprehensive marketing communication. She helps to build a "talking-brand" which can respond to the needs of its customers, inspire and be socially-engaging. She is an alumni of the Journalism Department of the University of Warsaw. She specialises in media, communication and Public Relations. She works as a copywriter, consultant and PR expert.